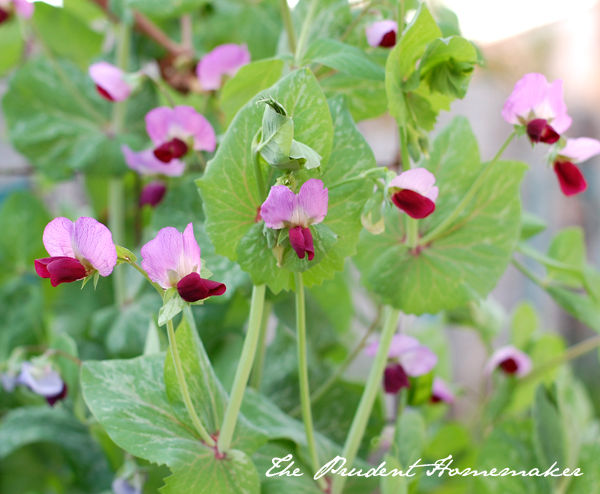 As we start the month, the garden is yielding lettuce, Swiss chard, green onions, dill, cilantro, parsley, oregano, tarragon, lavender, nasturiums, thyme, celery (mainly leaves; these are from commercial celery where I planted the bottom in the ground), radishes, broccoli, sage, beet greens and beets. Some of my fall-planted snow peas are just starting to ripen, and the asparagus is just starting to come up.
This month lettuce will be able to be harvested more often, as plants grow larger; by the end of the month. The spinach will hopefully be big enough to harvest regularly, and the asparagus will be cut several times a week as spears are ready. (Aspargus goes on sale this month, for those looking to buy some.)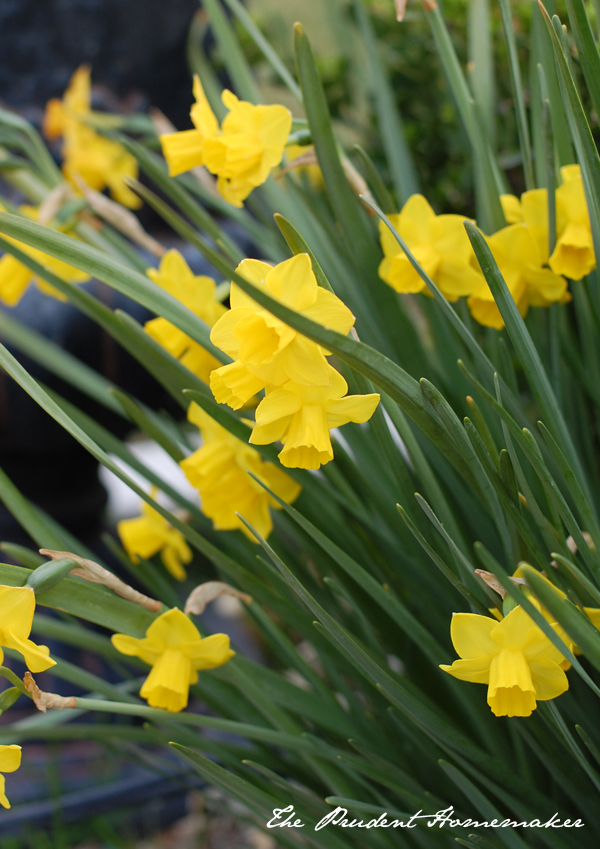 Another garden harvest is daffodils. Over a decade ago, I would buy daffodils in season when they went on sale in spring. These were a part of my grocery budget then, but now I get to enjoy my own every year, both in the garden and indoors.
March is frozen foods month in the United States. There are usually good sales this month on frozen items. I'll be looking for a sale on sweet peas (also called petite peas) and broccoli. I like Albertson's store brand and I will be looking for a sale on these.
St. Patrick's Day means sales on corned beef, potatoes, and cabbage. I usually buy several packages of corned beef and freeze them. I will have to see what price they are before I decide whether or not to purchase any.
If the price on potatoes is low enough (hopefully 20 cents a pound), I'll buy several 10 pound bags of russet potatoes.
Cabbage is a great keeper. In the refrigerator crisper drawer, it can last a month or more. If you like cabbage, this is a great time to stock up, as prices are incredibly low. This time of year, it is less expensive than lettuce, so you may want some to make Chinese chicken salads, coleslaw, stuffed and cooked cabbage. Another one is homemade sauerkraut. I will get some cabbage for this purpose. I made some last year using this recipe.
One of our grocery stores (Vons) has pork shoulder roast on sale for $1.49 a pound through the second. I will buy several roasts to put in the freezer.
Other items on my list:
Milk
Powdered milk
Oil
Hand-washing dish soap. I use this both for dish washing and hand-washing.
Borax
Oats (I didn't get these last month)
sour cream (I didn't get any last month, so I'll keep looking for a sale at $1 a pound)
There is a possibility of whole chickens being on sale, so I'll keep an eye out for those.
If I find a fantastic deal on onions, I'll buy some, as the 50 pound bag I bought in fall is starting to get low (we haven't had any go bad yet!) I'd like to have some more to dehydrate, which we will use during the summer. I've increased the number of green onions in the garden, so that has helped me to have enough onions as well, and I am attempting to grow some red onions as well.
I'll also be watching for any toiletries that I buy to go on sale. I forgot to use my $5 Target gift card when I was at Target last month, so I still have that to use.
I'm also hoping for some ice cream on sale this month.
You may have noticed that there is no fruit on this list. I still have lots of home-canned and frozen fruit from last year in the pantry and freezer that we will be eating this month.