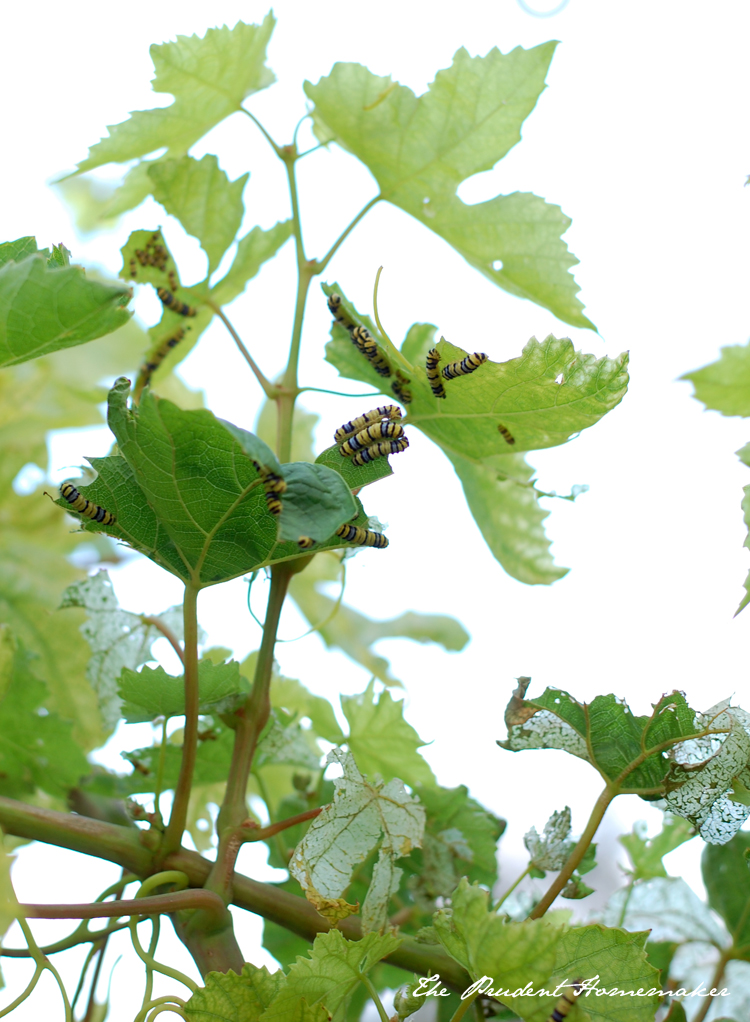 Temperatures are climbing back up to normal this week and we will see 100º by Saturday. Therefore, my garden work needs to be done early in the week.
I worked hard last week to remove caterpillar-infected leaves from the grape vines, but I still have many more to tackle. I read on the local nursery's page that BT is highly effective in getting rid of these, so I'm thinking I mixed the spray too thinly last time. It can't be sprayed when temperatures are above 90º. I tried with temperatures near that last October and I lost every leaf on my vines. It is supposed to be 90º today, but the infestation is so bad that I will try this evening when the temperatures go down.
I visited a neighbor's garden this week that I have never seen before. Her tomato plants were big and beautiful–the result of wonderful dirt. She had 5 foot tall plants in earth boxes, loaded with tomatoes. Meanwhile, my plants are not growing well at all, even though they have been in the ground for months. I am positive now that my soil is worn out and needs more fertilizer. I plan to do lots of fertilizing this week. I will also be adding soil sulphur to lower the ph to allow the plants to take in the nutrients from the fertilizer.
My white hydranges, which I have read are never supposed to change colors, are turning pink! Our soil and water are highly alkaline here. I will add soil sulphur to the ground around these to lower the ph.
Garden:
1. Spray BT (an organic spray) for caterpillars on grape vines
2. Continue to remove caterpillar-covered leaves from the grape vines
3. Fertilize tomato plants
6. Fertilize blackberry bushes
7. Give soil sulphur to hydrangeas
8. Plant more basil seeds
9. Cut lavender flowers from the garden to dry
Sewing:
1. Sew one item from my Pinterest project board. Last week I only managed to wash the fabric for the project.
2. Mend at least 3 items of clothing
3. Sew pajama shorts for Ezrom
Shopping:
1. Buy Cyrus some new glasses from Zenni Optical, going through Ebates first for cash back.
2. Order new geography workbooks (see my fifth and fourth grade pages for what I am using)
3. Order new spelling workbooks for the same grades
4. Trip to Winco for milk and potatoes
5. Write shopping list for June
Organization:
1. Straighten one drawer
2. Put away out grown clothing items for the children
Blogging:
1. Take photos for upcoming blog posts