With a daughter's birthday this week and another daughter's birthday in a couple weeks, this week is busy with present making on top of the many other important things that must be done this week.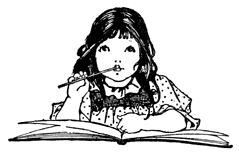 This Week's Goals:
Sewing:
1. Sew and embroider dress for Elsa's birthday gift
2. Cut out pillow cover fabric for Wren's gift. Trace name and start embroidery.
3. Cut out yellow polka dot fabric for dress for Wren's birthday gift
Non-sewing projects:
1. Make 2 presents
2. Start hedge clippings soaking for homemade wreaths
3. Sand and paint wheelbarrow
4. Help Winter with project
5. Help my husband with a project
6. Make cupcakes, chocolates, and cookies for this week's birthday.
7. Decorate for birthday party
8. Make chocolates
Gardening:
1. Thin and transplant seedlings
2. Prune hedges
3. Fix drip line in two places
Blogging:
1. Photograph presents and blog about them
2. Write Frugal Accomplishments post
3. Write garden post
4. Write another garden post
5. Photograph items for upcoming post
Service:
1. Prune roses and wash windows for someone
2. Do my visiting teaching
Errands:
1. Run three errands
These are to be worked around my schedule, which you can read here.