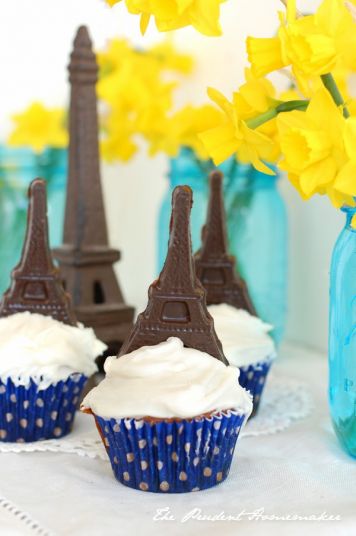 We had a beautiful birthday for Elsa this week. I made presents for her (more on those in an upcoming post). I made Eiffel Tower chocolates and from-scratch cupcakes with homemade cream cheese frosting for her. Winter made a banner for her. I cut daffodils from the garden to decorate the table. She picked her favorite meals for the day.
The next birthday in our family is coming up soon. I cut out a dress and started sewing it for Wren.
I continued to save water while waiting for the shower to warm up and also while in the shower by having two buckets in the shower. I used these each day to water our potted fruit trees.
I kept water from steaming vegetables to water plants. I also used the soapy water from washing the pan to pour over a rosebush that has aphids on it.
I cut lemongrass, cilantro, rosemary, green onions, lettuce, and spinach from the garden for our meals.
Our electric and gas bills came this week.
Our electric usage was down 150 KW less than the same month last year, and 128 less than last month. Due to the quarterly rate increase that the electric company has given each quarter for the last several years, our electric bill was only $1.93 less than last month (the rate increase was effective mid-January). Nevertheless, I am grateful that I have been able to use less electricity each month, or the bill would be higher than last month.
We had a warmer month, meant I didn't turn on the heater, saving me $30 in February compared to the amount I spent last year in February. While this is a savings on the gas bill, I expect a warmer, hotter summer this year, as it was already in the low 70's this week, and it should be 78º F by Friday.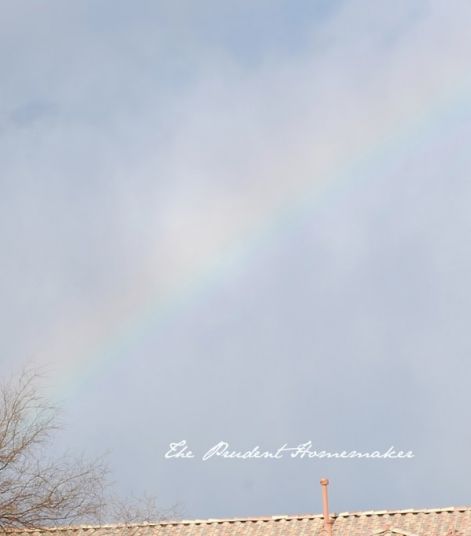 Fading rainbow
It rained one day this week. As it rains a handful of days a year here, we tend to be rather excited about rain, especially when it lasts for more than 20 seconds. It rained on Friday, which is my assigned day of the week to water the garden (the water district assigns one day to each household in winter for outside gardening). I had checked the weather report ahead of time and turned off the drip system and sprinklers in anticipation of the rain. The rain came with cooler temperatures for a few days as well, which was nice. It also brought a huge rainbow.
I thinned and transplanted my thinned turnip seedlings, and also planted seedlings outdoors that I started indoors in January. I direct sowed seeds in the garden as well.
We had beautiful weather this week. The children played outside everyday in the garden, riding bicycles, playing on the marry-go-round, jumping on the trampoline, running in the grass, and swinging on the swings.
I had a date with Wren one night this week. She got to stay up late and we played Memory together.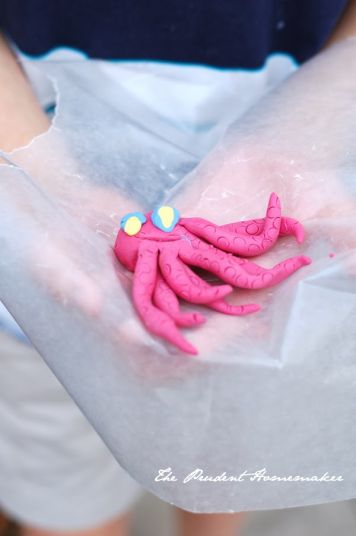 Ezrom's clay octopus: Friday's art project
My husband cut both boys' hair.
My husband and I watched two shows online for free: one on Hulu and one on PBS.org. We also watched a movie together one night for an at-home date.
I signed up this week for a free one-year subscription to Better Homes and Gardens magazine. The first issue came today!
We decided this week that we are going to attempt composting again. Our past efforts were unsuccessful (the compost dried out and blew away). We are planning to compost in a garbage can this time. We tried to buy a garbage can on Friday, and found out that our local Home Depot doesn't sell garbage cans after dark! We will be picking one up next week at Lowe's instead (where they keep their garbage cans indoors).
What did you do to save money this week?