When I told my neighbors I was planting thousands of flowers in my small front yard, they looked at me in disbelief. Most people put in a few flowering perennials here and consider their yard done–if they have any flowers at all. Annuals are rare here, and bulbs are almost complete strangers in our rock-landscaped front yards in the desert.
So when the zinnias (pictured above) came up in my front yard and started to flower, my neighbors walked over to say something. They loved the flowers. They have come by again and again to tell me how much they enjoy them when they walk by to get their mail.
All I can say to them is, "Just wait until spring. There will be even more flowers."
I think they believe me now.
I ordered seeds in the thousands.
I also ordered 900 bulbs for the front yard.
Most of the bulbs have to be pre-chilled for 6-10 weeks before they can go in the ground, since I'm in a zone 9a, but a few hundred can go in the ground now. For the most part, I chose types that should return year after year (some may be iffy in our warm climate), so that every year I can enjoy these flowers. Some, like the tulips, are a one-time deal, but others will naturalize, which means they will multiply as the years go by.
Most of the types I ordered are still available, so I thought I would share what I ordered if you would like to plant your own white garden (if you live in a cooler zone you have a lot more options, too!). I've ordered bulbs from this company in the past, both at my old house, where I planted several hundred bulbs after the 10 weeks in the fridge time while I was 3 weeks overdue with Ezrom (my husband said he knew it was close to the time for the baby to come when I stopped feeling up to working in the garden) and at this house (the 500 daffodil bulbs that I planted several years ago have multiplied exponentially!)
The company I ordered from is a wholesale company, and not only have they been really consistent with quality, but their prices are amazing. The company is Van Engelen. They have a smaller sister company called John Scheeper's, which sells bulbs in smaller quantities, but I have a thing for planting bulbs en masse. Van Engelen does have a minimum order requirement of $50 before shipping, but you could easily end up with 500 bulbs for that price, depending on the type of flower.
The iris above are 100 bulbs for $11.75, or 500 for $54. (Note: Though the tag says that they bloom in May/June, in a warmer climate like mine they will bloom 2 months before that).
I also noticed that they start marking down whatever bulbs they have on clearance by the beginning of November (except for paperwhites or amaryllis since people buy those for indoor forcing).
Here's what I ordered for my white garden:
Narcissus Curlew (A white daffodil)
Narcissus Ziva (aka Paperwhites—these bloom in November in the ground here in my backyard; since these are being planted now and the others are already coming up in my backyard, these should be up the week before Christmas this year, but next year I expect they'll return in November.)
Tulip White Emperor
Ranunculus White Shades
Ornithogalum Umbellatum (aka Star of Bethlehem)
Leucojum Aestivum (looks like a late-blooming snowdrop)
Iris Reticulata Nastacha (a short rock garden variety)
Iris White Wedgewood
Oriental Lily Casa Blanca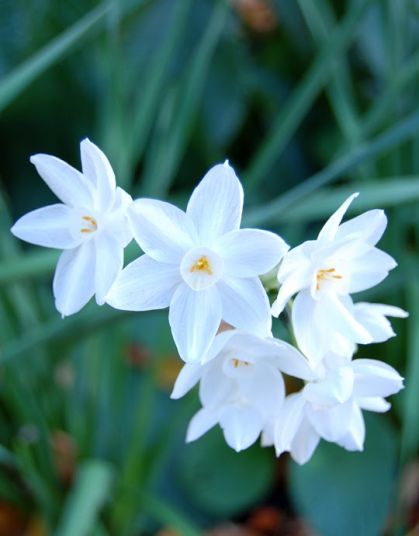 Paperwhites in my garden in November
I'll be taking and posting lots of pictures as these bloom. They should bloom over several months.
So even though I'll be posting a white garden reveal soon, you won't be able to see all of what it can be for a while, because these beautiful flowers will still be hanging out in my refrigerator, waiting to be planted.
The best is yet to come!
Note: This is not a sponsored post. I have just been really happy with this company's quality, selection, and cost. And I'm more than a little giddy about all of these flowers, including digging in the dirt to plant them!