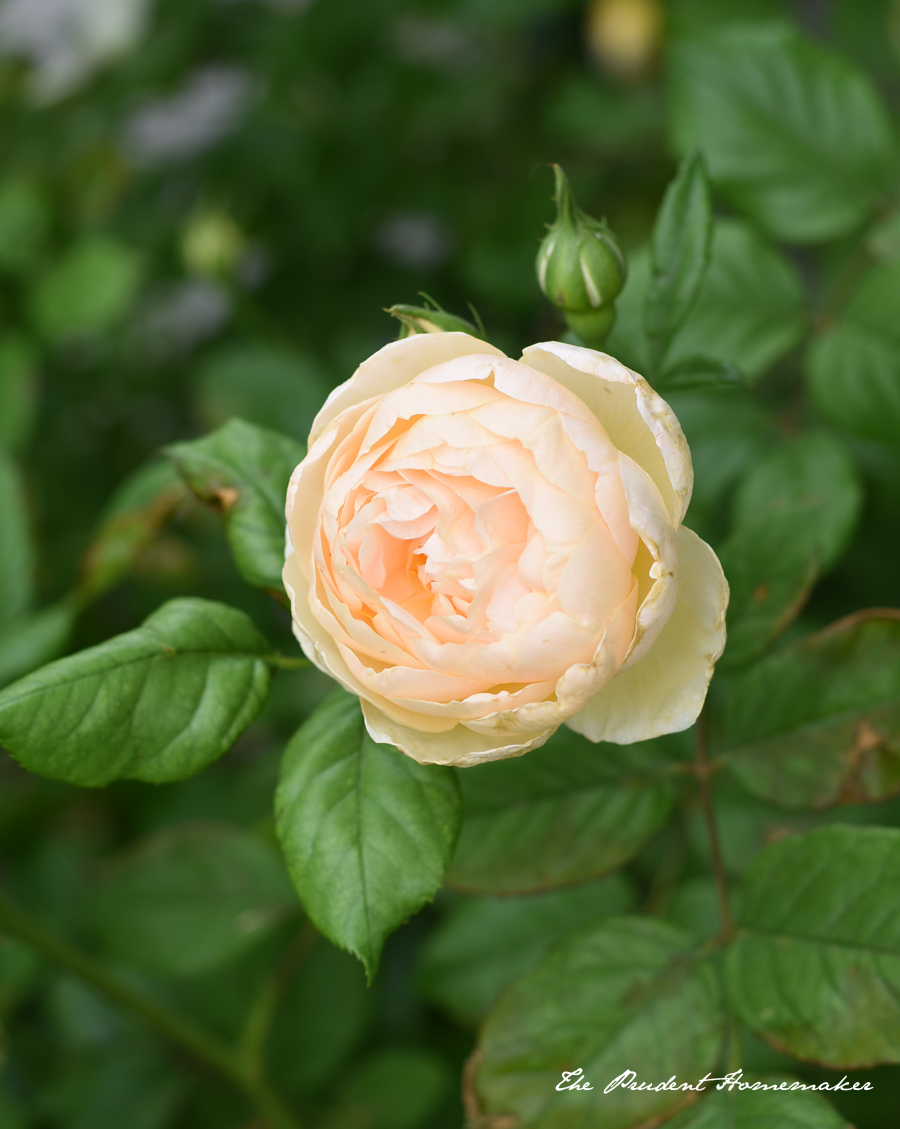 The garden is becoming rather full and lush lately. We had a beautiful, cloudy weekend, with a bit of rain, which gave me the opportunity to photograph the garden without the harsh light that it normally gets. Rain in April is extremely unusual here, but oh so pretty, and we were happy for the storm to drop the temperature 18º.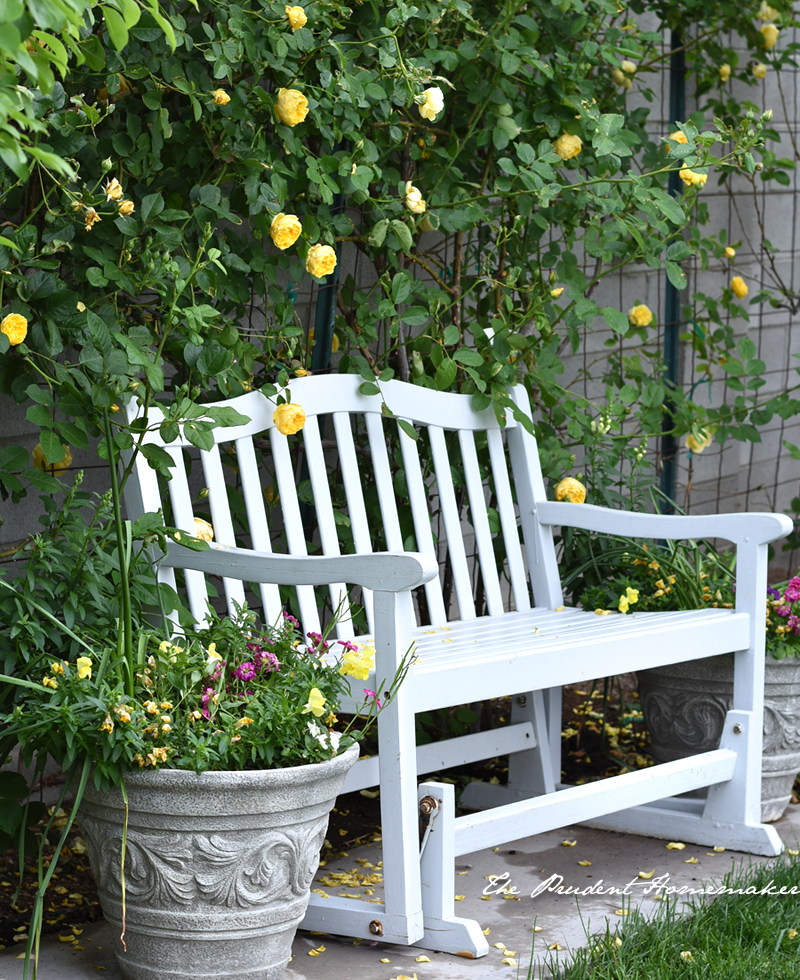 Because it had been rather warm prior to the storm, the David Austin roses have bloomed several weeks earlier than normal.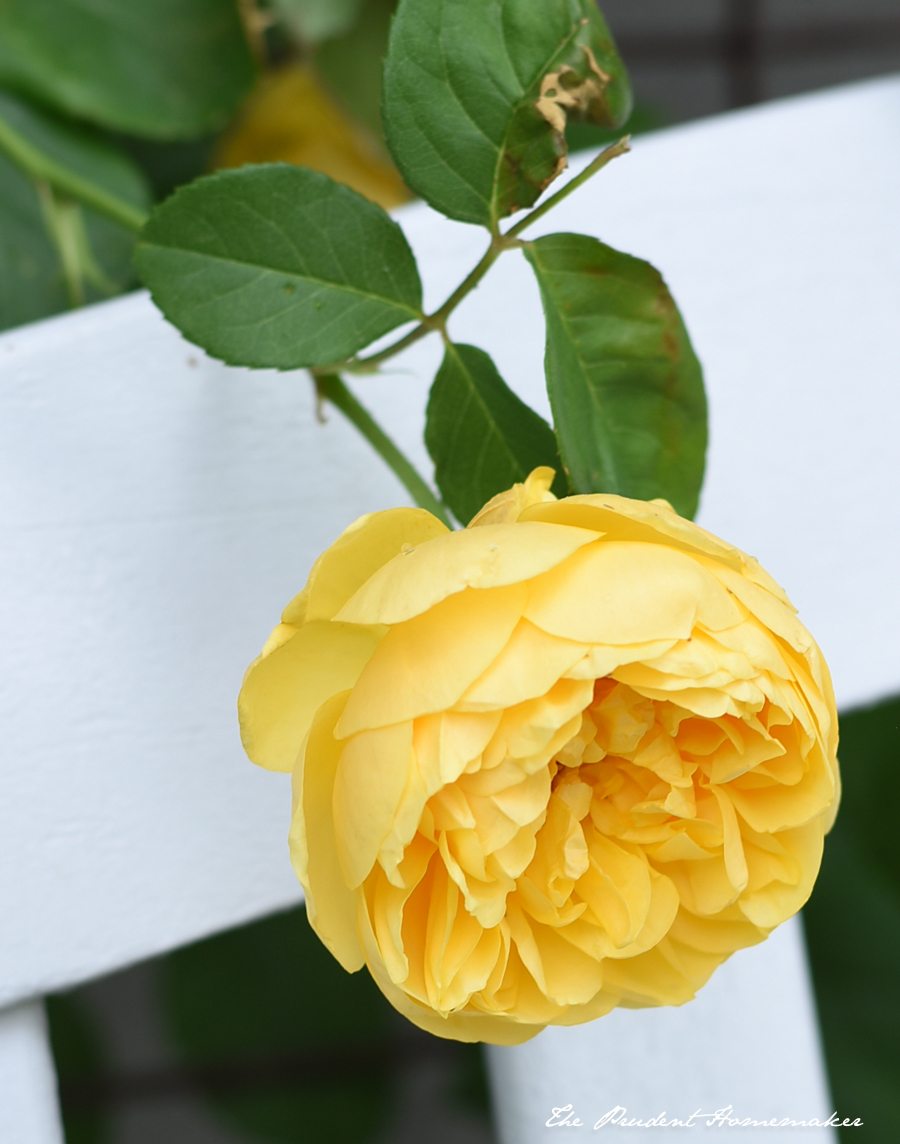 These are David Austin's "Graham Thomas."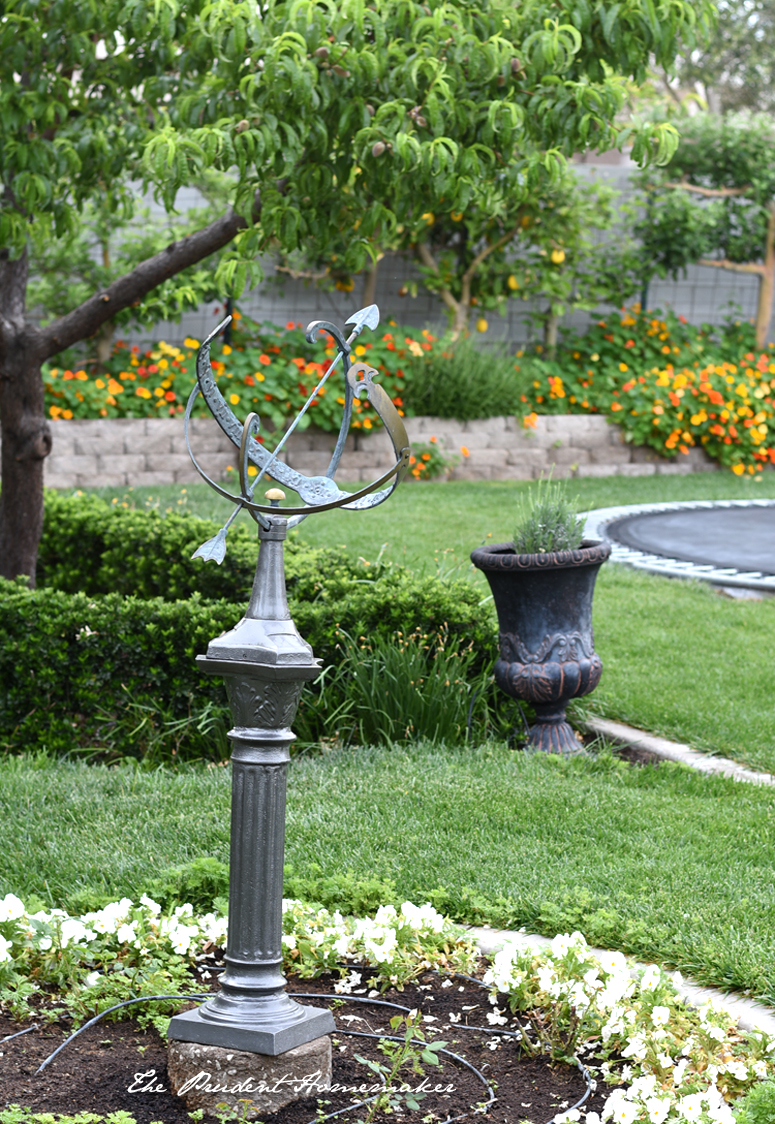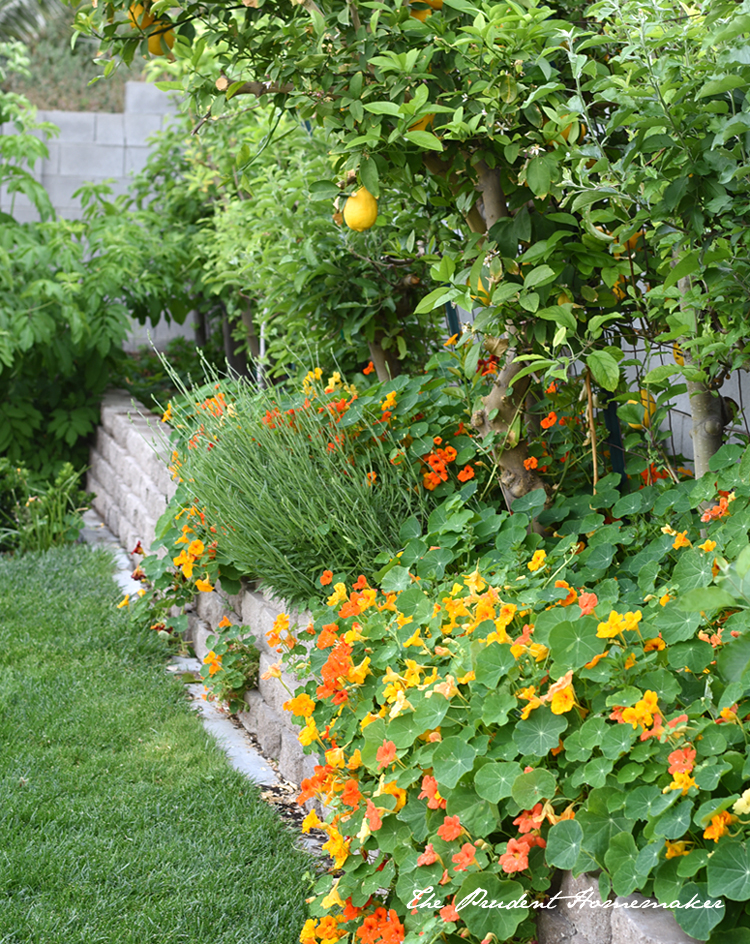 The nasturtiums are blooming in abundance. These are all self-seeded ones that came up in January.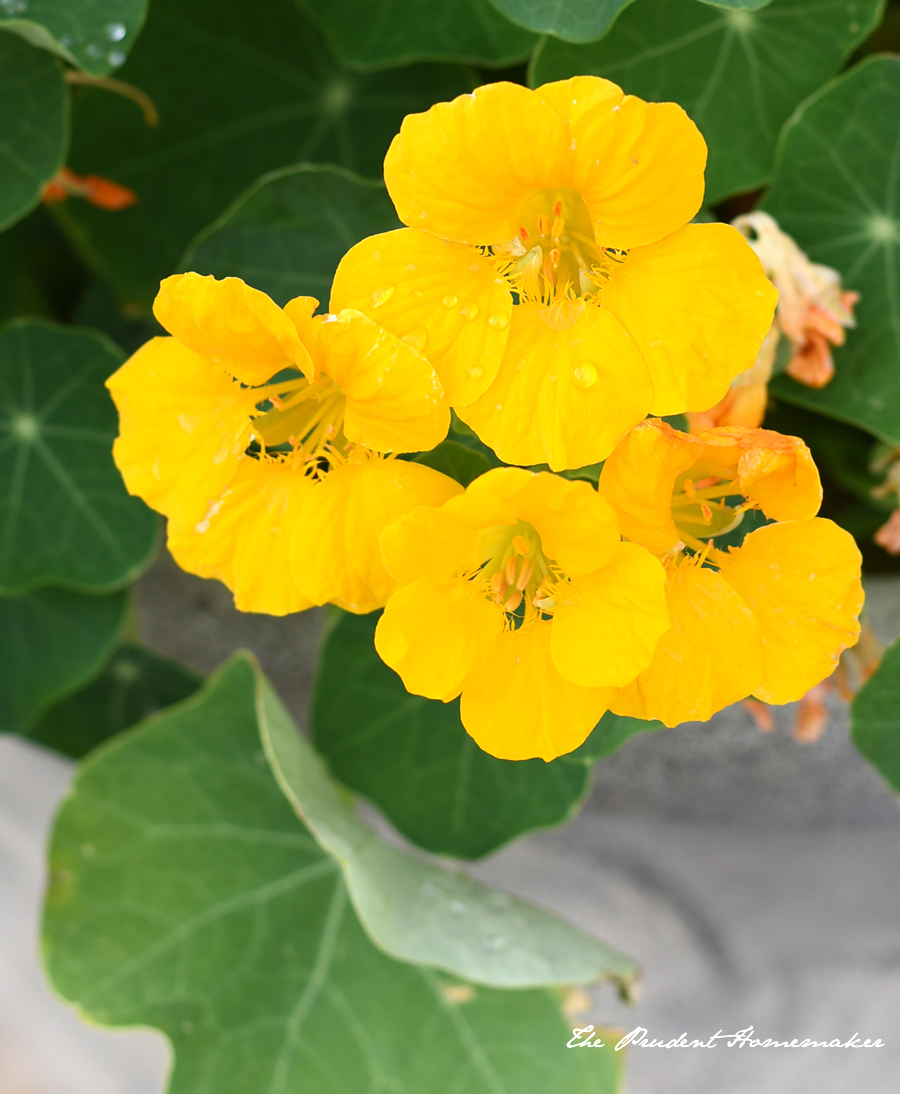 I also collected some seeds last year that I planted in pots.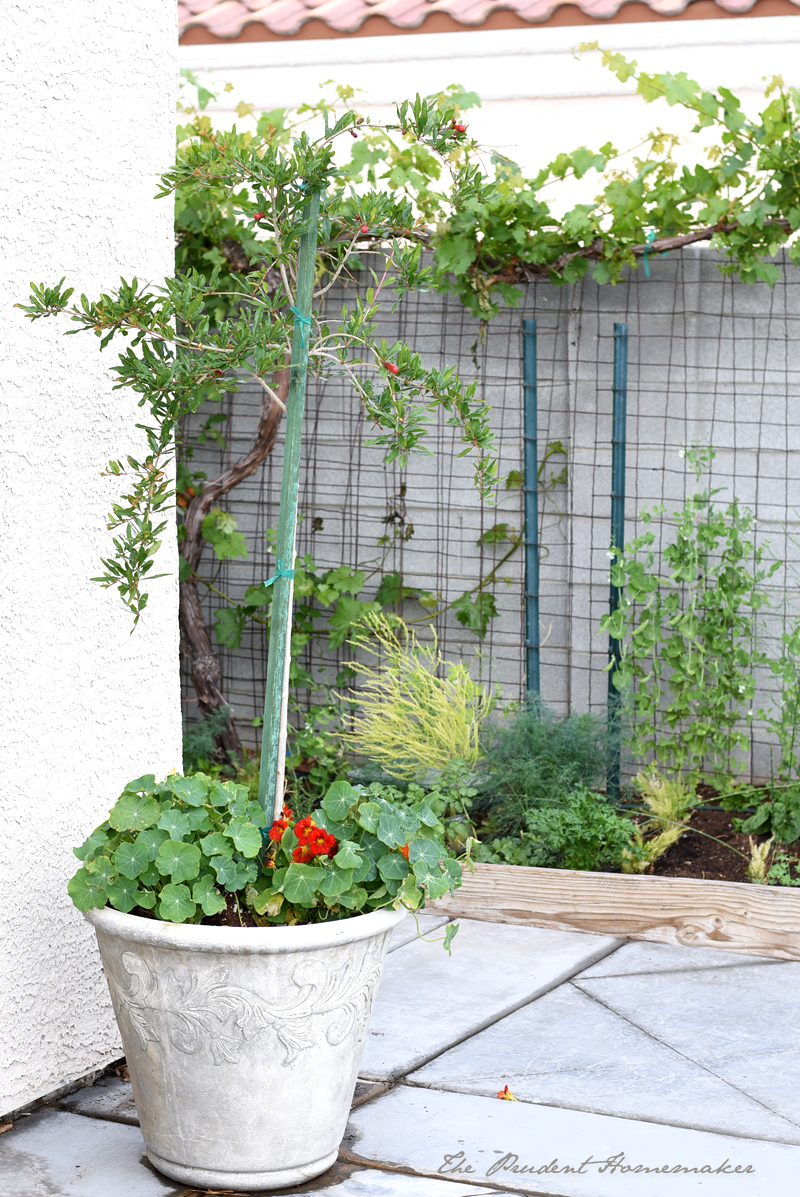 In a more mild climate, these will bloom all summer. Here, they will die once the heat sets in.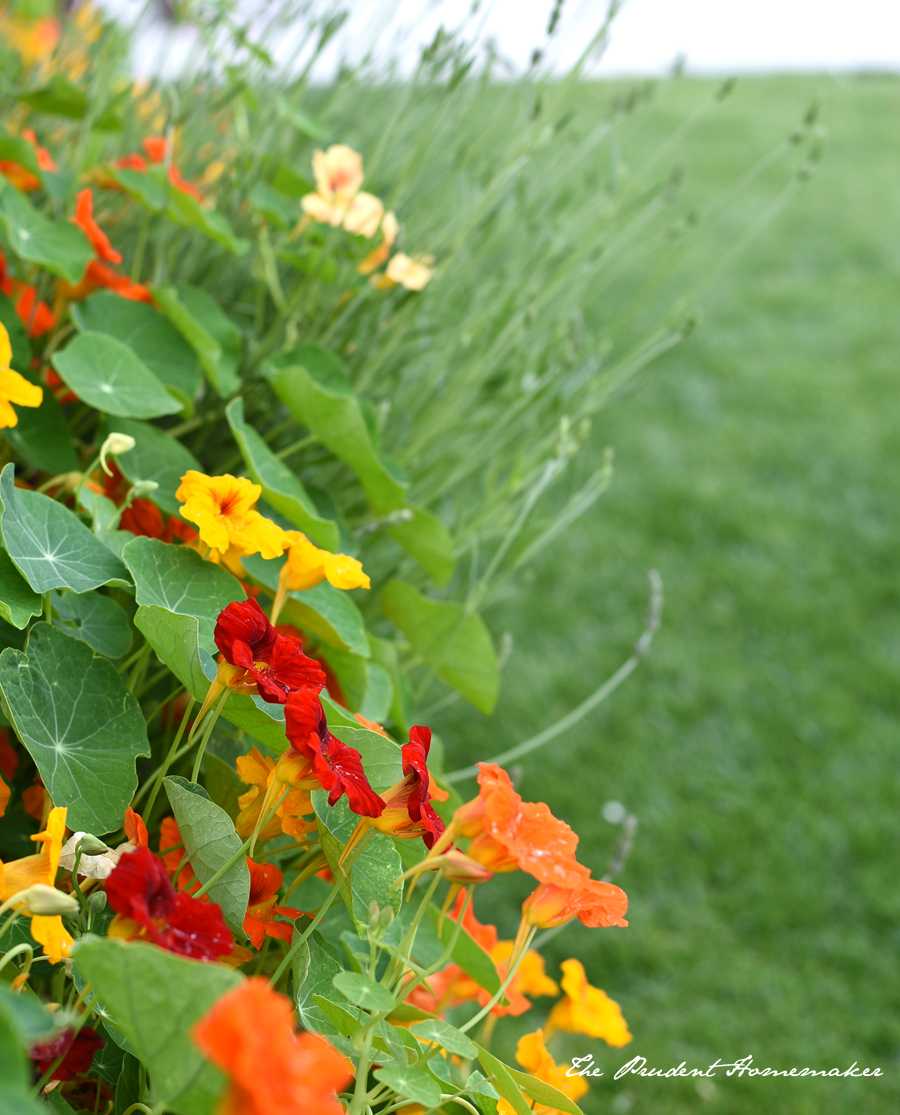 If you're looking for an inexpensive way to fill your garden with flowers, I highly recommend nasturtiums. In addition, the leaves, flowers, and seed pods (when green) are all edible (they have a sharp peppery taste). You can buy seeds for them just about anywhere you buy garden seeds, They spread out, and are also a good spiller plant for pots, hanging baskets, and window boxes.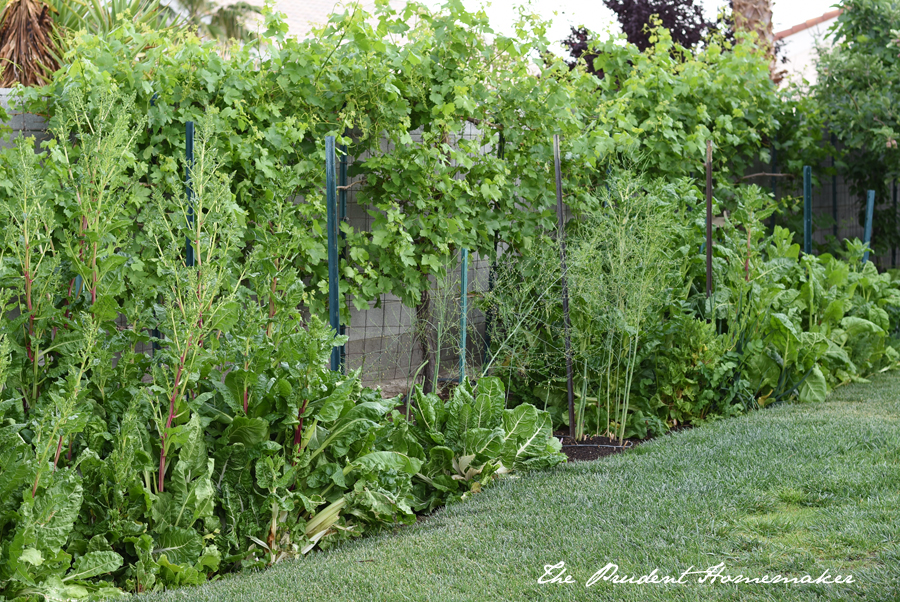 The beets and Swiss chard are bolting. It's easy to see why they've been on the menu so often lately. They don't get bitter when they bolt, but they won't hesitate to grow 6 feet tall within a few weeks. I'll pull some beets soon (and can them) and plant other things in their place. I'll also leave some to finish going to seed. All of these grew from self-seeded beets from the open-pollinated ones I planted last year.
The grape vines are filling out nicely on the trellis behind them.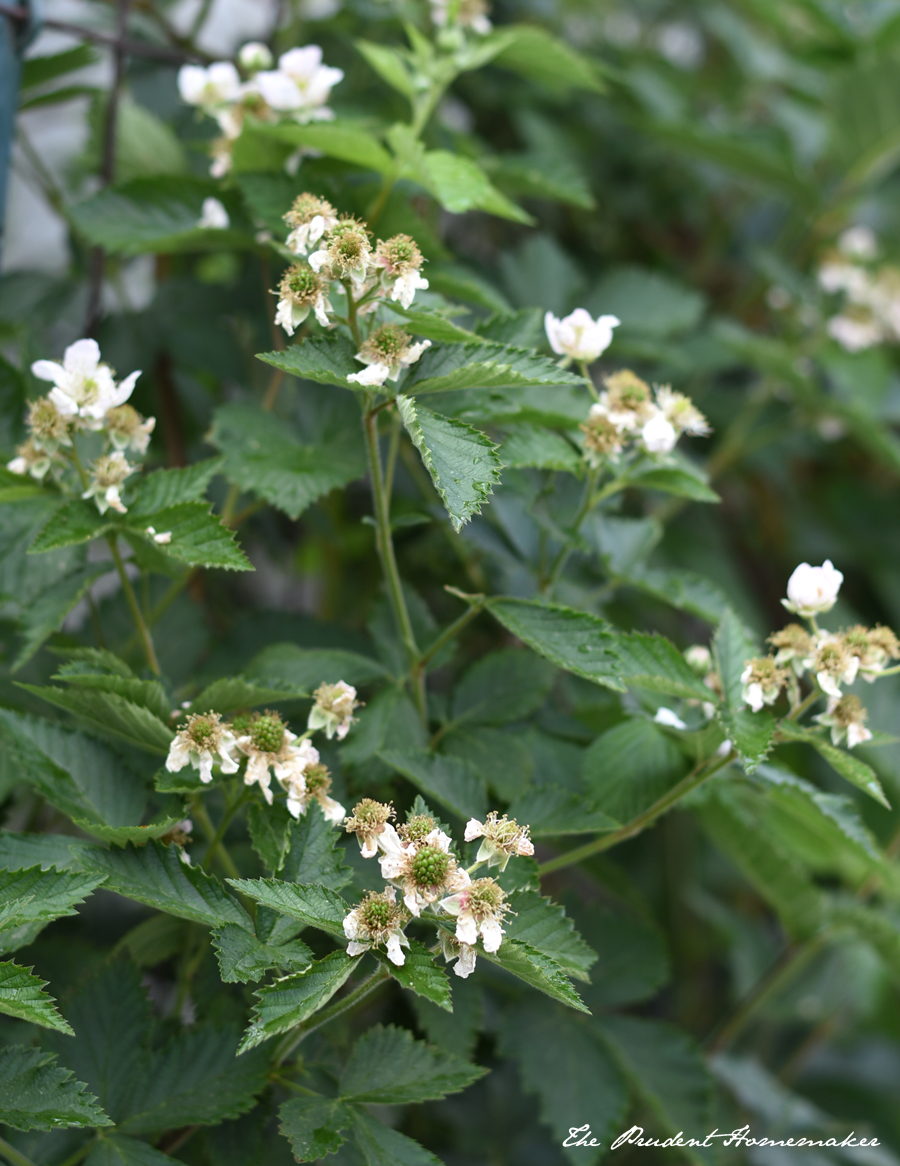 The blackberries are full of blossoms. These will ripen next month. They're planted in a space that's a foot wide, on the west side of the house. They get afternoon shade here, which is essential in our heat to prevent them from burning. This area was originally a slope, which we cut back to the wall, and then added dirt and a low wall (to keep it to the height of the original slope, as the neighbor's house is built higher). The narrow planter allows us to walk past the air conditioning units that are on this side of the house, and gives us some room for storage as well.
In the same planter, I have planted snow peas. These don't get shaded from the house, as they are further south in the planter. These are the 30-day Little White Snowpeas from Territorial Seed. They took about 30 days to germinate, and after about 35-40 days, the first ones started appearing on the vines. I normally plant Oregon Sugar Pod in the fall, which are ripe this time of year. (I actually did plant them, but all of my seedlings were munched by bugs, so I planted these at the end of January when the seeds arrived.) I planted them in two places in the garden, and the ones here are doing much better than the ones that have morning shade and afternoon sun. I also had a higher germination rate in this spot.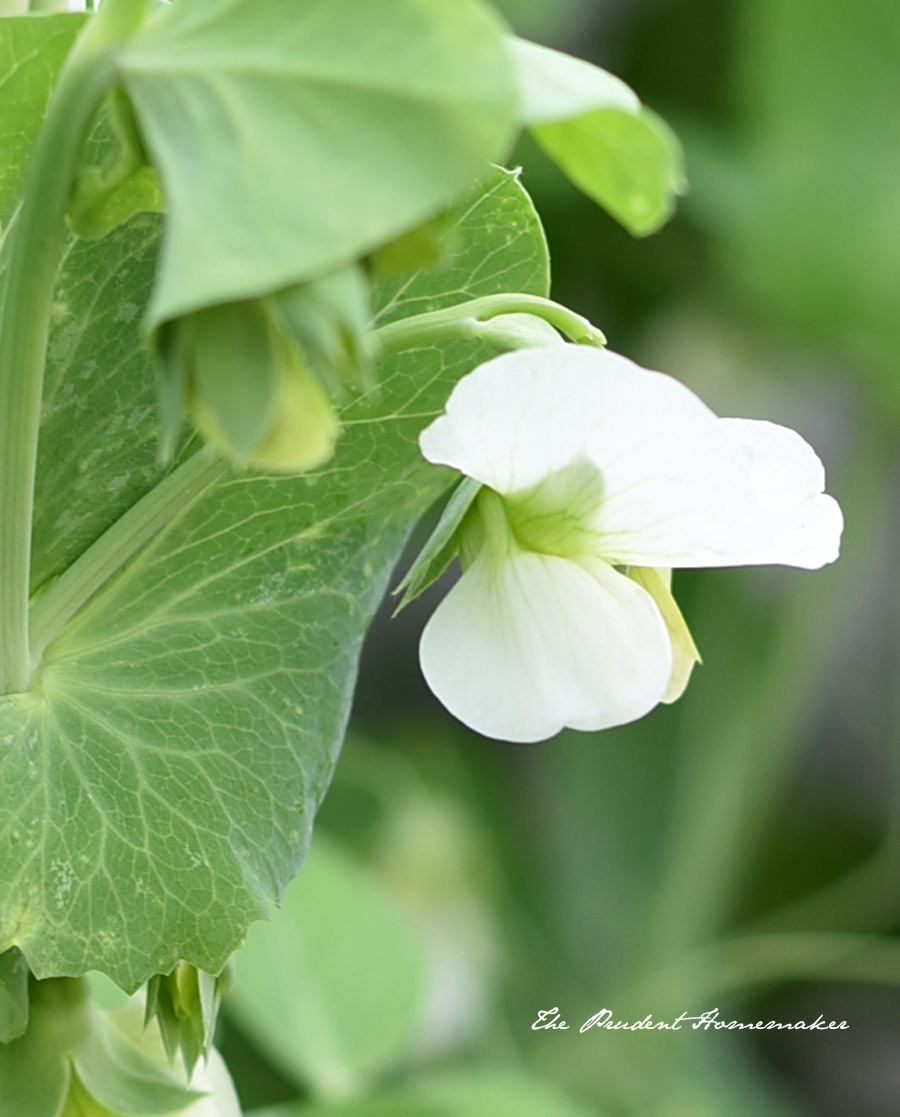 In both places, I planted them below some grape vines. These are a shorter variety than the Oregon Sugar Pod, so I can harvest them now before the grapes fill in much more. Unfortunately snow peas last only about a month here before dying of powdery mildew every year, but come that time, it is too hot anyway (at the end of April, usually; I am normally harvesting a bit earlier than now) and the pods become fat and hard almost immediately.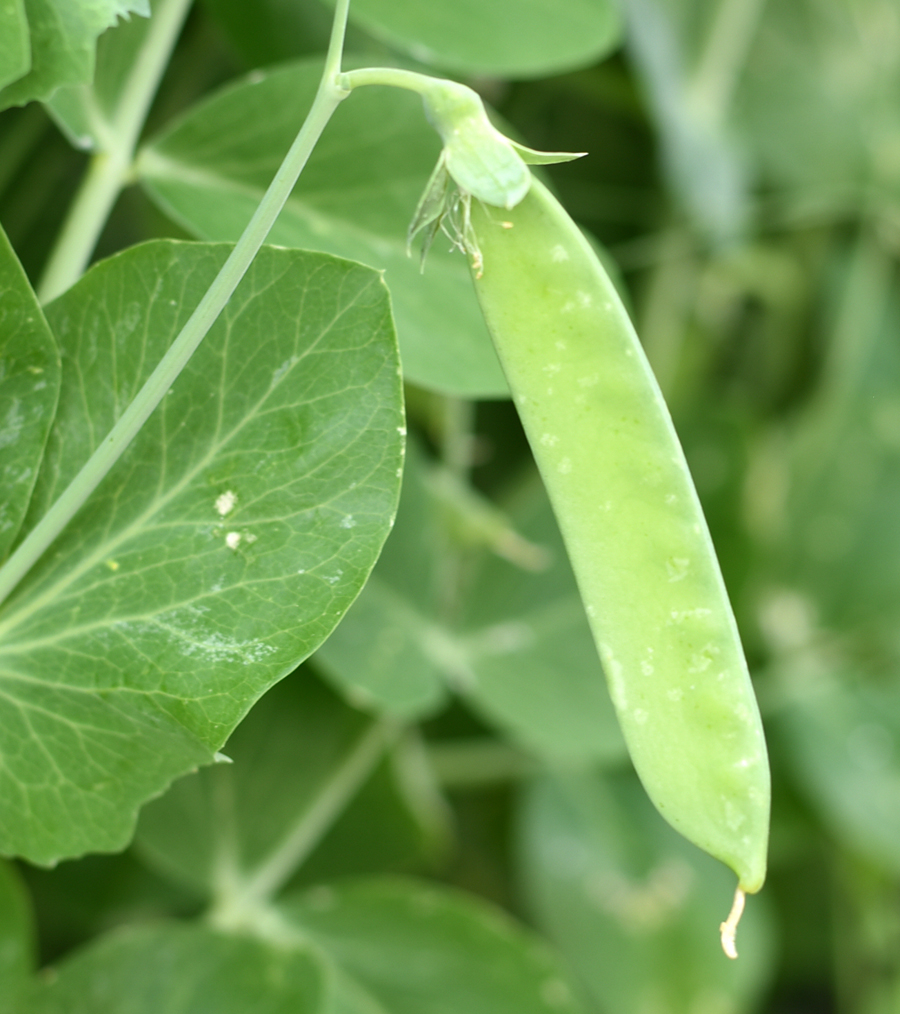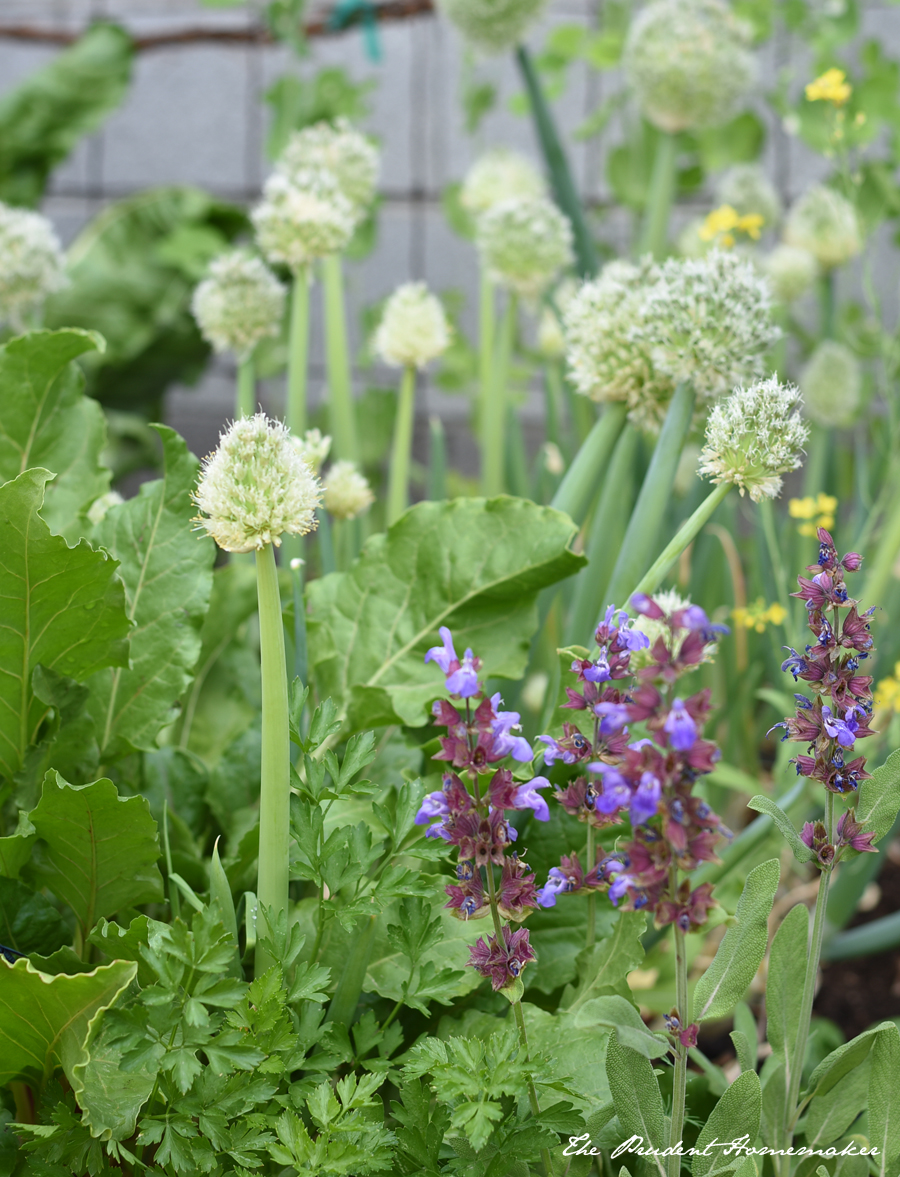 My sage and green onions are in flower. This is a new sage plant that I put in last fall, and a new location for my green onions. I dug them from their old location and moved them here. I'll collect some seeds and let others self-seed in this spot.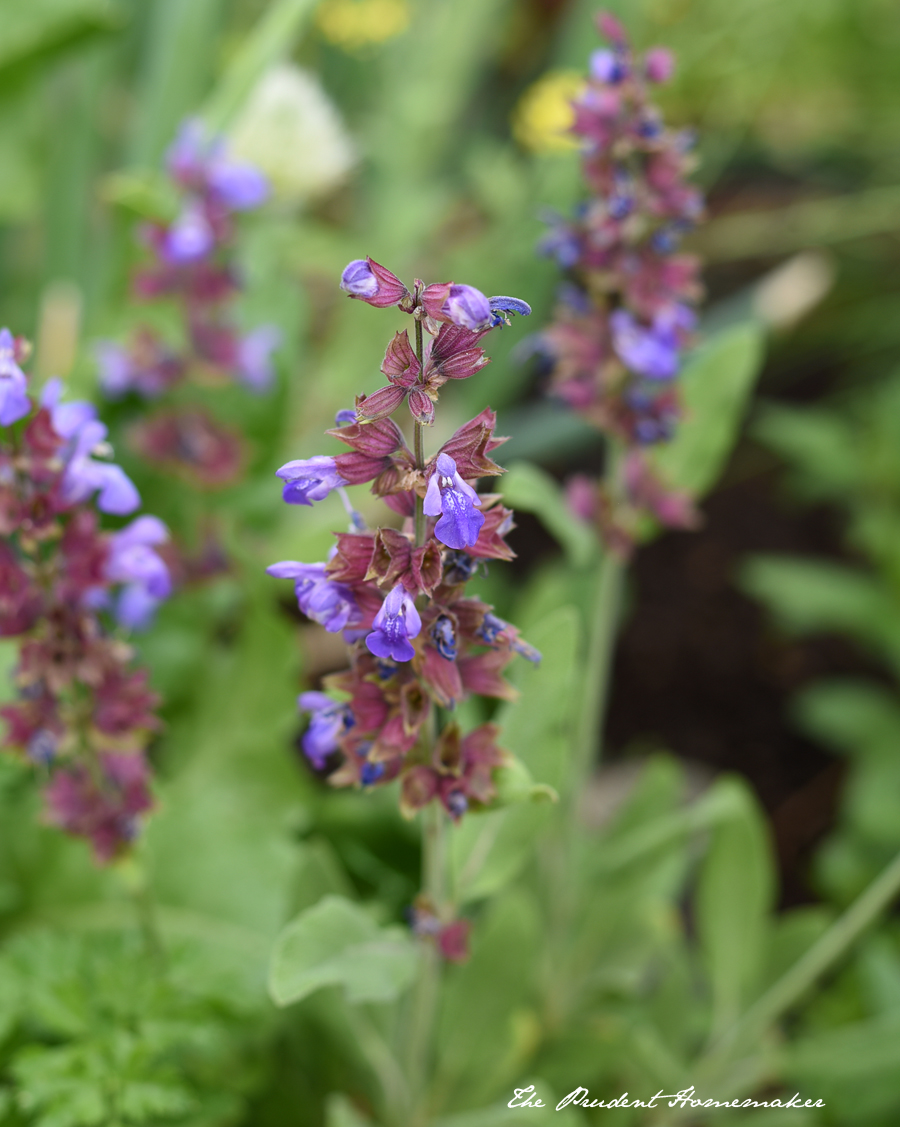 I hope you've enjoyed visiting my garden today!
Participating at: