My first peony!
I've seen Claus Darby's name on several of the photos I've pinned on Pinterest before, but it wasn't until Friday that I started reading his blog, inspired by the photo I saw on Pinterest of his sunken white garden. The more I read, the more I realize how much my white garden was inspired by his photos of his own white gardens.
Saturday I went to the nursery, inspired by his gardens and other flower pictures on Pinterest. I went searching for double begonias after seeing them on Pinterest, hoping to find them but pretty sure I had seen only single begonias before. Begonias had never captured by eye before, but the double ones were so different than what I had seen before.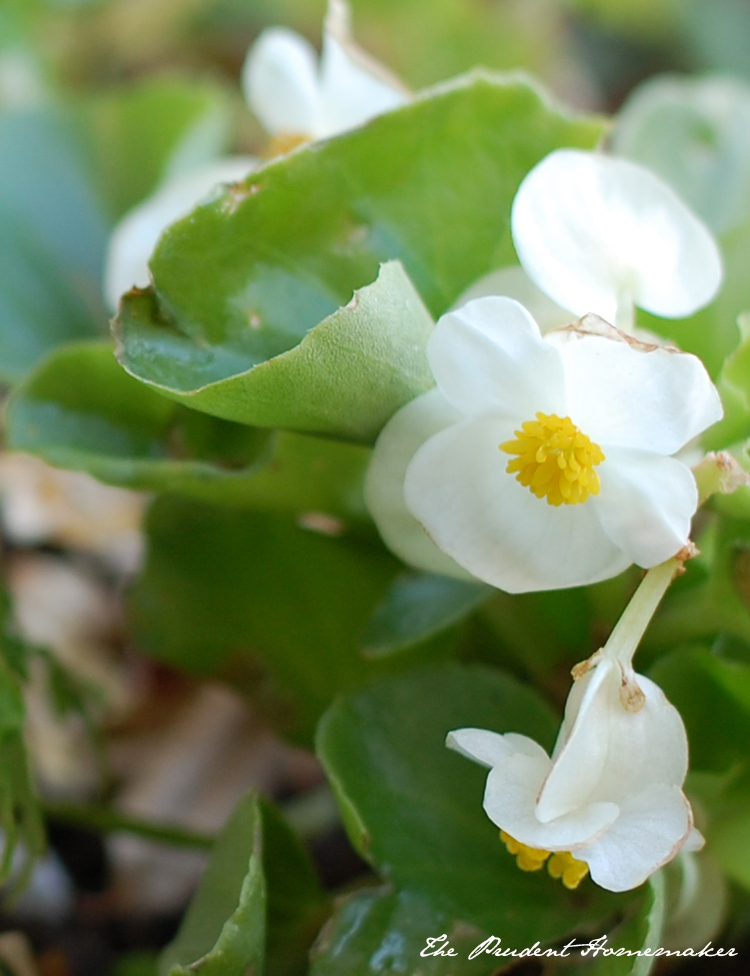 The nursery only had single begonias, which looked nothing like the beautiful rose-like flowers that had inspired me to rethink begonias. I bought a six pack of the single begonias anyway (for $2.98) and planted them (pictured above) in the shady spot by the front door. They are tiny right now.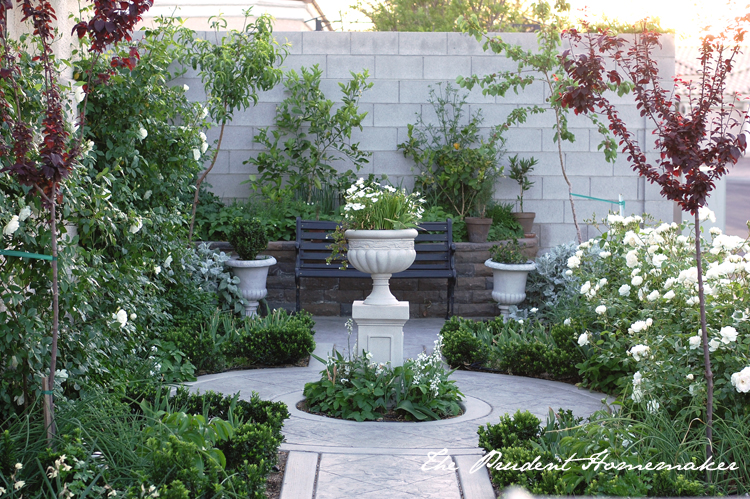 Claus had this interesting post about what constitutes a lush garden. In his words, a lush garden is one where you can no longer see the dirt. That, combined with all of the photos of his bench surrounded by flowers (like this one), made a light go off in my head, and I realized what was bothering me in the white garden–all of the bare spots and about to be bare spots, as the greenery of spring bulbs dies back.
We are expecting temperatures in the upper 80ºs this week; it's time for me to plant summer seeds in the garden.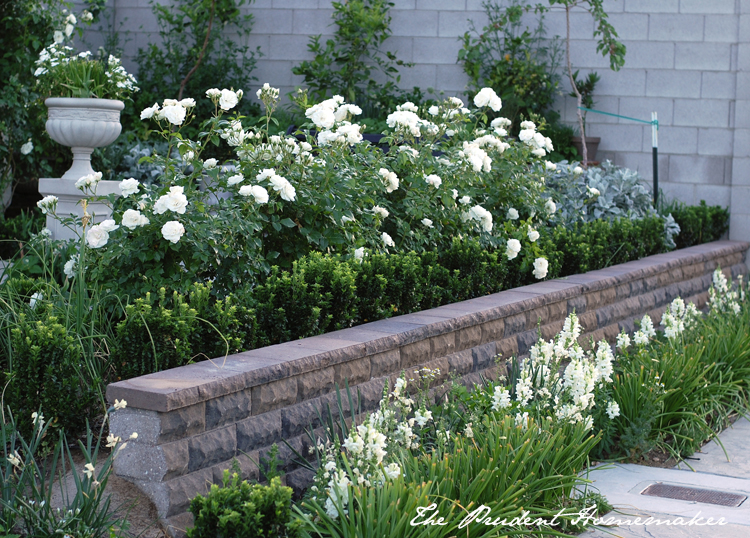 He also made me reconsider dahlias. I've always thought of dahlias as being a cooler climate flower, but Claus said that dahlias originated from Mexico. A little research on my part and I found that in hot climates, dahlias need what pretty much every plant needs here in the desert: morning sun and afternoon shade. Winco has had some dahlia tubers in the front of the store for a bit and now I am thinking of trying a few, if they have any left! (My plan to not buy any new flowers for the garden this year is being completely erased; it seems that flowers are all I can think about lately, and since my birthday is today, I think flowers it is!) What I don't know–and I would love to hear from those of you who grow dahlias, is if they make a single flower, flower for a short while, or flower all summer. (Update: They don't have any more dahlias! Anyone have a preferred online source?)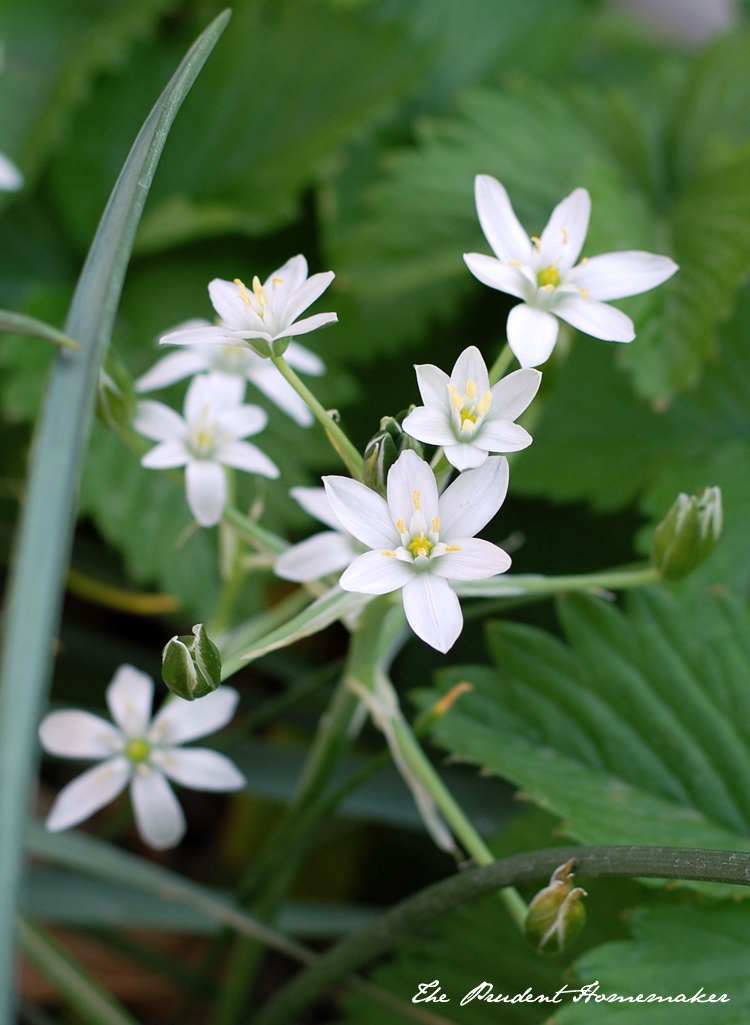 Star of Bethelem
Plans for this week:
Garden:
1. Remove four non-producing trees from the garden
2. Plant new trees in their places
3. Plant more basil seeds in the white garden
4. Plant zinnia seeds in the white garden
5. Plant vinca seeds in the white garden
5. Remove pea plants from the garden and keep the pea pods for seed to plant next year
6. Replant summer seeds: Armenian cucumbers, red noodle pole beans, and zucchini. With all the wind storms we've had lately (49 mph at one point last week) I've not been in the garden much this month except to thin my fruit trees and cut flowers to bring in.
7. Pick mulberries from my neighbor's garden
8. Plant zinnia seeds in the circle in the backyard garden
9. Cut chamomile buds to dry
10. Remove spent plants, including broccoli.
11. Plant butternut squash seeds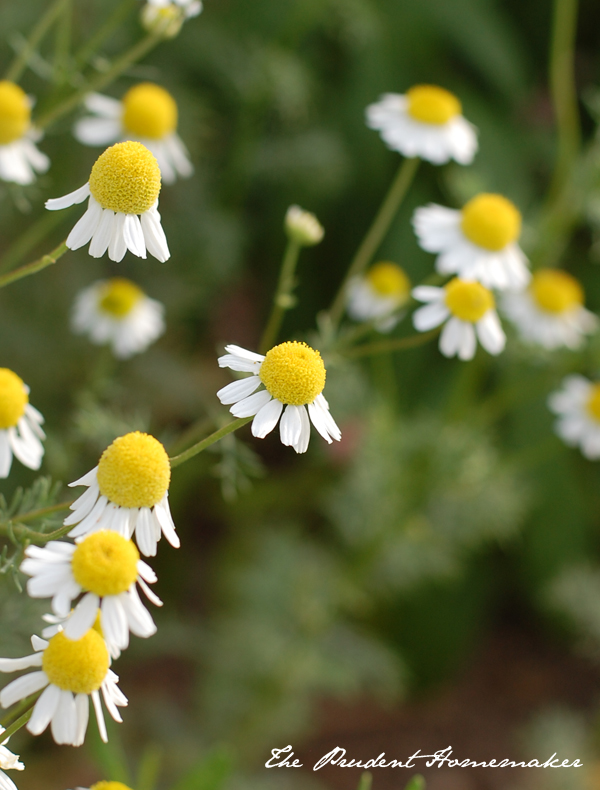 Chamomile
Sewing:
1. Make a new apron for myself
Organization:
1. Finish folding and putting away all outgrown children's clothes which are currently in my room
2. Finish organizing the pantry
Canning/cooking:
1. Can mulberries in syrup
2. Freeze mulberries
3. Cook a large pot of black beans in the solar oven
Shopping:
1. Trip to Winco to check out the dahlias I went; they were all gone!
2. Search online for new dress shoes for Winter
Blogging:
I have several blog posts I'm working on, and another 2-3 more that will go up this week before the Frugal Accomplishments post on Sunday/Monday. Make sure to check back for these.