Today I'm doing something in this series that I've never done before.
Today I'm sharing some gifts that Winter made!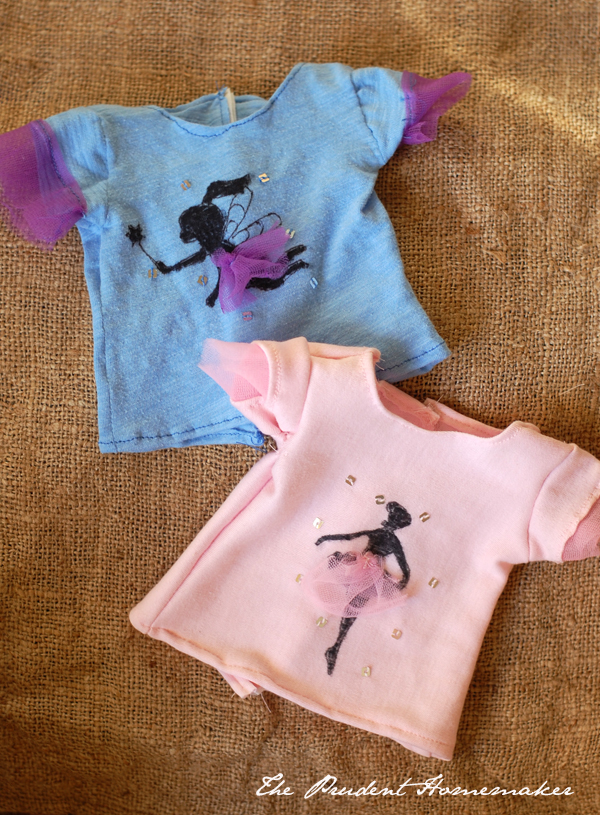 I actually had planned to make these doll shirts (just like the pink one that she made) for the girls this year. We had seen similar shirts in the American Girl catalog. So, when I saw what Winter was making, I was rather surprised!
Winter is 12 (almost 13) and this is her first time making doll clothes. She has used a sewing maching a bit, but not a lot. It's also her first time sewing on knits and her first time using a pattern.
I think she did a fabulous job, and I know her sisters will be thrilled!
Supplies:
Jersey knit (you can reuse old worn shirts if you like)
Tulle (we used a couple of old, worn dress-up ballet skirts from the Dollar Tree)
Thread
Sharpie (permanent marker)
Velcro
Shirt Pattern (it's free)
Sequins
Tools:
Sewing machine
Ball-point needle (when sewing on knits, a ball-pount needle is important)
scissors
Light table or bright window
Hand-sewing needle
Winter followed the directions for the free shirt pattern to make the shirts. She then traced a ballerina and a fairy silhouette onto each shirt (she found the silhouettes on Pinterest).
For the tulle, she cut small pieces and sewed a gathering stitch (a long stitch) though each bit, and then pulled the threads tight. She then stitched then on top of the ballerina and the fairy.
She added some tulle around each sleeve as well.
She hand-sewed each sequin on around the shirt. The sequins were ones that had come off something that she had.
Cost:
I had all of the supplies on hand to make these. Most were repurposed items, but I did purchase the pink knit, the velcro, the thread, and the marker at one point. These cost about $0.25 each to make if you are buying all all of the supplies on sale/with a coupon.
Time:
Each shirt took Winter, a 12-year-old beginning sewer, about 1 1/2 hours each.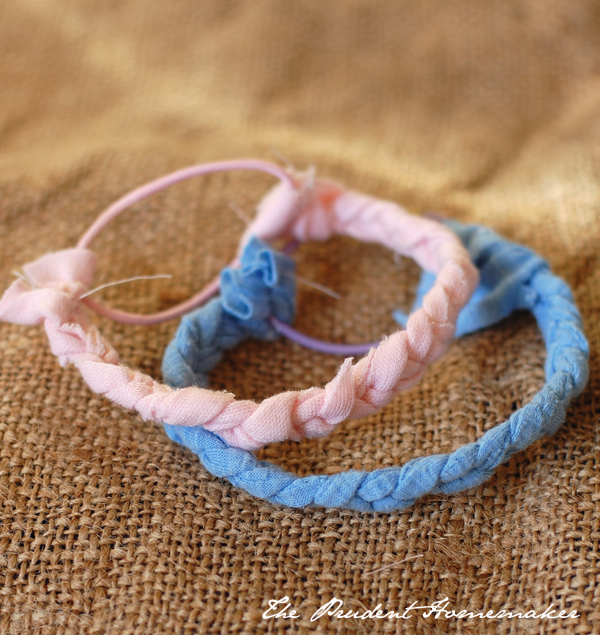 When she was done, she used the scraps and two hair elastics (1 cent each from The Dollar Tree) to make a couple of matching doll headbands. They are simply braided strips of fabric sewed onto hair elastics.
She is also planning to make some jeans for the dolls, using the bottom half of jeans we've cut off of worn jeans (when the knee was ripped and I cut them off to turn them into shorts).
Did you make any gifts today? What did you make?