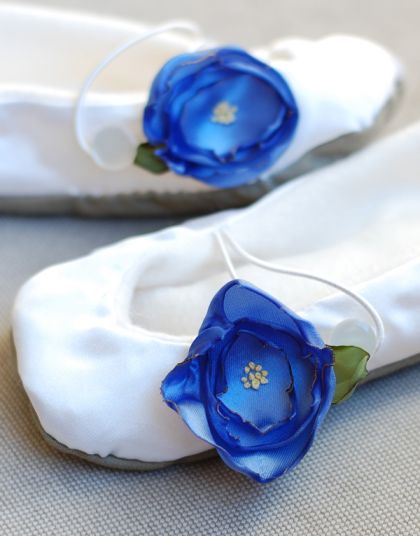 For the eighteenth day of A Gift a Day, I made slippers. Last year I made 4 pairs of slippers, all very similar to these ones. I made a few changes to these this year, including zigzagging the seams to keep the satin from unraveling, and making the elastic longer than called for in the pattern to accommodate wide feet and high arches. Last year I glued beads to the center of the flowers. This year I used embroidery thread and made several French Knots in the center instead. Last year I used polyester felt (which is also washable–and yes, I did wash the slippers, but I hung them to dry) to make leaves next to the flowers. This year I made leaves using lining fabric. I finished the edges by heating them just like I did with the flower petals.
Slippers
Supplies:
fabric for outside (I used a hand-me-down girls' shirt that was given to us)
fabric for lining (I used fleece)
matching thread
pattern
buttons
elastic cord (I found mine here)
satin for flowers (optional)
embroidery thread for flowers (optional)
Tools:
scissors
sewing needle
sewing machine (optional; you could sew these by hand)
Time:
The total time for one pair of slippers was 3 1/2 hours.
Today I made one pair of slippers.
Cost:
$0.40 per pair. These were a bit more than my other slippers, since I used buttons that I bought from Wawak instead of buttons from my button jar.
Would you like to win your own slipper pattern to make slippers from size newborn to adult? I contacted Arlene from Winter Peach and asked her if she would be willing to give away a pattern to my readers. She said yes!
The Prize: Vintage Flair Flats pattern size newborn to women's size 11
To enter:
Leave a comment below with the words ENTER ME. Be sure to include a way to contact you.
As this is for a pdf pattern, it can be emailed to the winner anywhere in the world, which means readers from anywhere in the world are eligible to win.
Winner must claim her/his prize within 48 hours or a new winner will be chosen.
If you do not wish to enter the drawing but still want to comment, please feel free to do so!
This contest ends on Tuesday, December 18th, at 8:00 pm PST.
If you would like to buy the pattern, you can use the coupon code PEACH25 and it will give you 25% off at check out.