Winter will be 13 in December. At the current moment, one of her passions is trying out new hairstyles. Thanks to Pinterest, she has a wealth of ideas in front of her.
I made these ribbon headbands for her using materials I had on hand.
Supplies:
ribbon
hair elastic
thread
lace (optional)
Tools:
scissors
sewing machine or needle and thread
measuring tape
You'll need to measure the length of the child's head as she will wear the headband, allowing for the elastic and some stretch. The ribbon will be a few inches (or decimeters) shorter than the length all the way around.
Thankfully for me, Winter had already made herself one of these, so I just borrowed it to measure the length. Her finished length of the ribbon was 19 3/4 inches. I added an inch for folding and cut my ribbons 20 3/4 inches long.
Place the ribbon over the elastic and fold it over twice, and then sew it closed close to the elastic. Repeat for the other side.
For the lace headband, I sewed the lace to the ribbon in two long rows with matching thread. I then finished it like the others.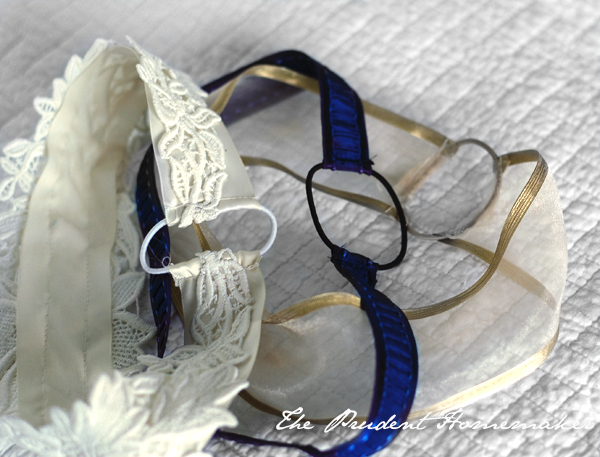 Time:
The total time for one headband was less than 5 minutes.
Cost:
Your cost will vary by what supplies you have on hand. I bought elastics at the Dollar Tree (they have 100 for $1 with metal crimps or 35 for $1 without metal crimps). The gold ribbon came from a gift that we were given years ago. The cream-colored ribbon was one I have had since I was 14. The blue ribbon I bought on clearance at Joann's years ago; the amount I used for this piece was $0.80 (most ribbon is much less expensive; this was a more expensive one). I generaly buy ribbon when it is 50% off, and I buy the less expensive ribbon that sells by the spool.
The lace piece came from my mother-in-law. Before she died, she asked me to look through her fabric and choose whatever I would like. This piece is leftover from about 30 years ago, when she and one of my sisters-in-law used to make wedding gowns. This type of piece can be rather expensive. A good way to find pieces of lace for less is the thrift store and at garage sales.
In short, some of these cost me as little as $0.03 ( I had the more expensive elastics, or they would have been $0.01), and the blue one was $0.81).

Did you make any gifts today? What did you make?