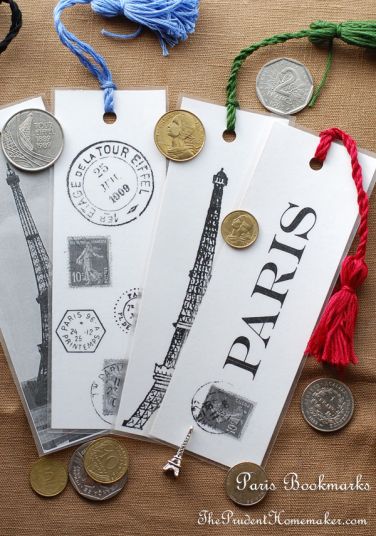 I took my oldest daughter with me to Target to run some errands. I usually avoid even glancing in the direction of the Home Decor department, because they have cute things and I know I will see something I like. I find it easier to be grateful for what I have when I don't go looking at what I can't have.
However, this time we ended up looking down two aisles, and we saw a large Eiffel tower clock. At first my daughter thought it was a wall decal (it was just black with hands on it and no numbers, so it's not an easy-to-read clock). Apparently a friend of hers has an Eiffel tower vinyl decal on her bedroom wall, and my daughter told me that she really liked it.
As soon as she told me, I knew what I was going to do for the bookmarks that I was planning to make for her. I knew The Graphics Fairy had several free images of the Eiffel tower.
In the end, I also ended up using a few postmarks from Just Something I Made as well.
For the twelfth day of A Gift a Day, I made Paris Bookmarks. You can make them, too! I added the free printable to my bookmarks page. If you have a color printer, the stamps will print in color.
Paris Bookmarks
Supplies:
cardstock
embroidery thread for tassels (4 skeins)
clear shelf paper


Free Printable and tutorial from my website
Tools:
scissors
paper cutter (you can use scissors instead)
ruler
printer
Time:
The total time for four bookmarks is around 30 minutes.
Today I made four bookmarks.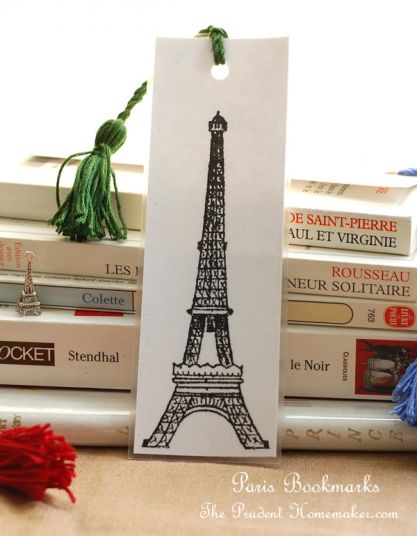 Cost:
$0.43 per bookmark, or $1.72, if you are buying supplies. I had the embroidery thread from my grandmother's collection, so that brought the cost down to $0.10 per bookmark, or $0.40 total.
Joann's has embroidery thread on sale for $0.33 a skein on Black Friday. Regular price is only $0.39 if you aren't there on Friday.
Images courtesy The Graphics Fairy and Just Something I Made. Finished design is copyright The Prudent Homemaker.