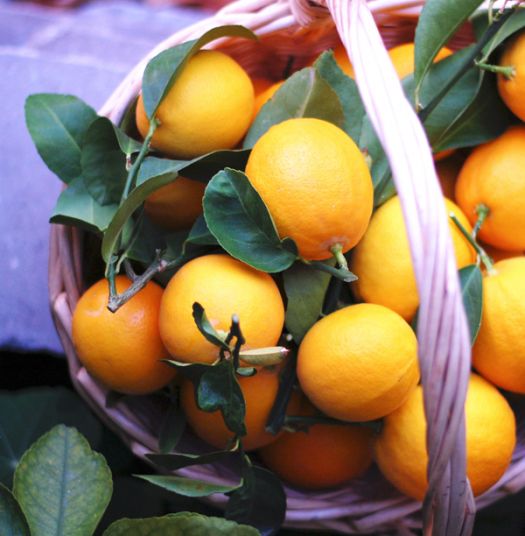 Meyer Lemons–yes, they really are that yellow!
This week we harvested Meyer Lemons. Every time I've photographed these before someone thinks they're oranges. They're a very dark, intense yellow. They are large; often they are the size of an orange. They have a thin rind, they are full of juice (I have been able to get 1/2 cup of juice from an average lemon) and have a very intense flavor. They are very sweet, and my children have been asking to eat them–which they have done, as have I. They are expensive in stores, compared to regular lemons. They smell wonderful.
They will keep for 1-2 months in the fridge without a problem. I have left several more on my trees still. I will freeze some of the juice in a tiny ice-cube tray to use throughout the year on vegetables (I love lemon juice on several vegetables, including Swiss chard).
We've had lemon juice with powdered sugar on crepes this week. My 7-year-old has been learning to cook crepes; he really enjoys it. I told him that next time I will teach him how to make the batter.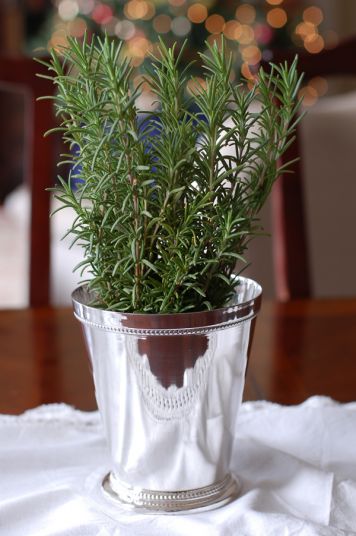 I cut rosemary from the garden this week. Come December, my rosemary plant (which started out as a little 4″ pot from the nursery) is gangly and huge. I used to cut it back quite a bit to keep it under control this time of year. Now I am using it much more each December. I made rosemary olive oil bread this week. I will be making more for gifts for friends. I also cut some to use to decorate our home.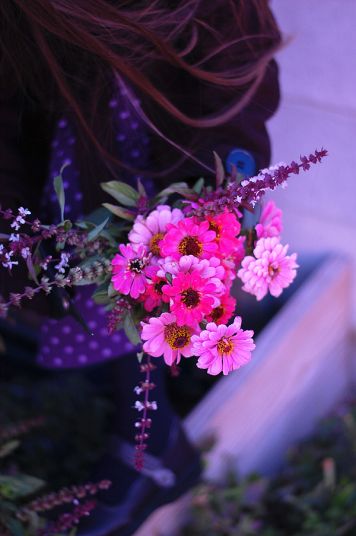 My daughter cut zinnias, Thai basil flowers, and Genovese basil flowers to make an arrangement for our kitchen table. I showed her how to make an arrangement, using my knowledge from a university class that I took on floral arranging.
I cut paperwhites from the garden and brought them into my sewing room. My daughter also cut some to bring into her room. She arranged them with some Thai basil to make a beautiful arrangement.
It rained this week. We have so little rain here in the desert; this is one of the driest deserts in the world. This year we have had record rainfall. For some of you, even our record rainfall for the year is less than you receive in a day of rain, but I have noticed a difference. (Our average rainfall for the county is 3.69 inches for the year.) I was able to turn off the sprinklers and drip lines, which was a small savings for us.
I modified an ill-fitting jumper for a daughter and turned it into a skirt. This made for a skirt that matched the one I modified for my oldest daughter recently (from my grandmother's skirt). They wore the skirts to perform a piano duet at a Christmas concert on Friday.
I made a few Christmas gifts this week and worked on some others that are not yet finished.
We ate a wonderful breakfast at church on Saturday. Our congregation usually has a Christmas dinner; this year we did breakfast instead and I loved it! We watched the children sing a couple of songs, too, which was very enjoyable.
My husband and I watched some shows on Hulu for free. The children watched a couple of Christmas shows on Hulu.
The only food I bought this week was 6 pounds of clementines, for which I spent $4.88 after sale and coupons.
I cut my daughter's hair.
This is the first week we've needed to run the heater. It only ran for a few hours. We have natural gas heat here. We also have a gas stove, dryer, and hot water heater. A summer bill for me is around $40. My highest winter bill last year was $65. We've set the heat at 65º in the house. (It is summer air conditioning bills that are high; winter is a break from high utility bills for us).
We still have not had our first frost. It is usually between mid November and mid-December. The longest I've ever seen it be is December 15th. Consequently, we are still harvesting basil from the garden.
The baby has been awake early for the past month (between 3:45 and 5:30 am). I have enjoyed many sunrises.
I listened to Christmas music on Pandora.
What did you do to save money this week?