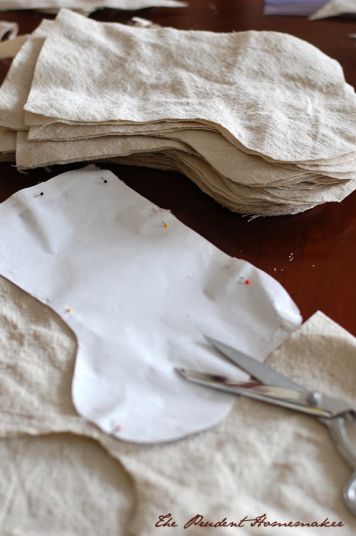 Do you ever have the urge to ditch all of your plans for the day and just make something new?
I did that this week.
I put away thoughts of sewing any presents, served leftovers for breakfast one morning, and worked on a project instead.
We took out the Christmas decorations and set up the tree on Monday. It was then that I remembered that we are short stockings. We have 7 stockings and 9 people.
Last year we decided to make it work. My husband and I shared a stocking and the baby didn't have one.
This year I wanted stockings. Sure, I could have the 7 that we have for just the children, but I really wanted some new stockings.
After I saw these beautiful miniature stockings last year (and these slightly larger ones), I realized how nice it would be to have smaller stockings. I wouldn't feel bad because I didn't have a filled stocking to the top. I like the look of presents sticking out the top, but with a huge stocking, that doesn't happen. I decided to not go really small, but I did make smaller stockings than we had (in the end, these turned out to be about 1/3 the size of our previous stockings).
I really like the look of grain sack stockings, but grain sacks are pricey. I decided to make the stockings from drop cloth that I purchased last year, and to use the machine stitches to sew on the red stripes.
For each stocking, I cut 4 pieces, so that they would be lined.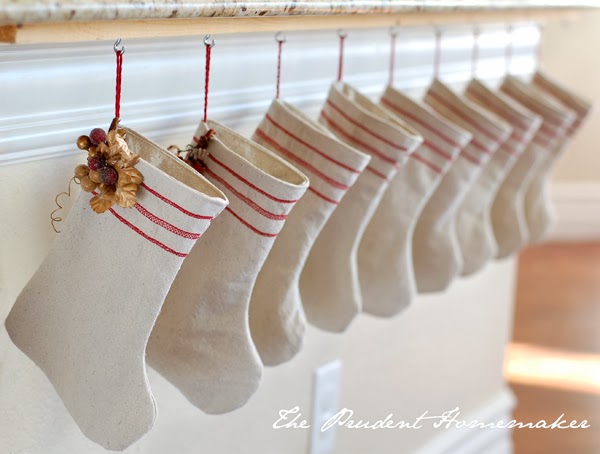 I used embroidery thread to make a twisted hanging hook (like I do for my bookmark tassels). For two of them, I attached a couple of package toppers that we had received on past presents years ago that I keep with the Christmas decorations (I usually tie them on packages). My husband would like me to do something a little different on each one so that we can tell them apart. (They are hung oldest to youngest, but I also like the look of something more on them. I am thinking of attaching some jingle bells and possibly some fresh rosemary to the tops of them this year).
I am really happy to have 9 more reasonably-sized stockings hanging up this year!