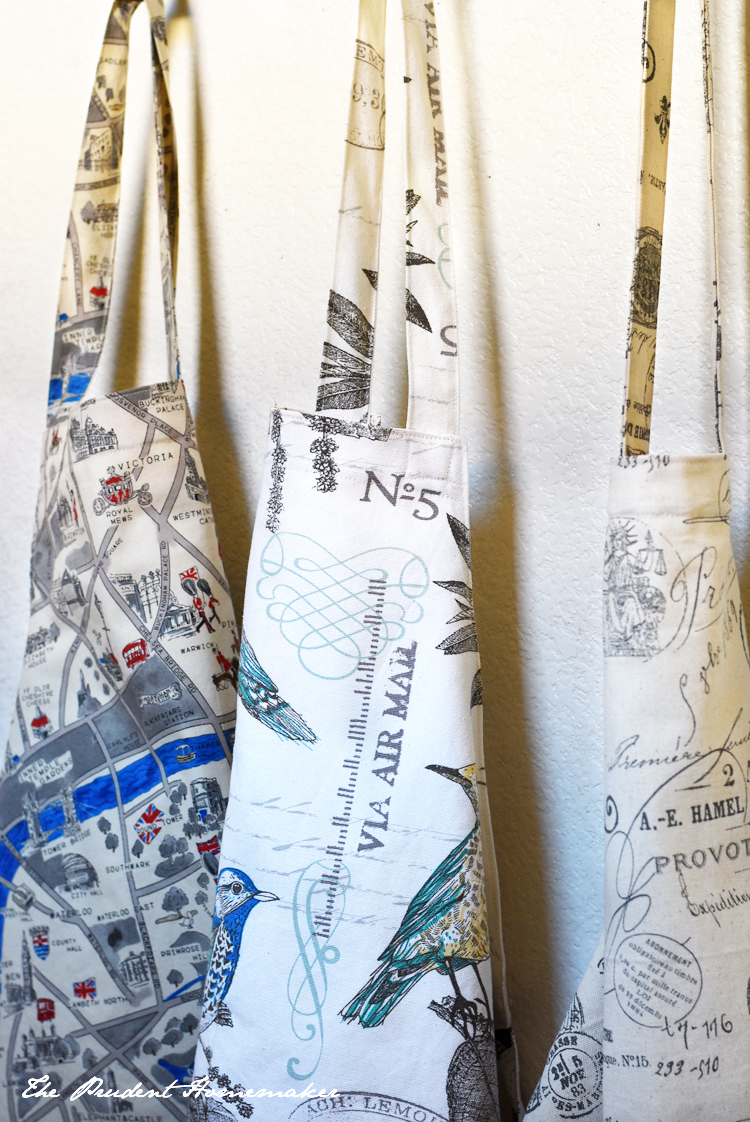 I made an apron for three of my girls, choosing a fun fabric that each of them would like.
Supplies:
3/4 yard fabric for each apron, plus an additional 3/4 yard if lining the apron
Thread
Tools:
Sewing Machine
Iron
Sewing pins
Scissors
Ruler
Marking Pen or pencil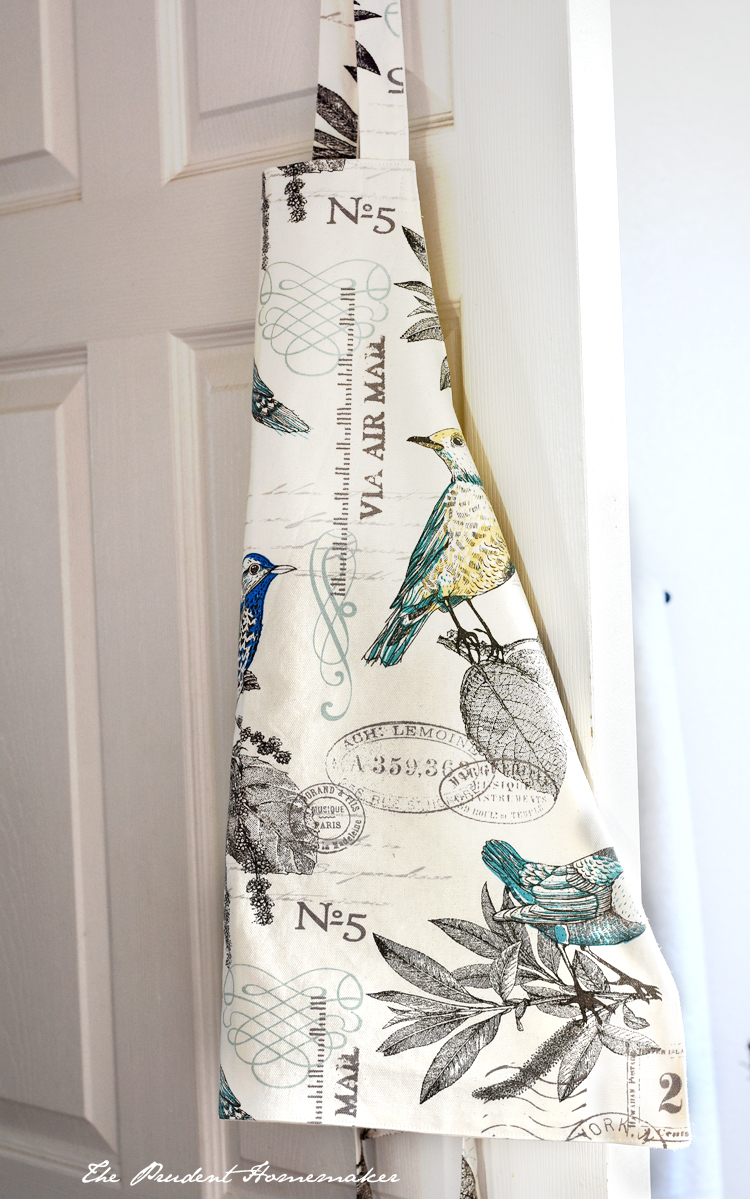 You will need the fabric amount for length, but not for width, so you will have scraps leftover for another project if you lay out the fabric and fold it just wide enough to cut out the apron.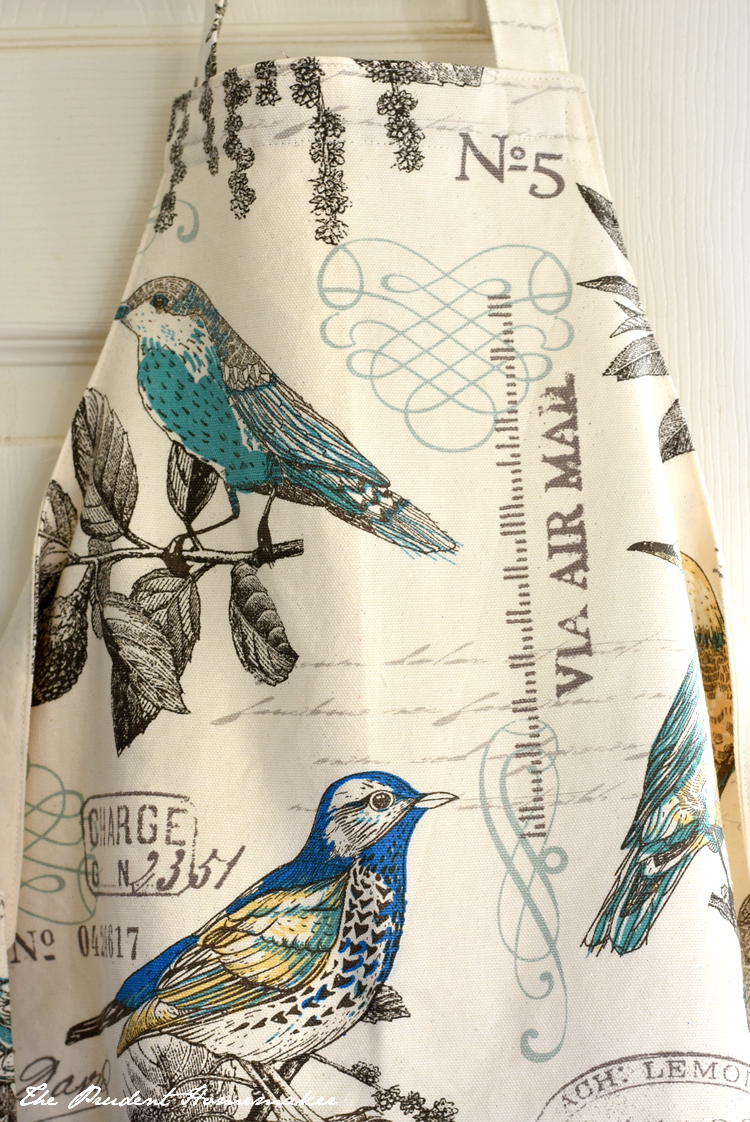 I used an apron we had to copy for the pattern, and added a 1/2″ seam allowance, plus more to fold down at the top (about 1 1/2″), but you could freehand draw the pattern on a piece of fabric folded in half. For this size apron, including seam allowances, the apron is about 25″ long.
Since I chose to line these aprons (one was a thin cotton, and the others a thin upholstery fabric), I sewed the front to the back and left the tops open for a couple of inches. I then turned the aprons right-side out and ironed them. I then folded in the side seam allowances for the top, and then ironed a 1/2″ fold down from the top towards the back side. I then folded the top down again another 1″, ironed and pinned it in place. Then I stitched across this fold.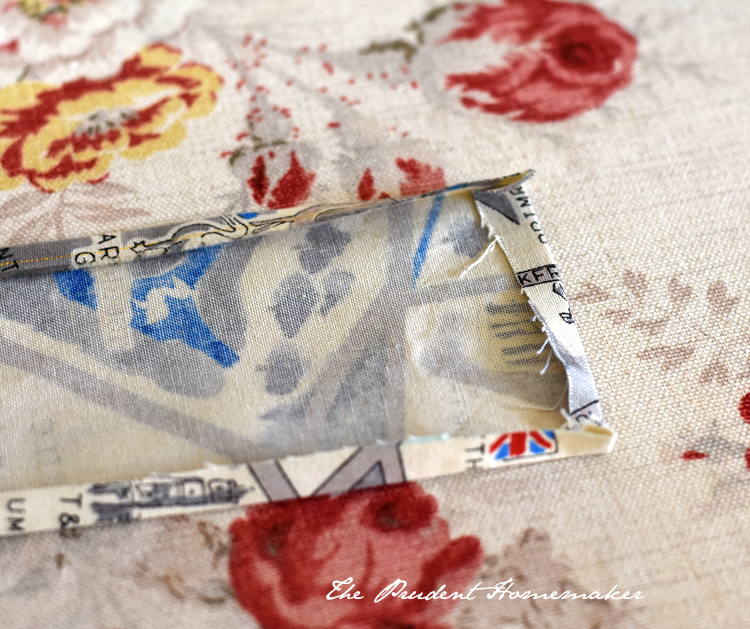 For the ties, I cut pieces lengthwise from the fabric, each 2 1/2″ wide by 24″ long. I folded in the ends and each side by 1/4″ and pressed them. I then folded the ties in half lengthwise and topstitched them close to the edge. Then I sewed them to the apron.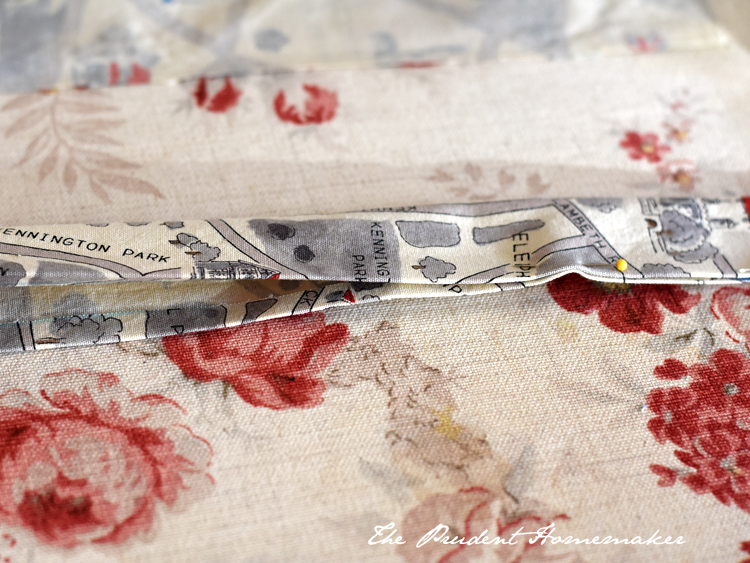 I then topstitched all the way around the edges of the apron.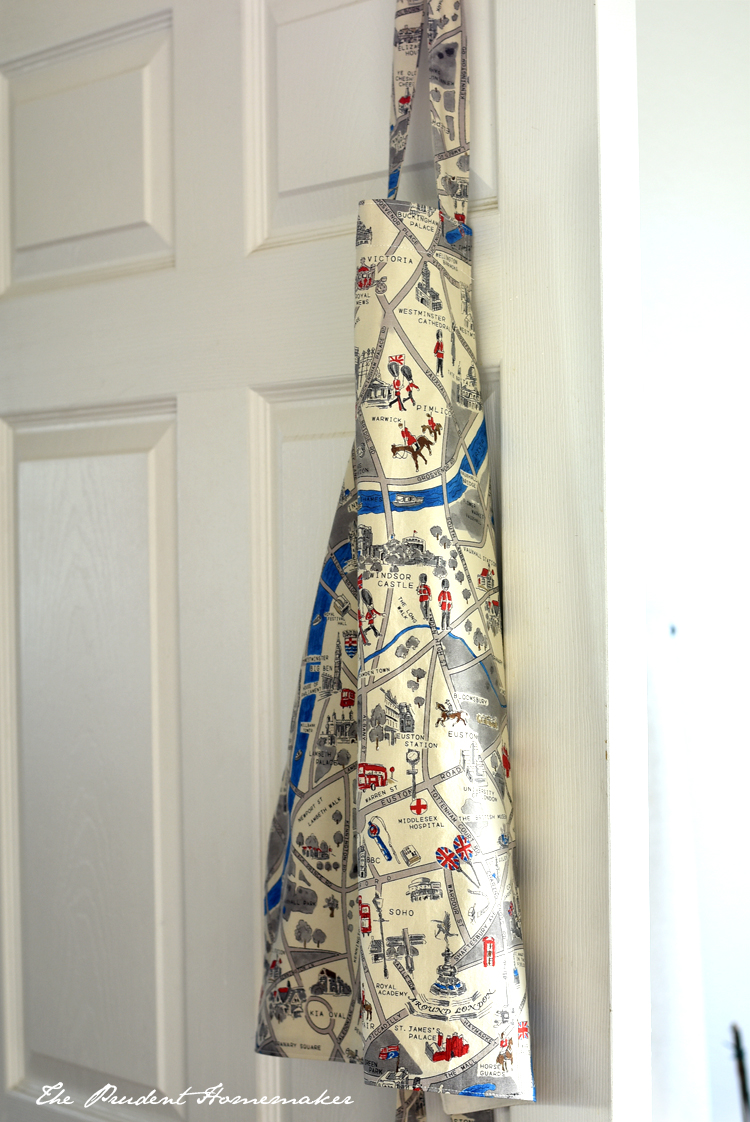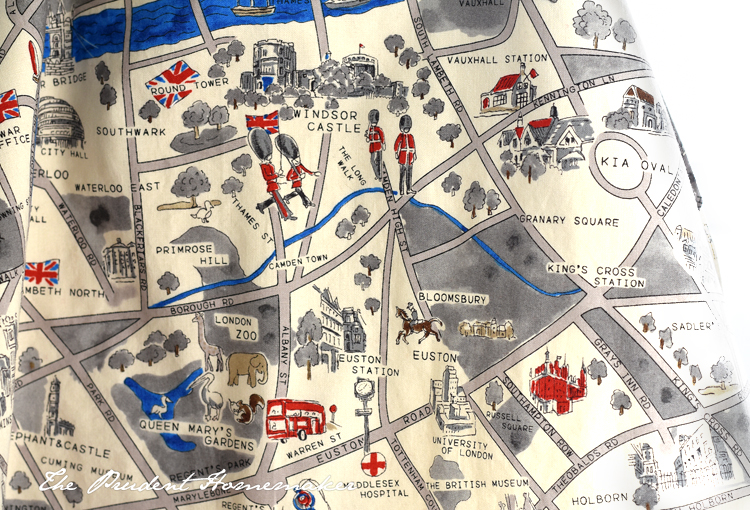 Time:
Approximately 2 1/2 hours per apron.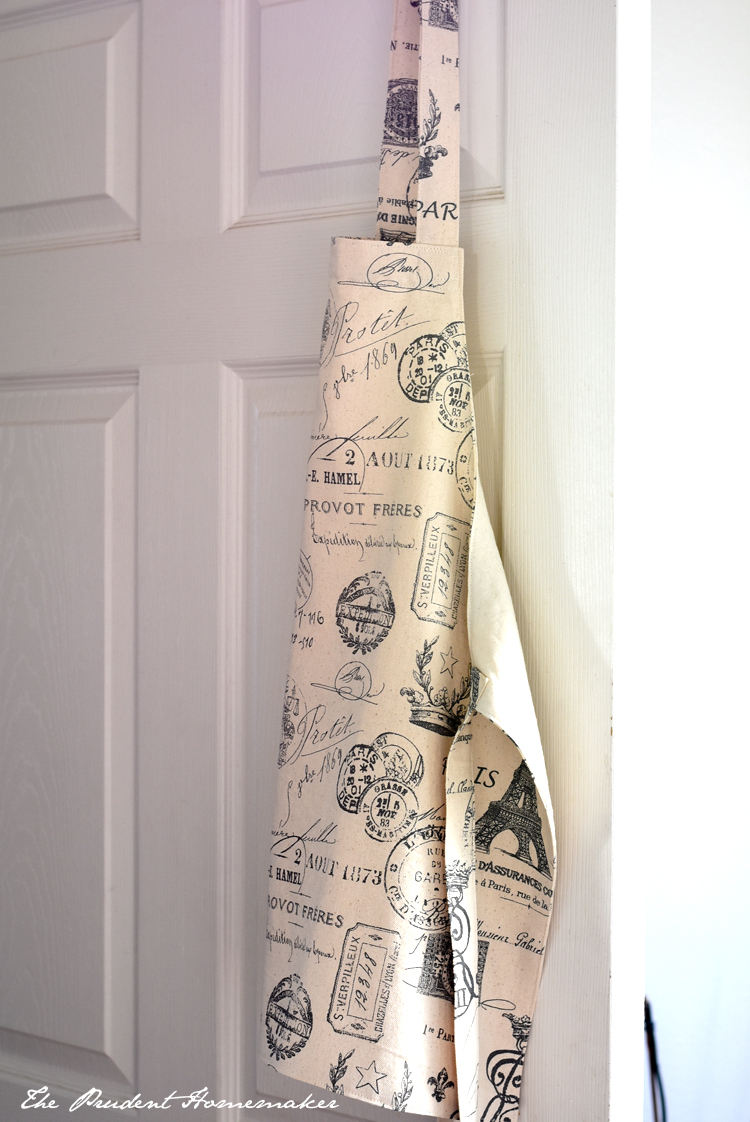 Cost:
$ 5.99 to $9.87, depending on fabric used.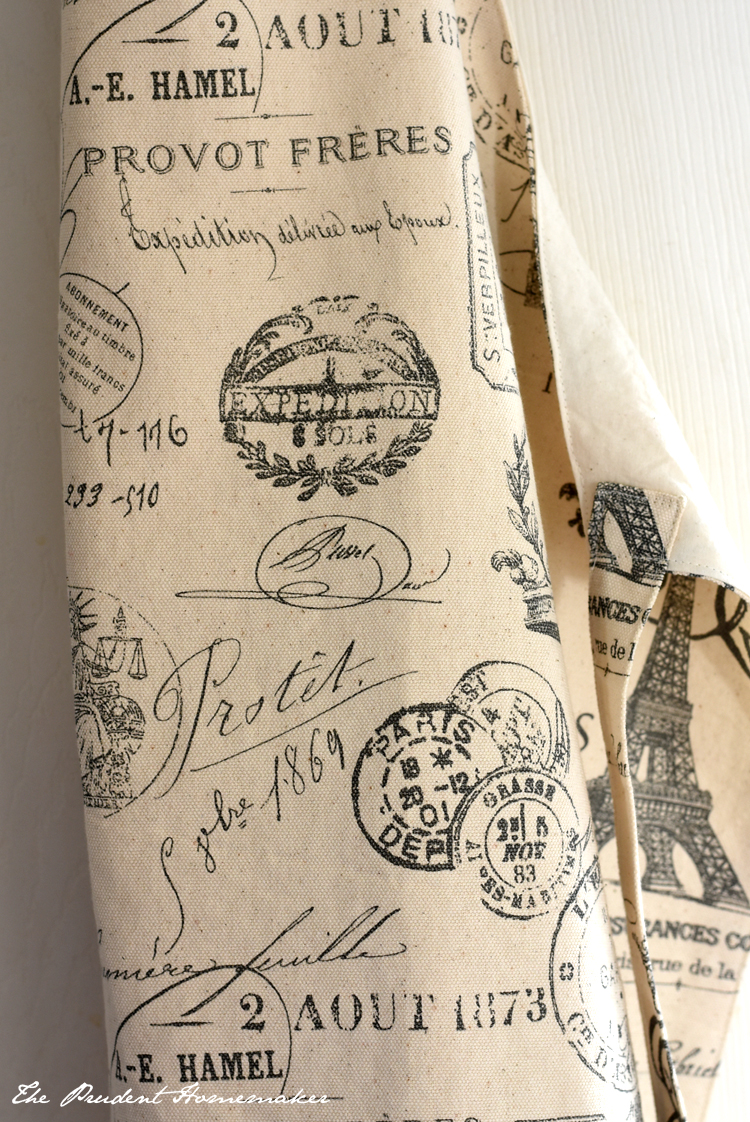 I bought the bird fabric and the Paris fabric from Hobby Lobby at 30% off (regular price $10 a yard). These are from the upholstery section, and are 30% off this week. Three-fourths of a yard at that price is $5.24. The London map fabric I purchased from Create by the Yard on Etsy. I found some other great fun London fabrics on Etsy as well that I considered for this project. The fabric with shipping for this project cost me $9.12, plus the lining. (I ordered a yard and a half, so that I have some for other projects. This is the amount I used for this project). I lined the aprons with unbleached muslin, that I bought 50% off at $.99 a yard (for 36″ wide; it is currently this price online at Joann Fabrics).