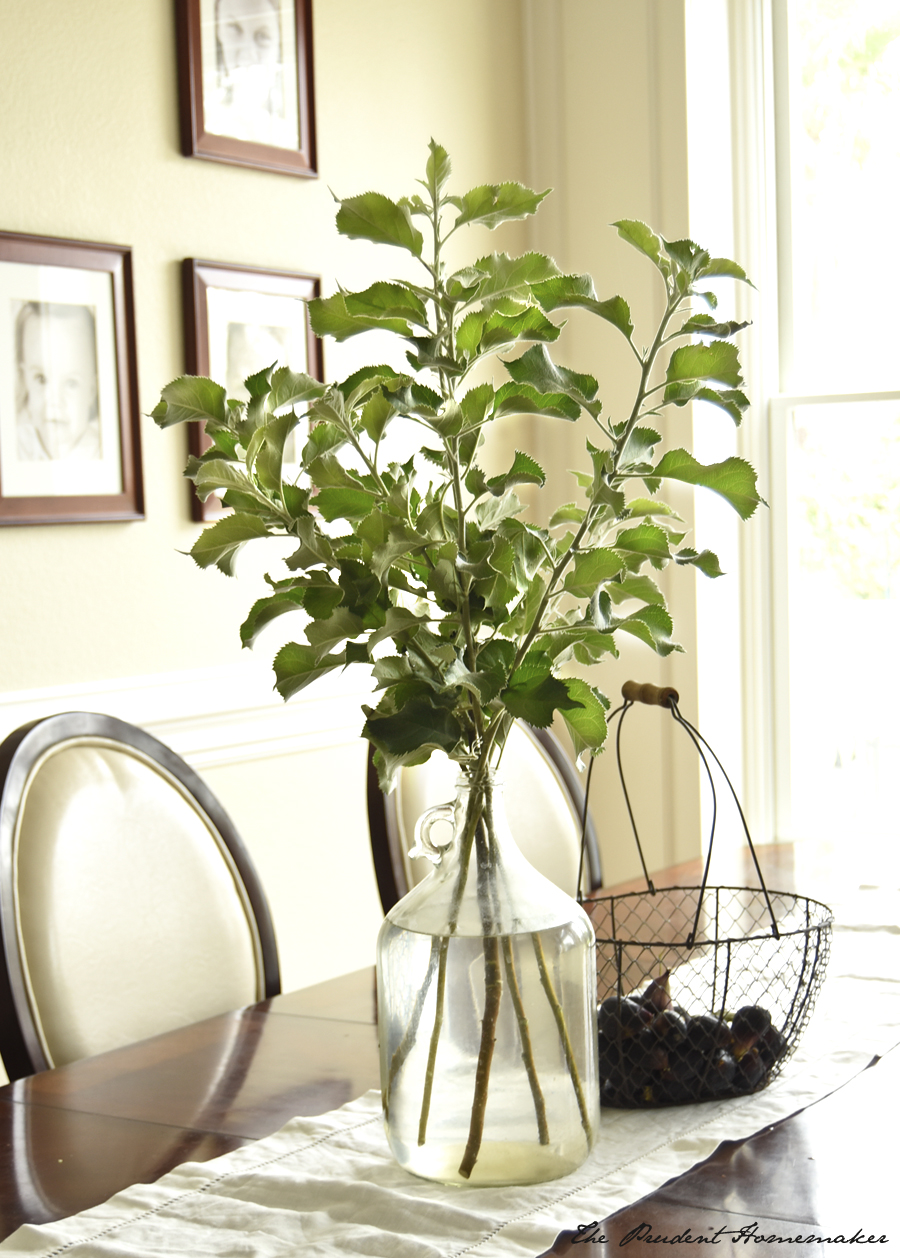 I spent some time this past week writing down all of the blog posts I'd like to feature between now and the end of the year. I have a lot of projects on my to-do list that I'm excited to share with you. I also am planning to share more photos of our home on the blog.
I've had several requests over the years to share pictures of our home. I've hesitated to share in the past for several reasons, the biggest of which being the state of our living room furniture. About 12 years ago, we purchased a custom couch, loveseat, chairs and ottomans for our living room. Prior to that, our living room furniture consisted of an old green futon with honey-stained wooden arms and a broken skinny recliner with wooden arms in light oak. When guests came to visit, we would let them sit on the futon and we would pull in chairs from our kitchen table to sit on–grey plastic folding chairs with a mottled fabric for seats.
We kept that old furniture until we had paid off the last of my husband's graduate school loans, and then, we had saved enough money, we went shopping to buy something nicer. Once we started looking, we realized that we hadn't saved anywhere near enough, so we saved some more. In the meantime, we went to every furniture store in town. No one had anything we liked, and finally, we decided to have something made to our specifications.
I chose the fabric for our pieces, as it was 1/4 the cost of buying from the place that made furniture, and I could buy something thicker that would last longer. I purchased all of the fabric 50% off at Joann's from the upholstery section and they used it to cover our furniture.
As time went on, however, the fabric begin to wear, starting with the ottomans. I recovered the top of my husband's ottoman and it wore through again.
The fabric we chose for our couch and loveseat was really thick, and it held up for a long time. Eventually, though, it wore through, and for the last few years, we've been living with furniture that has looked like this:
Because our house is a great-room style, where all the main rooms are open to one another, you can see these from almost every room.
Granted, I had throws we could use for 2 pieces of furniture, and so we covered up 2 pieces while we could, always looking forward to the time when we could have them recovered.
Earlier this year, we had saved enough money to have them recovered. I made new throw pillows for them.
Another reason I've hesitated is that there was so much more to do in the house, and my home decor budget for the last decade has been pretty slim. And by slim, I mean $0 to $100 a year most years. I made little changes, like printing some photos for free when Walgreen's had an offer going, and buying a few picture frames for $0.50 to $1.00 each at garage sales. I haven't even put out most of those garage sale frames yet (they've been in a box in my sewing room), but I've been hanging them this last week. Now I just need to take some new photos for them.
Our income has increased this year, as the real estate market is seeing sales here in numbers it hasn't seen since 2006. If things continue as they have been, we may make half of what we made when we purchased out home in 2006. We haven't seen this much income in years, and it is a blessing to have a change.
We've been purchasing some needed furniture and rearranging some things we already have. I'm planning on making some more things for our home, and I look forward to sharing them with you.
I realize that some of you are living frugally, to accomplish your dreams, and some are struggling to hang on, as we have done for a long time. It is for those who are in the latter situation that I have hesitated to share. I love reading home decor blogs, but I have had to limit myself over the years, as what is "budget" decorating to many people was out of my reach completely.
There is sometimes a strange belief that those who live frugally must have nothing beautiful, and that those who go through a loss or decline of income should own nothing nice from before a job was lost or an income declined. Neither is true. We all crave beauty, and long to enjoy it in one way or another. There are ways to have beauty on every budget–even the $0 budget, I have found. I saw a blogger pick weeds from her yard to put in vases on a table the other day. If she hadn't said they were weeds, and then showed a close-up (it was grass going to seed!), I would have never guessed!
All of the organizing and decluttering we've been doing has also made it possible for me to focus more on making some things. I'm looking forward to not only doing some more sewing, but sprucing up a couple of things in the sewing room (which we just rearranged the week before last, bringing in a piece of furniture from another room). When those projects are done, I'll be working on my Gift a Day series in November.
Is there anything else you'd like to see me feature on the blog? Let me know in the comments below!
P. S. I won't be sharing my monthly goals for a while. Instead, I look forward to surprising you with my completed projects!