Buying in bulk saves me a lot of money. On most items, it saves me more than I can save on an item with coupons–plus I end up with a whole lot more of it. It's one of the fastest and least expensive ways to build your pantry.
There are lots of ways to buy items in bulk, but the simplest way is the way I go on most items:
Buy your food in 20, 25, and 50 pound bags.
If you have a large family, your family will eat through that food quickly. If you have a small family, your bulk purchases will just last you longer. If you're single, a single bulk purchase of an item can last you a year or two, or you can split bulk items with another single person so that you can get the lower price.
I had a roommate in college who used to buy a 25 pound bag of flour every few weeks. During that time, she would go through the entire thing, making her own bread, cinnamon rolls, cookies, etc. She had enough to feed herself and deliver to friends, and it didn't cost her much at all. Prices have changed since then, so chances are, she only spent $5 to make herself and her friends several weeks worth of bread and treats. Today, I can buy a 25 pound bag of all-purpose flour for $7.78, or bread flour for $7.94.
What items are easy to purchase in 20, 25 pound and/or 50 pound bags?
All-Purpose Flour
Bread Flour
Long-grain rice
Basmati Rice
Jasmine Rice
Brown Rice
Pinto Beans
Black Beans
Navy/Cannellini Beans
Rolled Oats (aka Old-Fashioned Oats)
Quick Oats (aka Instant Oats)
Sugar
Popcorn
White Winter Wheat
Red Winter Wheat
And the list goes on, but the ones I mention here are some of the easiest for most people in the United States to find locally.
(I know that I have readers all over the world, and buying bulk isn't always an easy thing to do in other places, so if you live outside the U.S., I would love it if you would leave bulk sources in other countries in the comments.)
If you are struggling to put food on the table, buying a 25 pound bag of rice and a 25 pound bag of beans will provide several meals for your family right away, give you a start on building your pantry, and be very little out of pocket. The next time you are able to go to the store, you could buy a 25 pound bag of flour and start making your own bread (or start with the flour, or just the rice, depending on how much you can spend). Make that bulk item your main grocery purchase for that time period, and build your meals from that. You will start to build up your pantry for very little in this way, and still have food to eat.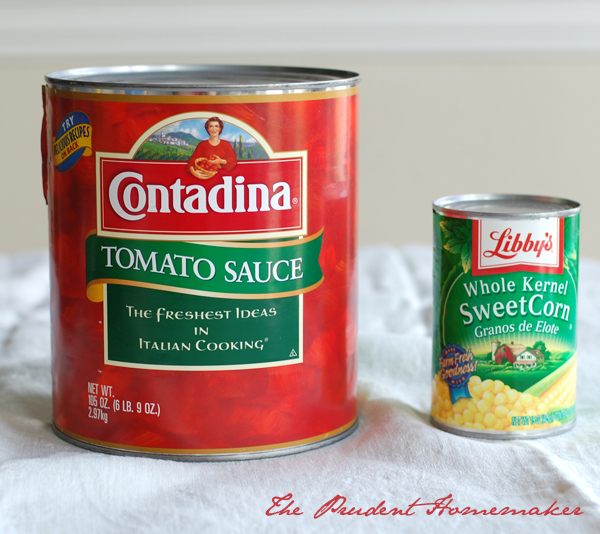 Can on the left is a #10 can of tomato sauce; the can on the right is a #303 can; a "standard size" can. As of today, the price for the can of tomato sauce in the #10 can is $2.72.
There are other kinds of bulk supplies as well, that come in smaller amounts. Many come in #10 cans (#10 refers to a size).
Here are some that I buy:
brown sugar (4 pound bag)
105 ounce can of tomato sauce
yeast (2 pounds)
chocolate chips (3 pound and 5 pound bags)
salt (4 pound box)
dried onions (#10 can)
dried celery (#10 can)
pearled barley (#10 can)
oil (gallon or 3 liter bottle)
vinegar (liter or gallon)
cheese (5 pound blocks or 5 pounds shredded)
carrots (5 pound, 10 pound, and 25 pound bags)
spices (in all sorts of sizes)
oil (1 gallon or 3 liter)
vinegar (1 gallon or 1 liter, depending on type)
There is another way to buy in bulk as well, but the packages are smaller. When you see a great sale on something at the lowest possible price, stock up.
pasta (.50 to $1 box)
butter ($2 a pound or under; I buy this in a 4 pound package)
Fruits and vegetables (price depends on the the item and seasonality)
Where you can buy in bulk?
You can buy in bulk at your local grocery store. Really.
Most stores carry 20 or 25 pound bags of flour, rice, pinto beans, and sugar. It's on the bottom shelf, right in the same section as the regular item that you normally buy in a smaller package.
Most grocery stores in the U.S. carry vinegar in a gallon size, and carrots in at least a 5 pound bag, with many carrying them in a 25 pound bag (labeled "for juicing", usually).
Some Super-Walmarts have bulk items in both the regular section and they have another bulk section, which also carries items such as huge jars of pickles (for around $4), #10 cans of fruit salad, #10 cans of other items, and bulk sauces and vinegars.
Sam's Club, Costco, and BJ's are bulk sellers in the U.S. While they don't have everything I listed above, they carry a lot of those items at fantastic prices. I find that the flour in bulk at my Sam's Club is fresher than at my grocery store, and it lasts longer. The turnover for bulk goods is higher there, and the flour comes in a thicker package as well. You can read my Sam's Club list here.
Winco carries lots of the bulk dry goods that I mentioned. Some items they have in bins, and some are in bags. Most items that come in bins also have a bag size and the price listed on the tags; you just have to ask an employee to get the bags from the back for you. They have some items  that are harder to find in other places, such as lentils, long-grain rice, and mung beans. The great thing about the bins is that you can also buy a small quantity at the bulk price if you want; there are other stores that have bulk bins as well.
Amish and Mennonite stores are great sources for bulk items, especially if you live east of the Mississippi River.
Then there are a whole slew of places that sell items in bulk online. Some places send out trucks, some you order with others through a co-op (and they send a truck), some ship UPS, etc. Some places are just for herbs, some for other smaller bulk items, and some sell tons of items, including organic options and lots of freeze-dried options.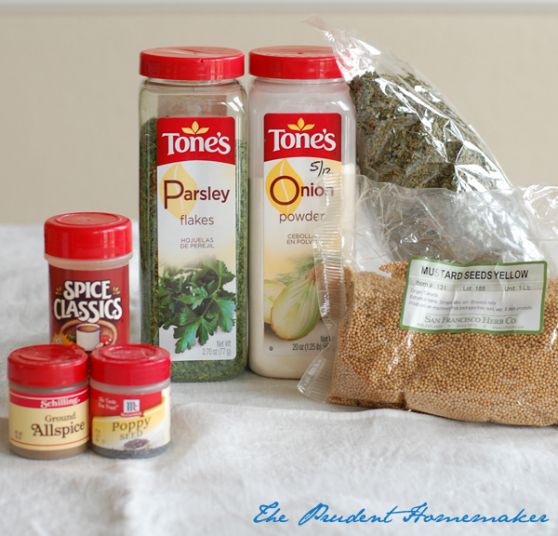 Traditional size spice containers on the left; bulk sizes on the right
For these, I have a list here, but it is far from inclusive. There are a lot of options out there.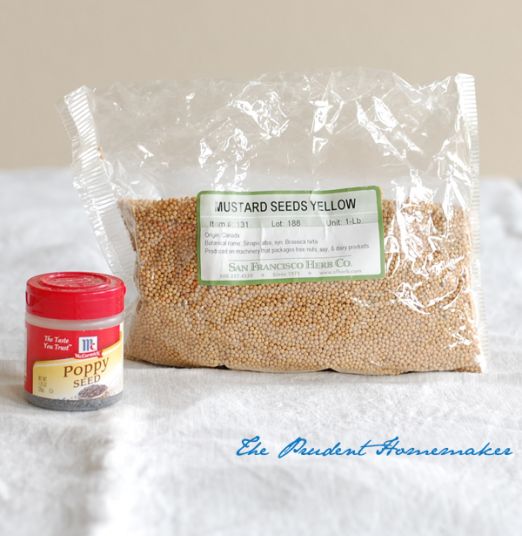 The container on the left is 1.6 ounces. For almost the same price as that container at Walmart of poppy seeds, mustard seeds, and cream of tartar, I can buy a pound (the bag) of the same spice from San Francisco Herb Company. As of today, 1 pound of mustard seed is $2.40, 1 pound of poppy seeds is $3.90, and 1 pound of cream of tartar is $5.85.
When it comes to buying in bulk, it works like any other item–you have to know your prices. Shop around and compare prices, including shipping if you are ordering online. Just because it is bulk doesn't mean it is automatically less expensive. Some bulk places are less expensive than others, and prices change all the time. Some bulk suppliers also have sales, which will bring your costs lower.
How do you store all this stuff to keep it from going bad?
Canning jar, extra-large pickle jar, spaghetti sauce jar (I make my own but you may have jars or  can ask friends for old jars), regular size pickle jar, extra-large pickle jar, and a 6 gallon bucket with a gamma lid [purchased separately]. The gamma lid screws off. You can purchase buckets with food in them or empty, in a variety of sizes [I use a 3 gallon size for flours and sugar], from online bulk sellers, as well as retail locations where bulk is sold. Prices will vary greatly depending on the retailer.)
Food-grade buckets, #10 cans, and jars are easy options. Remember that giant jar of pickles that I mentioned you can get at Walmart? Wash it out with bleach a few times, and also with soap, and the pickle smell will dissipate, leaving a great place to store beans. Bulk spices can be stored in large glass jars. (Ball has rereleased their half-gallon jars
and they are also making gallon jars
again! I saw them at Walmart).
Many items can be bought in bulk in the buckets from different bulk companies, and then you can refill them with bags of items after you have emptied them. You can also purchase buckets online through bulk suppliers, at Winco, and from your local grocery store bakery (ask the bakery department for their old buckets. You will probably have to wash them; they usually come filled with icing. They may even give them to you for free!)
A bucket lid opener is important for opening buckets that are closed. For items that you are getting into on a regular basis, I highly recommend having gamma lids, which are screw-off lids that can go on your buckets. These can be expensive, so like the other items, shop around for the best price.
I store several bulk items inside in my kitchen, but I also built a large insulated pantry in my garage (a great blessing when you cannot buy food for a year).
What are your favorite sources for bulk items? If you know of a local (to you) store, please list the store name (with city and state) or city, region/province/canton, and country, if outside the U.S, in the comments.