Most people will compare the price per pound of meat. We'll eat chicken instead of beef because it costs less. We'll compare the price for meat on sale.
In my family, we eat a lot more turkey and ham bought on sale during the holidays because these are the lowest priced meats per pound. I can have meat a lot more often when I'm spending .69 a pound than when I'm spending $1.99 a pound, so I'll buy a lot more of the less expensive meat.
If you want to lower your grocery costs even more, compare the price per pound of everything that you purchase.
Rice is less per pound than pasta. On sale, I can find pasta between .50 a pound and $1 a pound. I can buy rice in bulk for .39 a pound all year long. By eating more rice than pasta, I can greatly reduce the cost of my meals. At this point my family will eat 1 1/2 pounds of pasta in a meal. Even if I purchased the pasta on sale for .50 a pound, the pasta cost me .75 for the meal, compared to .59 cents for the rice. At the higher sales amount of $1 a pound for pasta, the difference is $1.50 a meal compared to .59. However, I don't cook a pound and a half of rice a meal. I cook 2 1/2 cups of dried rice, which is 1.14 pounds. That's only .44 for the meal, instead of .75.
When potatoes go on sale in the fall for .10 to .20 a pound, I'll buy lots of potatoes. I usually only purchase them at .10 a pound, buy buying russets on sale in November. My family eats 50 pounds of potatoes in a week from November through February. At .10 a pound, I'm spending $5 a week for 50 pounds of food.
Bulk oats (around $14.50 to $15.35 for a 25 pound bag) are another great food that doesn't cost much per pound. At $15.35, they are .61 per pound. Last year Winco had them on sale for less than $10 a bag in the fall. We normally have oatmeal 3 mornings a week for breakfast.
Bulk dried beans run around .65 to $1 per pound.
When it comes to fruits and vegetables, I'll look at what is the lowest in-season price per pound. Instead of deciding that I want to buy apples, I'll choose fruit based on what is the lowest price.
If a store has apples on sale for .79 a pound and oranges on sale for .39 a pound, I'll buy oranges, and lots of them. I know the oranges can last a few months in my refrigerator, so I won't hesitate to buy 40 pounds (or even 80 pounds).
If the sale is oranges for $1 a pound and apples for .50 a pound, then I'll buy 40 (or more) pounds of apples instead (which will also last for months in the refrigerator).
If I really want to have both apples and oranges, I'll buy some of both, but I'll only buy a small amount of the more expensive fruit.
The least expensive fruit options are going to depend on what is in season, as well as what prices you normally see where you live. Some readers have commented that they can always find bananas for .39 a pound. Where I live, a normal price for bananas is .59 a pound to .79 a pound. This means that I don't buy a lot of bananas, but if I lived where they were .39 a pound, I would buy a lot more if they were my least expensive option.
I evaluate vegetables in the same way. For me, this usually means purchasing a large amount of a particular vegetable to blanch and freeze (such as broccoli and bell peppers), buying it already frozen on a seasonal sale (such as peas, which I usually buy in November on sale), or buying it canned on sale. Onions and winter squash are two things that I can buy on sale in the fall and keep for many months in my pantry. I usually look for onions to go on sale for .20 a pound, and winter squash for .79 a pound.  (I usually grow butternut squash in my garden instead of purchasing it, but this year and last year I haven't had a single squash grow).
Carrots are a vegetable that I can find for the same price all year round. I used to buy these at Sam's Club for .39 a pound in a 5 pound bag, until Sam's switched to organic carrots at .79 a pound in a 3 pound bag. At that point I started looking around again for a lower price on carrots. Winco ended up being the solution for me. They carry 2 pound bags at .44 a pound. On closer examination, I found that they carried 10 pound bags for .39 a pound. Ten pounds of carrots for $3.90 sure beats buying a pound of baby carrots for $1! I have found that at .39 a pound, we'll eat a lot more carrots, cut up for pasta salad, cut up for dip made with homemade Greek yogurt, and put in several soups, including Tomato Basil soup (which uses 10 carrots).
Lettuce is quite expensive per pound, which is why I think lettuce is one of the best crops to grow at home. In a week or so as the temperatures cool down, I'll be planting a fall crop of lettuce in my garden.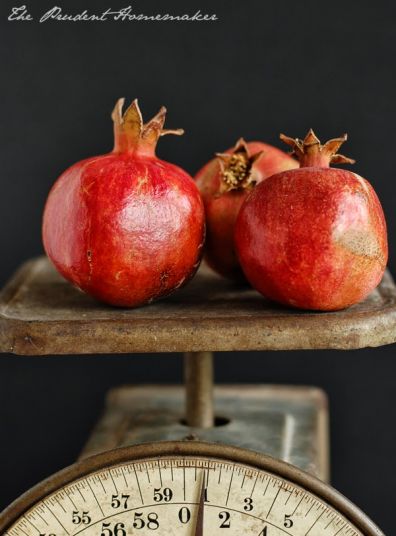 Pomegranates from my garden
Pomegranates, figs, apricots and blackberries are very expensive where I live. I don't purchase them at all. I only grow them in my garden (I have also gleaned pomegranates on three different occasions). The more produce I have in my garden, the lower my costs will be. This year I added 9 fruit trees to our garden. In the front yard, I added 3 Meyer lemons, an Early Elberta peach, a Katy apricot (this ripens 3-4 weeks earlier than the Royal Blenheim apricot in my backyard, which means I'll have fresh apricots twice), and a lime. On my back patio, I added two orange trees and a pomegranate in pots. The pomegranates above are from this new tree.
What produce do you buy more often because it is less expensive per pound? Do you grow the more expensive items in your garden?