I picked apricots, blackberries, Green Gage plums, Dorsett Golden apples, and figs from the garden. I froze some blackberries to use in smoothies later in the year, and I dried figs in the oven on low for fig sauce. (The dried figs will last a few years).
I cut chives, green onions, and Swiss chard from the garden.
I picked a few tomatoes from the garden. This is the main month I harvest tomatoes in the year, and they are already ripening quite small because of the heat (it was 110º this week at my house). We ate all of the tomatoes that I picked.
I covered the top of my blackberry bushes with sheets to keep the berries from completely burning in the sun. The ones in the sun turn brown and hard instead of ripening (they are dead and dry–just the berries, not the leaves) in the heat, and they ripen quite small at the top of the plants (the ones in the shade at the bottom are bigger and they are not dried looking). This is my first year covering them; I will be trying this from now on, and next year I will start earlier, right after the flowers are gone, to help prevent so many berries from being burnt.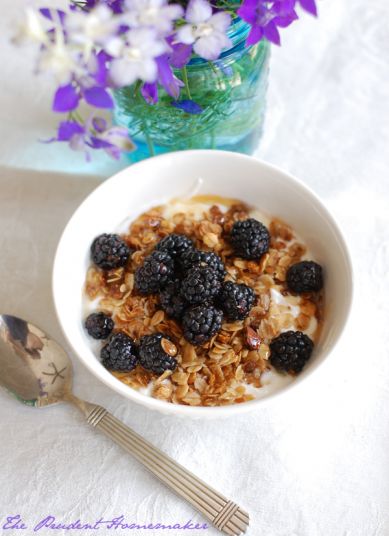 Homemade Greek yogurt with homemade granola and blackberries from the garden
I made granola, barley soup, pasta salad, steak sauce (to go on the black bean burgers that I also made), brownies, popsicles (several times; I used figs, apricots, whey leftover from making yogurt, and blackberries, and blended it, and then poured it into popsicle molds), lentil tacos, potato salad.
I traded two trashcans full of gone to seed parsnips (these had self-seeded) and bolted Swiss chard, along with some garden weeds and grape leaves, for 1 dozen eggs from a friend of mine who has chickens.
I picked red noodle beans from the garden.
For fun this week we went to the free fishing day at Floyd Lamb State park (no license required, and they handed out rods to rent for free). Of all of the people there (well over 100), only 2 caught fish–and one was Liberty! They declared her fish to be the bigger of the two, so she won a medal and a Barbie fishing rod. The fish was a very small blue gill.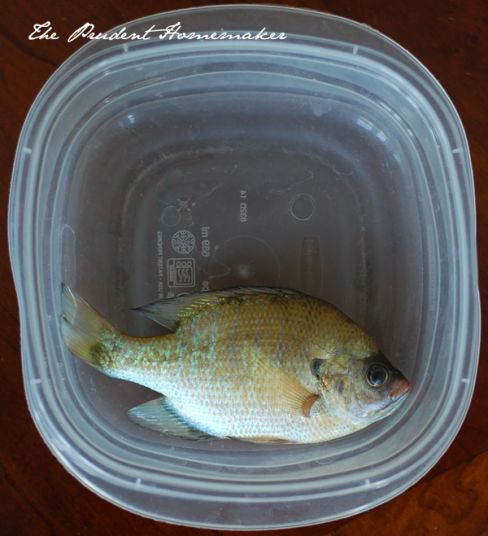 Fish shown actual size
As we live in the desert, there really aren't a lot of opportunities to go fishing, and from the comments we heard from other people there, most people don't catch anything at this park usually (I'm wondering how few fish are actually there, because they would have to be stocking them in order to have any). The normal entrance fee is $6 per car. The boys were able to earn the requirement for their fishing belt loop from Cub Scouts.
Ivory had lots of fun following around a duckling (not a tiny baby, but smaller than full-grown). She said, "duck, duck, duck" while she followed him around, finally succeeding in grabbing the duck's bill once, and petting it once. She wasn't much bigger than the duck and it was really entertaining to watch her.
We watched some movies from the library this week. I watched one with my husband as a date and we popped popcorn on the stove.
Wren hula hooped and walked around the stage backwards and forwards at the same time.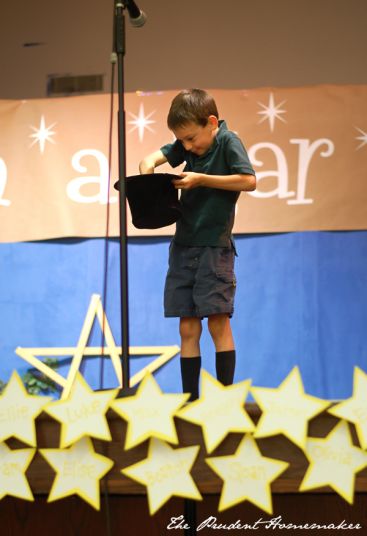 Ezrom did several things, including this magic trick, a performance with his brother, and he displayed his giant origami.
The children performed in a children's talent show Friday night with other children from church this week. This was lots of fun for us.
My husband cut his own hair. He also trimmed the boys' hair. (Cyrus had it covered before I took the photo above for another part of his performance, so it's messy in that picture, but it looks great normally!)
I discovered that Education.com has changed their website since I last used it to limit a person to 10 free worksheets a month. I wanted more worksheets this month for my kindergarten student, so I considered signing up for just one month. I ended up delaying my decision a few days, and when I was on another website, tracking cookies brought up an ad for Education.com (on an adsense ad on another blogger's site) that included a free one month trial to Education.com (coupon code TRIAL). I signed up for the trial so that I could print the worksheets that I need. I made a note on a post-it and stuck it to my computer monitor so that I can remember to cancel it before the trial is over.
I bought no food or toiletries this week.
I paid my utility bills online to save the money on stamps. I have not been diligent about this and I added it up; it is about $27 a year in stamps if I mail in all of my utility bills. I would rather have the $27! With that, I could buy 10 gallons of milk, or 50 pounds of oats, or something else! (Or I could just have the money to pay the higher utility rates that we keep seeing!) I have been paying some of my utility bills online but not all of them, so this will save me some more money each month, for which I am very grateful.
I rolled up towels to put by the front door, since the air conditioner is running about 13 hours a day now, and that area has trouble with air leaking through. I noticed an immediate difference in the temperature by the door when I did that, just like I do in the winter, so I plan to keep towels there (2 towels because it is a double door).
What did you do to save money last week?