The beginning of last week started out so well. I canned 27 quarts of pears in one day, while the children were awake, and after school was done for the day. I thought the rest of the week would go really smoothly, but it didn't.
I still didn't get sewing done, but I did can 20 pints of pickles, so that was a great thing to get done. Though my daughter is growing quickly and needs some new things, the food won't wait before it goes bad, so pickles became my new priority.
It was very hot this last week. What I had planted previously was eaten by bugs. I planted again, but very little has come up, as it is just under 100º during the day and in the low 80's at night. It is too hot for many things to germinate. I always have to watch the weather to see when to plant. A couple of weeks ago it was getting cooler at night, but now it is hotter.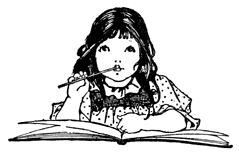 Last Week's Goals
1. Can pears. I purchased 72 pounds of pears last week for $35.28, thanks to a gift card that my husband received from a friend (this is also how I purchased the 100 pounds of potatoes for $8.80). If this is the only thing that happens this week, that's okay, because the pears won't wait! I intend to can some as baby food (pear sauce). I canned all of the pears save for a few that we ate. I added to much water to the pears that I had intended for baby food, so they took much longer to thicken, and therefore became brown as they cooked down. I made pear butter instead of baby food.
2. Continue pruning trees and vines. Fill up trash cans each time this week before the trash man comes. I have a lot of trees that need to be topped, and it's going to take a long time to get the trees to where I can reach the fruit next year. I filled the cans on Monday but not on Thursday.
3. Work on green dress for Winter! Nope.
4. Finish embroidering handkerchief from last week. I'll work on this at night while watching something free on Hulu. I worked on this but did not even get close to finishing it.
5. Spread manure in the garden. Nope.
6. Plant more Swiss chard in the garden to replace the seedlings that were eaten by bugs. Didn't happen.
7. Spray the grape vines with an organic spray for fungus. I hope this works! I also sprayed for squash bugs with a mixture a friend of mine shared with me that I shared in the comments a few weeks ago. 30 minutes later the bugs were still alive. I squished as many by hand as I could find.
8. Make waistband and finish skirt for Winter. This didn't happen either.


This Week's Goals

1. Work on green dress for Winter.
2. Make waistband and finish skirt for Winter.
3. Continue to embroider handkerchief at night.
4. Continue to prune trees in the garden.
5. Spread manure in the garden.
6. Replant where seedlings were eaten/nothing came up, depending on weather.
7. Cut out new dress for Winter. This will be a church dress for colder weather that I'll give to her on her birthday or Christmas.
8. Eat at least 3 dinners al fresco. It's a bit warm, but not too cold for outdoor meals for the next month. We had a wonderful dinner outside on Friday. I'd like to have more, and so would the rest of the family. We have such short windows of nice weather and I want to enjoy them.
9. Work on eating from the freezer. November is when I buy most of our meat for the year in the form of turkeys. I actually have 3 turkeys left right now from last year, so I will be cooking lots of turkey in October and planning my meals accordingly. I have one defrosting for this week. I have several other things in the freezer that need to be eaten to make room for turkeys, so I will be planning my meals accordingly.