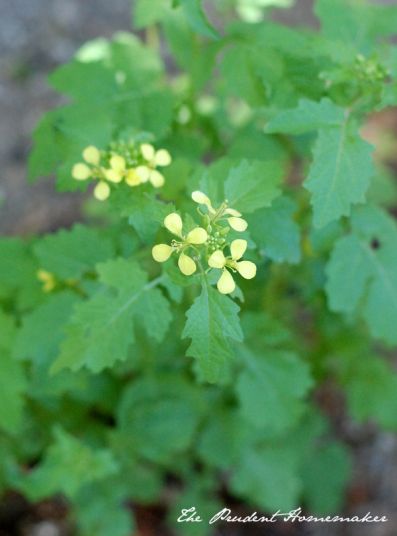 Yellow mustard seed from my pantry in bloom in the shade
The garden is growing nicely right now. I'm really enjoying all of the lettuce that I've been growing. Some things are bolting in the garden right now (spinach, radishes, mustard, Swiss chard and some of the lettuces), and I'm hoping to collect seeds from all of my open-pollinated varieties this year so that I can plant them again in the fall. I give my bolted plants to a friend who has chickens, and her chickens eat them.
I know some of you are still under snow while we're hitting what are summer temperatures for you (90ºF is just a nice, mildly warm day here). For those you of who are wishing for a longer growing season, you may want to know about Eliot Coleman and his success with gardening year-round in Maine (his books include Four-Season Harvest: Organic Vegetables from Your Home Garden All Year Long
, The Winter Harvest Handbook: Year Round Vegetable Production Using Deep Organic Techniques and Unheated Greenhouses
and The Four Season Farm Gardener's Cookbook
).
Mavis over at One Hundred Dollars at Month visited his farm this month, and it was starting to hail on her way there. Check out the size of his tomatoes and spinach!) If you haven't read Mavis' site, I highly recommend it. She also feeds her family for–you guessed it–one hundred dollars a month.
Still longing for spring? Vivaldi's Four Seasons: "Spring: Allegro"
is currently available for free as an MP3 download from Amazon. (Note: The price could change at any time).
Nowhere to garden? Check out one family's year of growing in a community garden (in 4 minutes with awesome time-lapse photography).
I found these free note reading worksheets to use for my child who is learning to read music. I am including them with her schoolwork.
Recyclebank has a way to earn 100 points right now. 300 points gets you a free one-year subscription to Martha Stewart Living. 400 will get you a subscription to All You Magazine. I've been reading Martha Stewart Living for free for a few years, between this and another rewards program (the other is only occasionally available for a very short period of time). I received a copy in the mail this week, in fact.
I'm going to dig up and move some plants around in the garden this week, and I have a couple of sewing projects I'd like to finish. Are you working on anything to beautify your home this week?