I made two lemon meringue pies to celebrate Ezrom's birthday and my grandmother's birthday. I used lemons from the garden to make them. I used shortening in the crust instead of butter, which kept the cost down. It was less than $1 for both pies. He loved the giant origami cranes that his sister folded and hung for him for decorations, along with the banner that she made him for his birthday.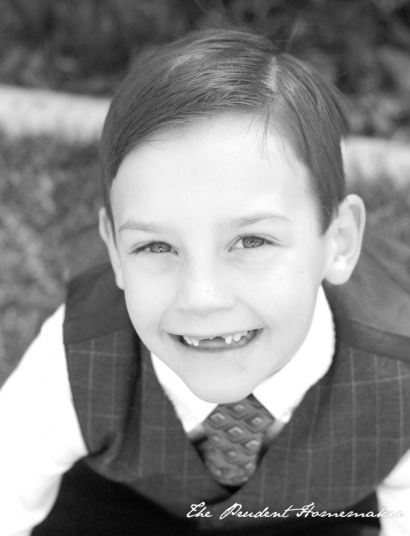 I took pictures of Ezrom for his birthday this week.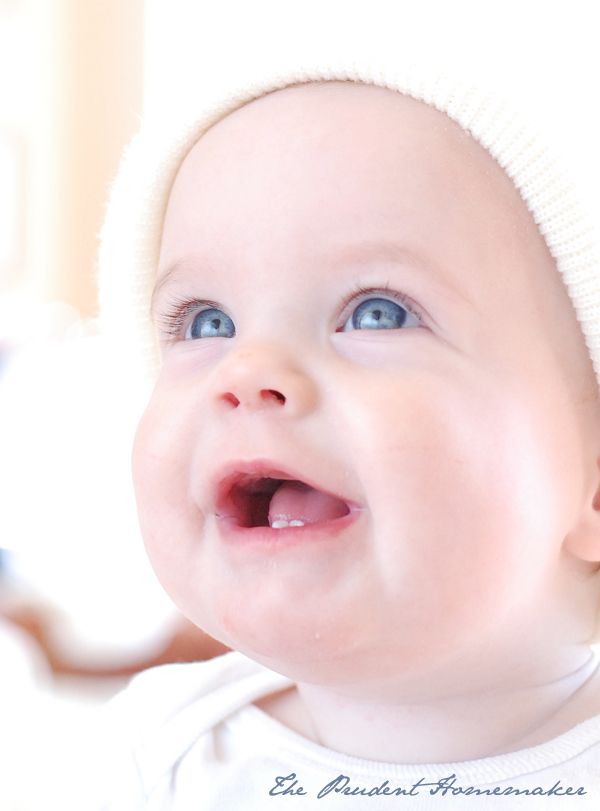 I also took pictures of Ivory.
I found a way to repurpose some display hangers so that they would be used to hang herbs for drying in my pantry. I had these hanging with lanterns at my previous house, but since we moved here 6 years ago I have never used them. Now I have a place to dry herbs that is also out of the way. My husband hung them with some screws that he already had.
I moved my cake pans into the pantry. This freed up space in my kitchen drawers for items that I use more frequently, and allowed me to keep the cake pans as well.
We bought a used van and paid cash. We have been waiting to purchase a larger vehicle that would be big enough for our family for a long time. After having struggled for most of last year to have much of an income (a law was passed in October 2011 in Nevada to stop foreclosures; it also stopped most sales. It was overturned in October 2012, but the banks are still not issuing foreclosure notices, and Las Vegas has had a shortage of houses for sale), we were blessed with several sales at the end of the year and in January. Each year for the last 5 years I have watched our income decrease each year from the previous year. This month it increased! The banks are still not foreclosing yet. We are proceeding cautiously; we know there may yet be many rough months ahead without sales, for both my husband and the agents who work for him.
We had been hoping to buy a small bus, but after prayer, we felt a van was the right thing. Research showed us, too, that a van was about 1/4th the cost of a bus, so my husband has looked and looked for something that would be right for us. We were able to find something that was just a little bit under what we had saved.
The van has several features that we wanted, but it was missing most of the seat belts. My husband went to a place called Pick a Part, which is a huge lot with a few thousand cars. You take your tools and take off the parts you want, and then you pay for them when you leave. He found 5 seat belts for us that we hope to have fit; they cost $3 each. He will be cleaning them and installing them. We took out the rear seat of the van to have some storage room in the back for shopping, so the van now seats 11.
Since the van was at the other end of town right by the Bass Pro Shop, we went there on our way home. Our Bass Pro Shop is attached to a casino, and there is an aquarium (just one large tank with lots of fish and sting rays) right at the entrance between the two. The aquarium is free. We checked out the aquarium and some of the animals at the Bass Pro Shop, and then we came home and had a late lunch. (Though it was around 2 pm when we arrived home, none of the children complained about being hungry, and when we got home I made a quick lunch for everyone.)
We have listed our other vehicle (I call it our family car, but it's not a car; chances are that I'll call the van a car, too, as in "Let's get in the car!") for sale on Craig's List. My husband cleaned it and took pictures this week. We hope to sell it for the same amount as what we paid for the van. The money will go back into our account to pay the bills for the months that are coming up. We will remain a one car family, which will keep our expenses down. (If anyone is interested in purchasing a 2004 Ford Expedition with a little over 86,000 miles on it, let me know! )
The law here states that we have 30 days from the date of purchase to register a vehicle. By waiting until the end of that time, we will move our annual registration fee back another month. This will save us for a month. Also, the law allows us to transfer plates from one vehicle to another, so if we can sell our other vehicle during that time, we can just transfer the plates.
I harvested arugula, rosemary, and parsley from the garden.
The children have caught a cold/ear infection. We are treating it at home. Their ear pain is gone already (usually one application of this
is all it takes to get rid of an ear infection) but they are still congested. Our meals have been very simple this week.
I made French bread and Greek yogurt.
It was cold enough to run the heater again for a few nights this week. The days were wonderfully warm toward the end of the week and I was able to open the windows and enjoy the fresh air inside. I was able to get outside for a bit on Friday afternoon to do some pruning.
I took a free Graphics Design Class on Creative Live. The classes are free to watch while they are live. I gained a couple of new ideas that were just what I was needing for something that I have been wanting to redesign.
I had an at-home date with my husband one night after the children were in bed.
My husband cut my hair for me.
What did you do to save money this week?