January is the month where I spend the most time in my garden, pruning, tidying, and planting. I'm outside working for several hours almost every day.
I have some goals I'd like to achieve in the garden this year, and a lot of those will come from good planning and preparation done this month. This year, I want the garden to be both more productive and more beautiful. Here's how I plan to make that happen: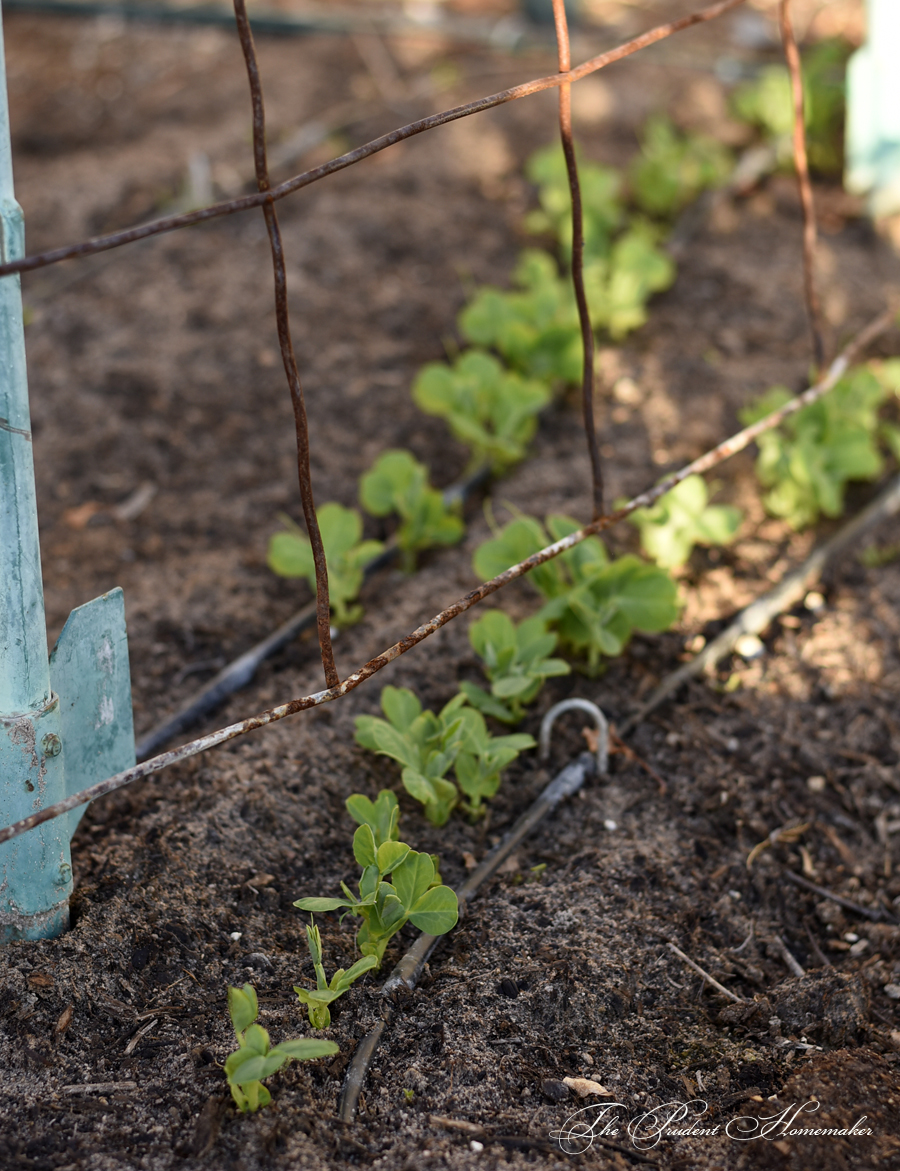 Snow Pea Seedlings; these are the 30 day "Little Snowpea White" that I also grew last year; I love the short time to harvest!
More Productive:
1. Bring in new dirt to the garden. This will refresh the area and also fill in where the garden soil has settled over the years.
2. Fertilize more often. Fruit trees should be fertilized here 3 times a year (February, May, and September), and roses every few weeks. I generally only fertilize my fruit trees once a year (I never get around to the other two times) and roses once in a while.
3. Plant more often. I want to make sure to do lots of succession planting (where I plant again every few weeks), especially with lettuce.
4. Plant earlier. I want to plant more before the heat sets in. Our last frost date is February 15th, which means warm-season crops can go in the ground then.
5. Add new plants. Last year I added 2 more pomegranate trees (in pots), a mandarin tree (in a pot), male and female pistachio trees, and 2 new blackberry bushes. This year I want to add at least 5 more blackberry bushes (and if I can figure out a way to add more trees, I'll do that too!).
6. Make the shady areas more productive by planting more of what works well in the shade in these areas. This includes Swiss chard, New Zealand spinach, parsley, and Vesca (Alpine) strawberries.
7. Plant more squash.
8. Spray more often. I lost part of my grape crop last year to powdery mildew (and almost lost all of it). I will spray neem oil a couple of times before the leaves come out in March/April, and again in April or May if needed.
9. Bag grapes in paper lunch bags (stapled on) to keep the birds from eating the grapes.
10. Plant more snow peas, Armenian cucumbers, and red noodle beans. To do this, I am unrolling some homemade tomato cages (made from 6-inch concrete mesh) and using stakes that I already have to use the flat mesh as a trellis (pictured above).
11. Plant more chives and green onions from seed.
12. Plant more artichokes.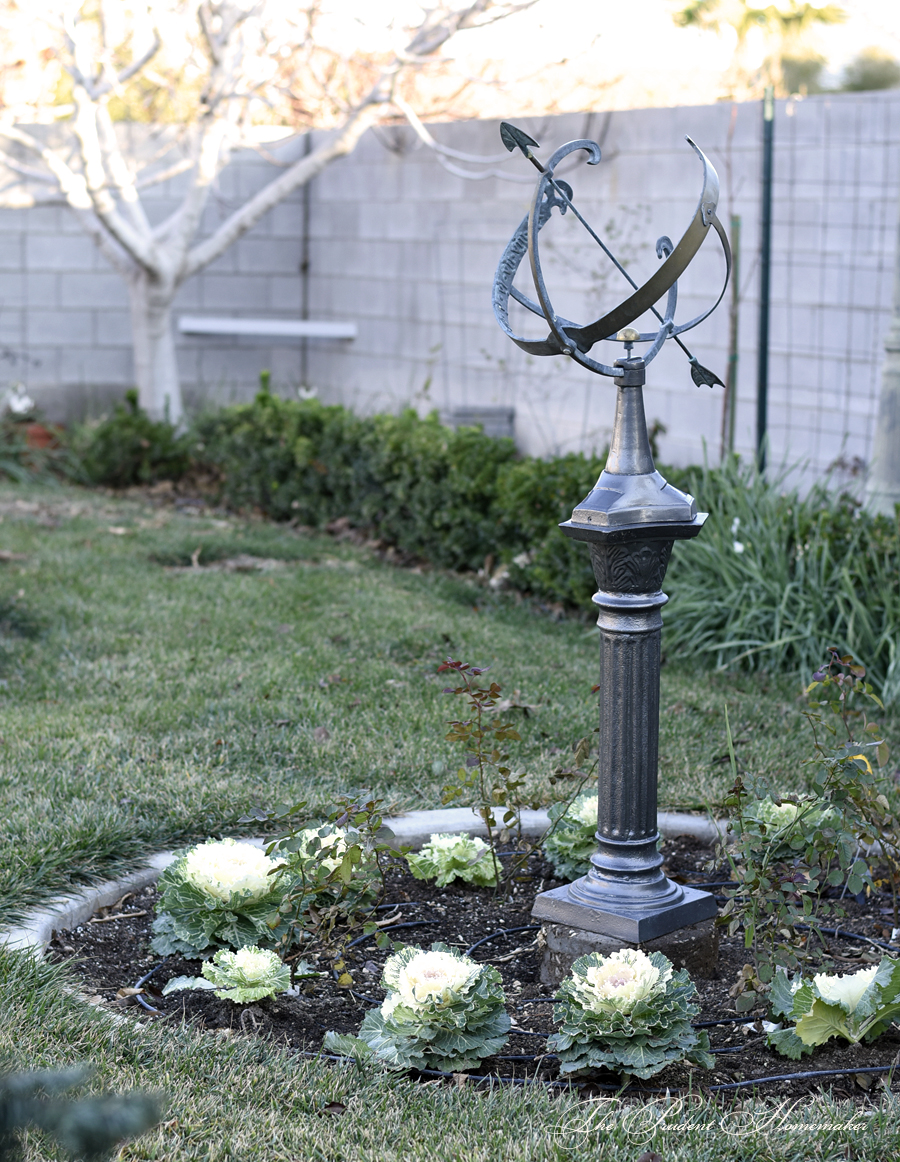 Four of the new rose bushes surrounded by flowering cabbage
More beautiful:
Last year I added 14 new rose bushes to the garden in back. Five of these did not make it; the company will be sending me replacements in February. The plants are small to start, but the ones that I planted last year should start flowering this year.
I planted a few hundred flower bulbs over the last few weeks, and I've still got more to plant. I'll be planting those this year.
1. Plant 250 daffodil bulbs in the garden (hopefully all this week if I can).
2. Plant small hedges along the walkway in the white garden.
3. Dig 6 large bushes from the white garden (from the planting areas along the walkway, seen in the photo below) and transplant them into pots on the back patio. I have been growing these for 3 years and pruning them to become spheres. By the end of this year, there is a good chance they will have reached the size and shape I've been planning.
4. Plant another hedge in the garden in back. I'm going slow on this and using cuttings from existing bushes to grow the hedge. It will take many more years to grow it this way, but it doesn't cost me any money to do it like this.
5. Plant nasturtium seeds in all of the potted fruit trees on the patio. The seeds are ones we collected from the garden last year.
6. Plant rows of flower seeds in between the vegetables.
7. Resod and reseed grass in areas where we lost grass last year (we had some larger areas die due to broken sprinkler issues, as well as some of the normal loss due to grubs, for which we always reseed in spring).
8. Purchase a new edger and learn how to use it. I'd like to have sharp edges on the grass around the beds this year.
9. Prune hedges 4 times a year to keep them looking good.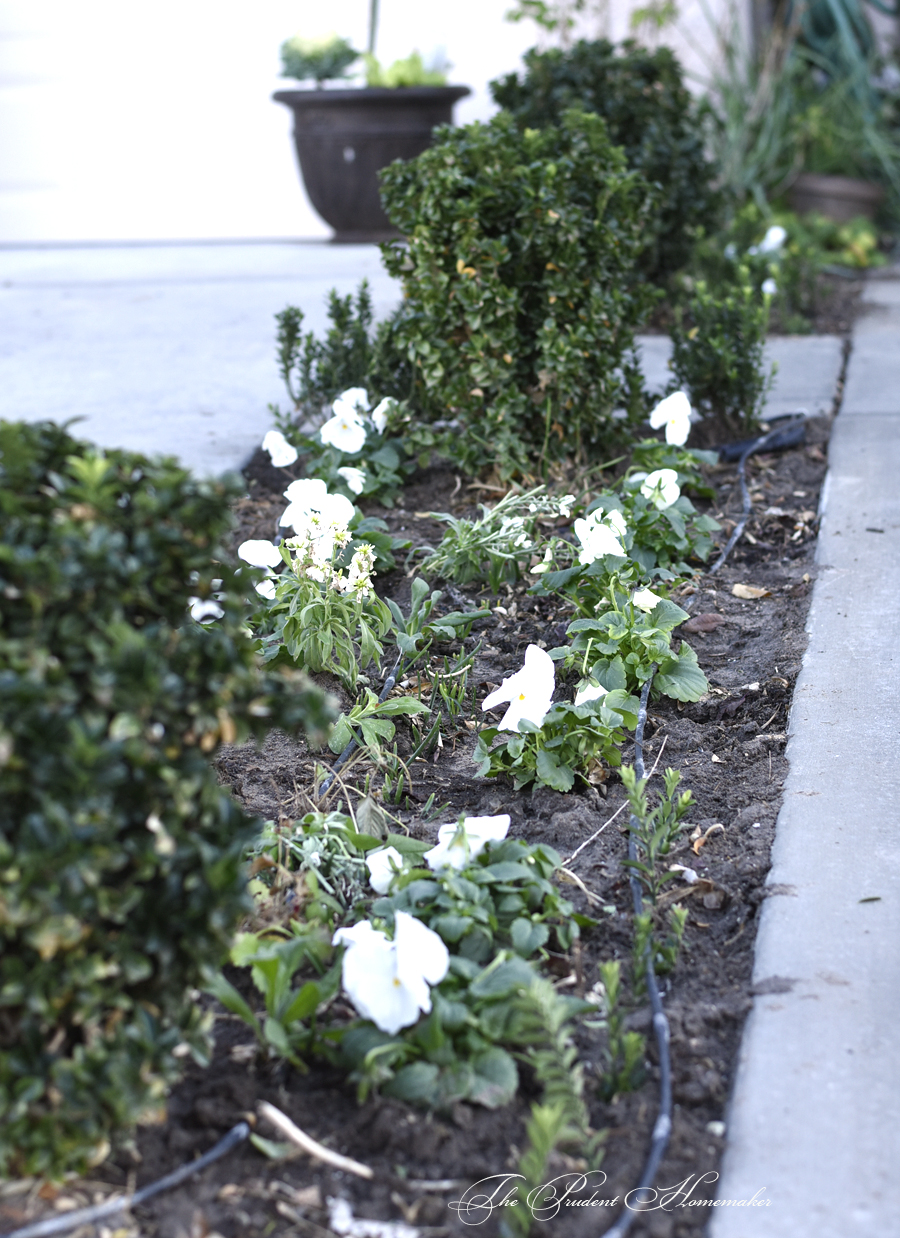 The start of changes to the front walkway: I just planted daffodils in this bed last week as well as these pansies. The large bushes will be transplanted into pots in the backyard and will hopefully finish growing into the sphere shapes I have always planned for them to be (but now they'll do so in the backyard). I'll surround each of these 4 planters by the walkway with smaller box leaf euonymus hedges; I've put in 2 small ones already at the top of this planter (near the other large bush in the planter) and I am waiting for the nursery to have more for sale over the next few months. The bed is soaked from a wonderful rain we had a few days ago; this bed is in full shade all day and will be for the next couple of months.
The local nursery will be having many sales over the next four months, and they'll have coupons too, so I will look for sales on the blackberries and box leaf euonymus as well as coupons to make those sales even better deals.
We're enjoying temperatures in the 50's and 60's this week; a frost is possible this month and we'll likely get at least one night of it sometime later this month, but for the most part, it's spring-like weather with lots to do!