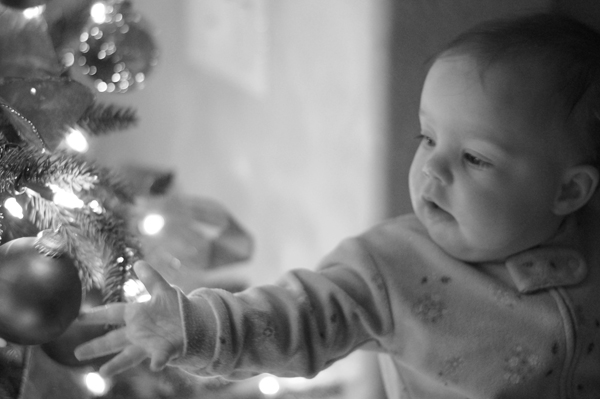 Ever since we've had the tree up, I start my morning by taking Ivory (who wakes me early in the morning; I nurse her and then she's up after that around 4:50 am on average; sometimes earlier) into the living room, and turning on the Christmas lights. I love watching the delight on her face each morning.
Now for this week's frugal accomplishments:
I made Christmas gifts. I wrapped gifts with paper I bought on clearance several years ago, and vintage curling ribbon that my mom gave me (some was from the 70's, and some was much older than that!).
I cut the buttons off of a worn dress and added them to my button jar.
We watched a movie and a tv show for free on Hulu.
The only food I purchased this week was a can of olives, which was free after a coupon. I also used a coupon to get a free container of dental floss. Both were internet printable coupons.
I picked up my free 5 x 7 print that I ordered last week at Walgreen's.
I made homemade Rosemary Olive Oil bread.
A friend offered us her son's outgrown bicycle. It needs a little grease on the chain, some air in the the tires, and some cleaning up (it is rusty in a few spots) but I think my older son will enjoy it!
My mom's friend's daughter changed to a gluten-free diet. She offered me some things that she could no longer eat, including a couple of buckets of oats.
She also had some food-grade diatomaceous earth that she no longer wanted. I hope it will help me get rid of the bug problem in the garden! The mild winter last year meant an abundance of bugs, which ate my garden down to very little. Diatomaceous earth can also be mixed with water and sprayed on your trees when they are dormant, to kill overwintering bugs. I may try this out instead of or in addition to the organic dormant oil that I usually use in January.
I rolled up towels to put inside the house in front of my front door. It stopped the draft the blows through there in winter. I had been planing to make a door snake for several years, but I've never had the time. This solution took 30 seconds, and will be fine for the next couple of months until it's warm again.
I saved seeds from the basil in my garden.
My daughter received a free knitting lesson from my grandmother's neighbor.
What did you do to save money this week?