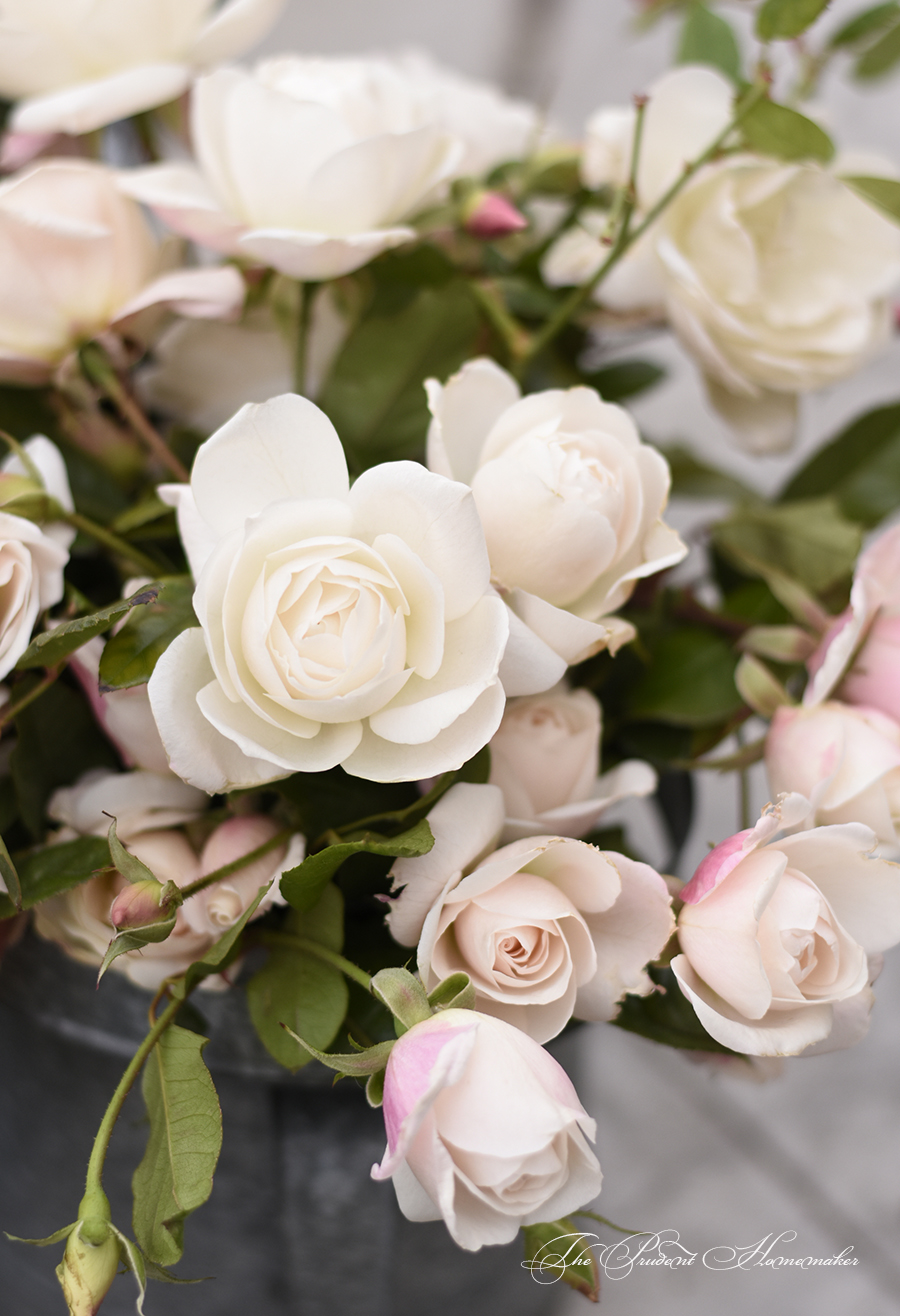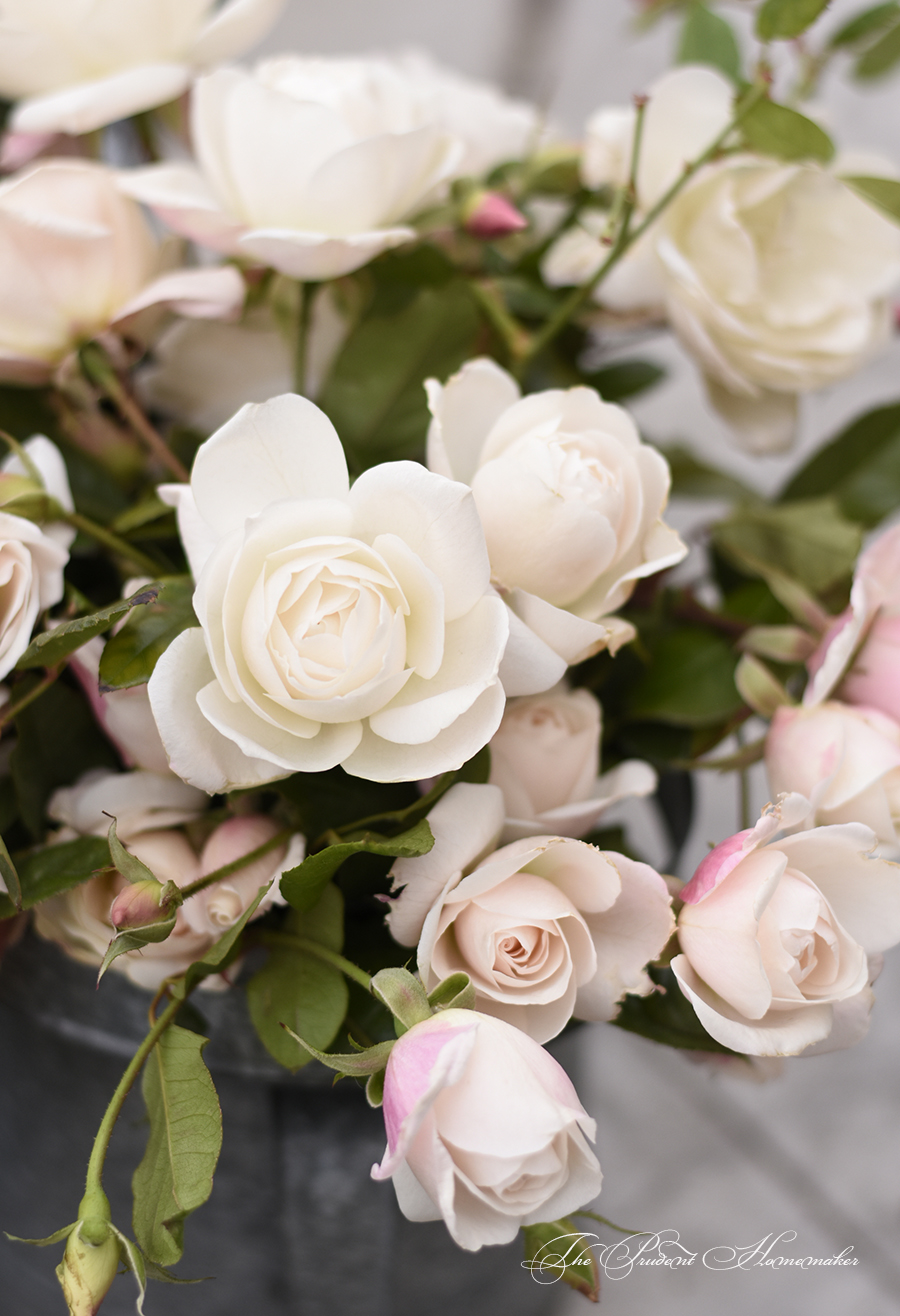 My white Iceberg roses turn this lovely shade of pink when it gets cold.
I worked diligently to organize my four main areas of clutter to keep me more content in my home (without spending anything).
I saved shower warm-up water and used it to water potted plants in the garden.
I cut green onions, peppermint, and oregano from the garden.
I got a good amount of exercise just in my backyard. We had our first frost this week (about a month later than normal) and I spent time pulling out all of the tomato plants that died in the frost. I also began pruning the grape vines and rose bushes.  I filled six trash cans in about 4 hours. I won't be able to do more until after the trash man comes, but I have lots of pruning to do. January is my busiest month in the garden. I'll prune grape vines, rose bushes, and fruit trees.
I redeemed 2200 Swagbucks for a $25 Amazon gift card. I'm saving for something for myself this year, so I'm going to redeem 2200 Swagbucks for an Amazon card every time I have enough (you can only redeem one discounted $25 gift card a month for 2200 points; after that it costs 2500 points. I just wait until the next month if I am lucky enough to have more).
I helped and encouraged my husband to learn how to do something himself that he was seriously considering hiring someone to do.
My youngest reader wanted a Bible of her own to read with us during our study. My eldest son had an extra one in like-new condition that had been given to him that he was able to give to her, which delighted her.
I decided to not order any vegetable or herb seeds this year, as I have enough between leftover seeds and what I have collected from our garden. I ordered some flower seeds from just one place this year. That will be my total ordering for this spring. I have plenty to fill the garden!
I decided to keep our food purchases for the next 3-4 months limited to potatoes, margarine, carrots, and sour cream. We'll eat from our very full freezers and pantry along with a few things from the garden. This time of year is our slow time for income, and I have no more room to stock up on deals, anyway! It's a great time to eat from what we have stored. If we needed to, we could go for the whole year without doing any shopping, as we have before. I have no idea what our income will be this year, but because we have food stored and a garden, I know we won't go hungry even if we didn't have any income for the year.
I purchased three like-new blouses and a like-new skirt for myself at the thrift store. January is always a really great time to shop at the thrift store, as people have often made large donations before the end of the year and as they organize their closets at the beginning of the month. I made sure to only buy clothing items that I really loved. I also purchased 4 used books for my children, including a Newberry Award Winner. I have slowly been purchasing used copies of different Newberry Medal books and Honor books over the years to add to our library.
On Cyber Monday, I had bought myself a new church dress 50% off. I thought it would be washable on the delicate cycle (it's velveteen). The dress came and the tag said, "Dry Clean only." I wanted to try washing it on the delicate cycle anyway but wasn't sure if I would ruin it. While at church, the baby became sick–and threw up all over my dress! At that point, I figured I may as well try washing the dress! I washed it on delicate with other delicate items, gave it a second rinse with a low spin just in case, and hung it to dry. It came out beautifully, like I had figured when I purchased it. I use the delicate cycle on my washing machine to wash many items, which I hang to dry.
What did you do to save money for the first week of 2019?
 Disclosure: As an Amazon affiliate, I earn from qualifying purchases made through my links. This means that I earn a small percentage from any items you place in your cart and purchase within 24 hours after going to Amazon from one of my links (i.e., it doesn't have to be an item I have linked here).