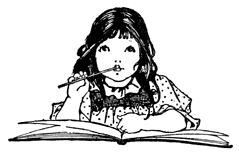 It's going to be a busy week here. As usual, I have more to do than I probably have time to do, but if I work efficiently, I should be able to accomplish these things. It it supposed to be in the 90's this week, so I will do most of my garden work in the evenings.
This is what I'm envisioning for my garden beds. I've never seen it look this lush, but it's what I would like to accomplish.
Garden:
1. Pull weeds and anything that's done for the year in the main bed (the one that gets the most light along the east wall).
2. Mix compost and manure into the bed.
3. Plant some fall seeds in this bed.
4. Pull zinnias in the white garden.
5. Prune hedges. Bring some of these into the house for arrangements (the clippings will last for 3 weeks in water).
6. Dig out the apple tree stump. I never got to this earlier this spring and it really needs to be pulled.
7. Plant apricot tree in the place of the apple.
8. Run drip lines in a small area where we removed them earlier.
9. Cut grape leaves that are infected with caterpillars.
Canning and Cooking:
1. Can pears.
2. Cut basil from the garden and make several batches of pesto to freeze.
Sewing:
1. Mend bath towels.
2, Make pillow for Ezrom's room (I still haven't done this one either).
Shopping:
1. Go to the nursery to purchase a few things for fall. I'm bringing some old pots to return for credit and a $10 off coupon.
2. Buy 16 dozen eggs and 20 pounds of potatoes at Albertson's (I decided to buy 4 more dozen eggs, since at breakfast we eat 18 if everyone has two eggs, and I'd like to have eggs a bit more often).
3. Buy pork roast at Smith's (Yes, I decided to take the plunge and buy some at $2.49 a pound, since it is our favorite).
4. Order two pictures for Ezrom's room (I keep forgetting to do this).
5. Go the community garage sale with my list in hand. I'm hoping to find several needed items for winter clothing for the children as well as some Christmas wants. I thought I had enough clothing, but some things have worn out, and it looks like I still need some shirts for Cyrus. I'm hoping to pay $0.50 to $1 for each item of clothing, though I'll go up to $2 an item if I need to.
Miscellaneous:
1. List 5 items for sale on Facebook garage sale pages this week
2. Print music flashcards for Wren. (I found these free printables, but if anyone knows of any better free music note flash cards (that include base clef, for example), let me know and I'll print those instead!) Update: I am going to print the ones a reader suggested that are here).
3. Go visiting teaching
4. Pay utility bills
Blogging:
1. Finish editing photos for part one of our trip and post. I have a lot of pictures (we were gone a week last month) and I'll be splitting it into multiple posts so that the pictures load faster. If I can get to part two, I'll post that one as well.