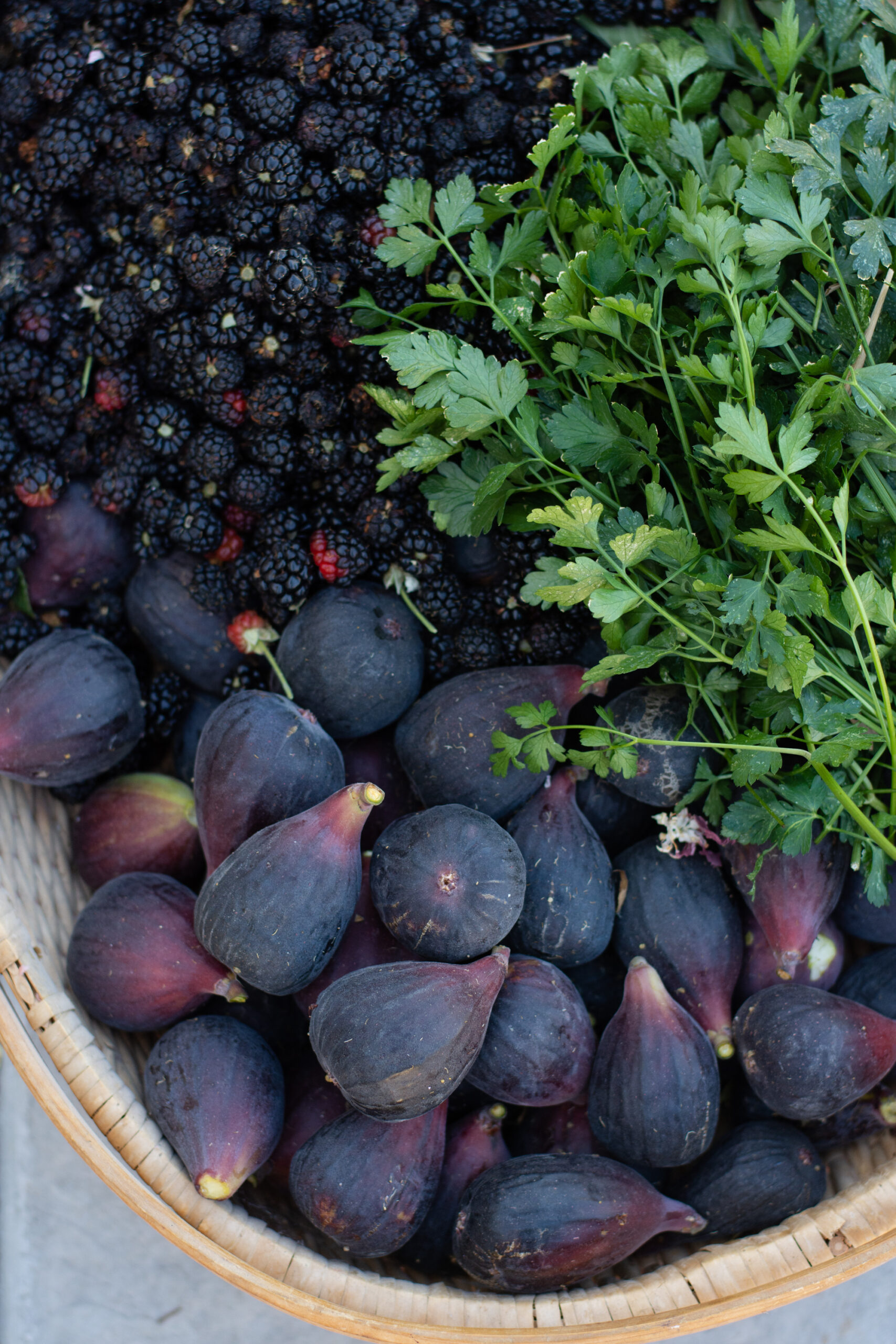 It was 112 F/44C yesterday, so I was out early in the morning installing more drip lines and hand watering. By the time I had finished, it was time for school, which is why I'm late posting this week. I still have a ton of hand watering left to do as I have a lot more drip lines to install and there is a very limited time to work outside. Before dawn today at 4 am it is already 89 degrees (32 C) in the dark.
Yesterday afternoon was spent seeking a deal that, if it turns out to be good, I will share in a couple of weeks. If not, well, I spent a hot afternoon outside (when it had cooled to 108! Haha!) and wasted some money.
I harvested blackberries, figs, basil, a few tiny tomatoes, and parsley from the garden. I dried figs in my dehydrator to use later.
I sowed seeds for Swiss chard, thyme, and zinnias in the garden. I'm sowing much later than normal, but it's not too late to still sow seeds for these here (and it's ideal for sowing warm-weather loving herbs).
I dug and moved plants in the garden to new places where they will hopefully do better, as they will get more sun. I did this on the coolest day of the week to hopefully help them to live; this is a terrible time to move plants, but it was better to do it at night when it cools down into the 90's than this week when it will be 114 or 115.
I buried kitchen scraps in the garden to improve my soil. This was a free addition; these would have otherwise gone into the trash.
I ran more drip irrigation lines in the garden.
I returned plastic pots to the nursery for store credit, receiving $23.06 to use towards my purchases. We went on Thursday to receive the senior discount off our total purchases, which included tree stakes and drip line for the grass. We are learning how to put in this drip irrigation that goes under the grass; it is supposed to use much less water than regular sprinklers. We will have 25% of the grass that we had before.
I hemmed a pair of pants for my husband. He wanted them cuffed and it has been a while since I have done this, so I searched for a tutorial on YouTube. I found this one that was even better than the one I used before.
I mended a t-shirt where the hem had come unstitched.
Someone we know was getting rid of some of her old clothes. I took a daughter over and we both chose a few things.
We picked up the free school meals which provide us with plenty of milk, and lots of carrots, apples, dried cranberries, and oranges in addition to the main dishes.
My husband needs some temporary tables to work for making the pergola, obelisks, and arches that we are planning to put in the garden. He rescued a laminate countertop that someone had set out for the trash for the top of one table. His brother was getting rid of some metal work table legs, so he was able to use those for two tables (he bought a piece of pressboard to use as the top of the other table).
What did you do to save money last week?
Would you like to support my site?  As an Amazon affiliate, I earn from qualifying purchases made through my links. This means that I earn a small percentage from ANY items you place in your cart and purchase within 24 hours after going to Amazon from one of my links (i.e., it doesn't have to be an item I have linked here).  If you're going to be making a purchase from Amazon this week, I thank you for using my links to support this site!