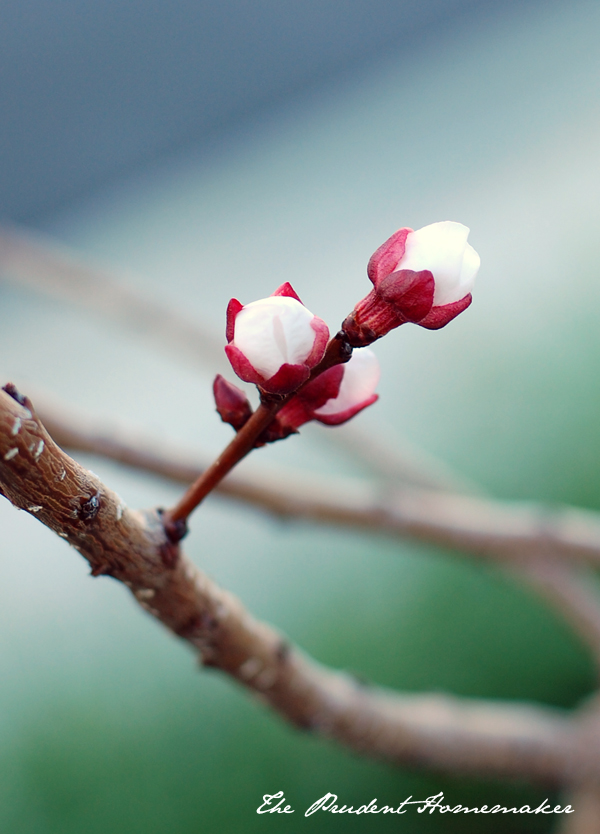 Katy Apricot blossoms
We had the most beautiful weather here last week: highs in the 70's (22-24ºC). It's been a joy to work outside in this weather!
The beautiful spring weather meant I was able to turn off the heat and open the windows.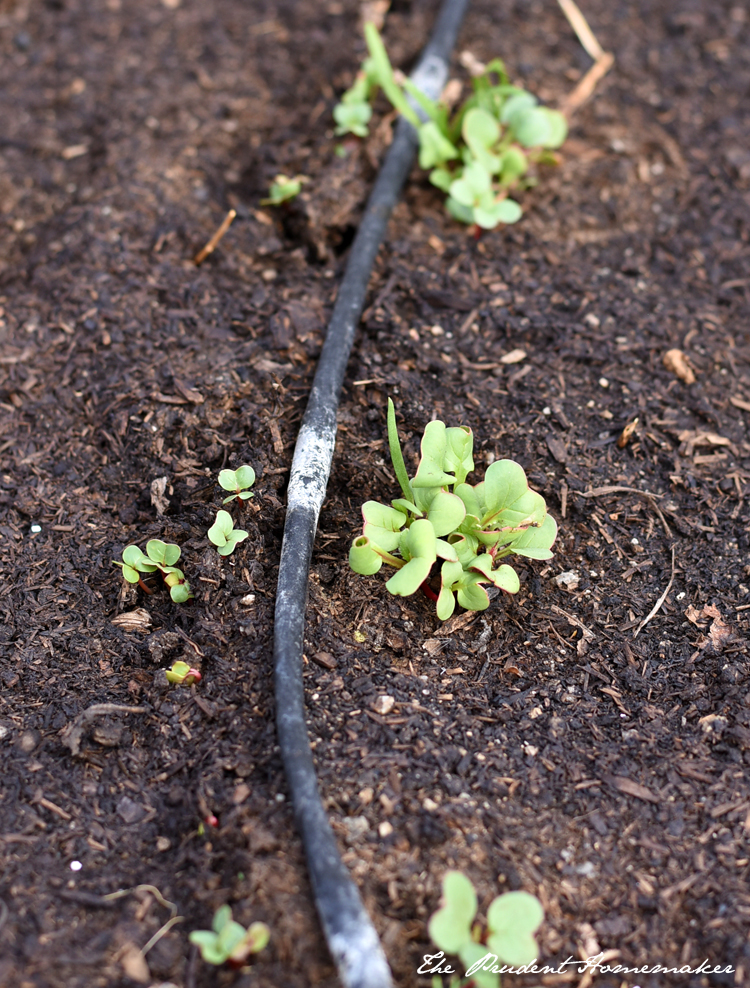 Radish and spinach seedlings
If I were to sum up our goals for this year in one word, it would be "repair." We have a lot of repair projects to take care of this year, and we are working on many of them this month.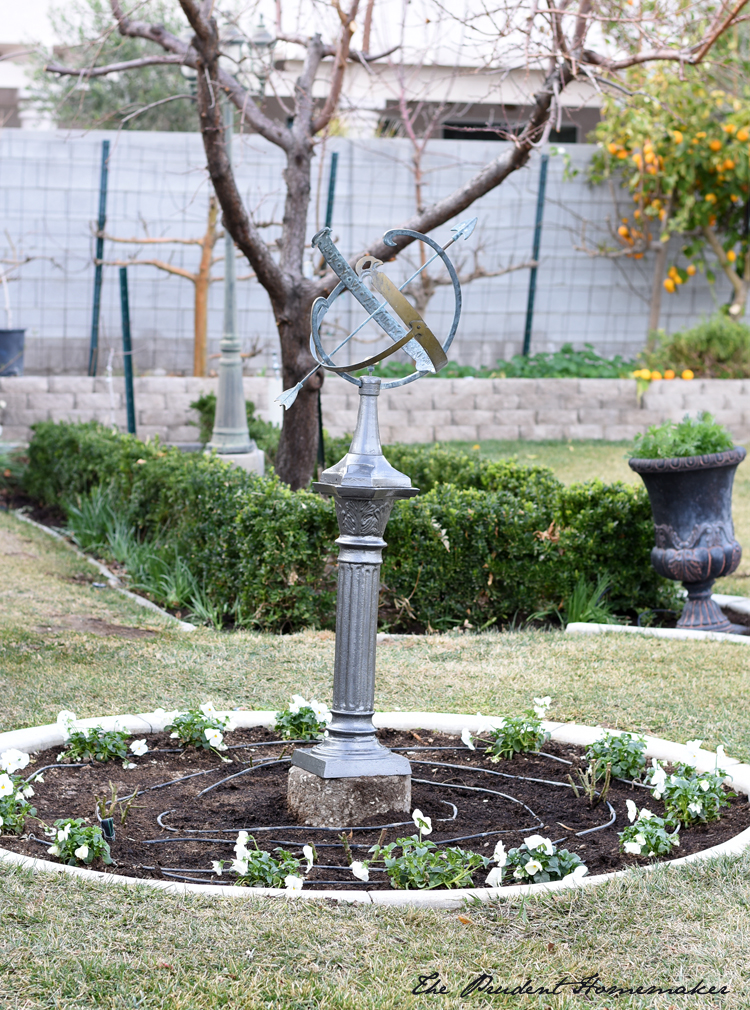 My sundial was one of these projects. The children had knocked it down and it broke, and was bent in one place. My husband and his brother mended it. Then, as it had become rusty, I removed the rust with a wire brush, and my husband painted the base with Rustoleum (Dark Bronze). I love the faux aged copper green it was originally painted, but that wasn't a paint color choice, so I chose another color instead (the top is still the original color).
As part of the home repair Boy Scout merit badge, my boys need to repair/maintain a tool. Ezrom sanded the handles on a large pair of pruning shears. He then oiled the wood handles with linseed oil. I also used the oil to oil the handle on a push broom and on a small shovel.
A neighbor was throwing out two flower pots, full of potting soil. I knocked to make sure she really didn't want them, and I was able to take home the pots to use the potting soil.
Potted euyonomus, pineapple guava, and French Lavender in front of lemongrass
I potted my pineapple guava bushes using this soil, along with a bit more bagged soil that I had.
I trimmed the bottom branches of my bushes that were touching the soil and brought them in to enjoy in the house for some greenery.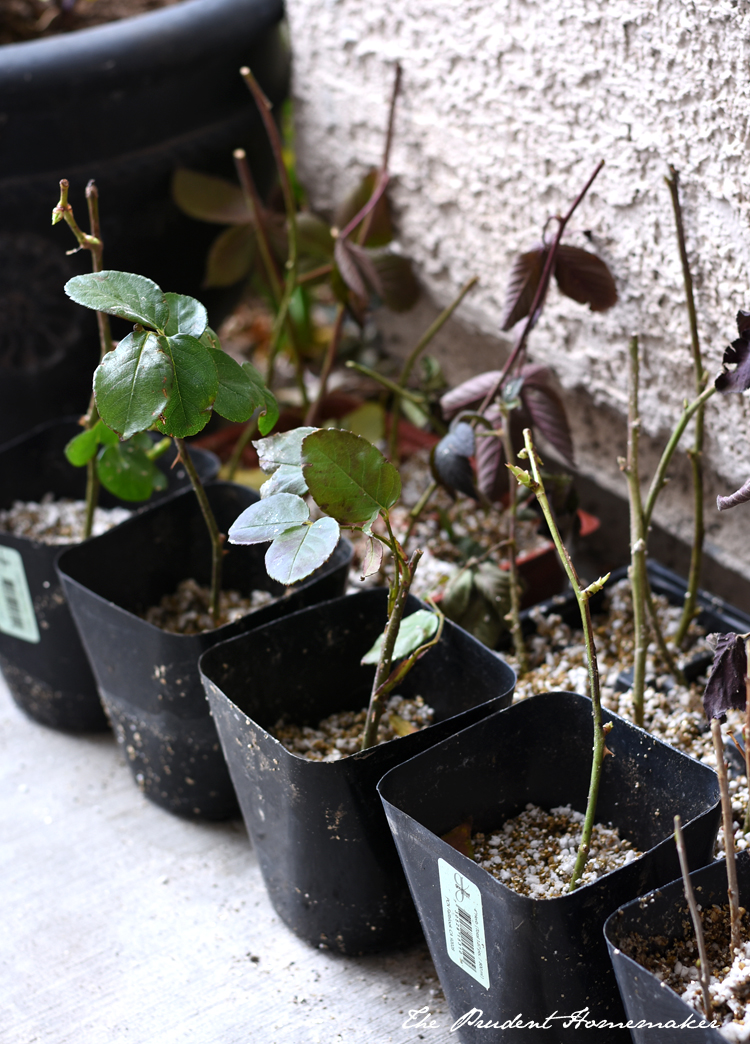 I took cuttings from rose bushes, blackberry bushes, and my pomegrante trees to start new plants. If they all take, I'll have 8 new rose bushes and 12 new blackberry bushes, and a few new pomegranate trees.
I used a $10 off coupon for our local nursery towards my purchase of manure for the garden.
I sowed seeds for chives and nasturiums in the garden. The nasturium seeds are ones I collected from our garden last year. I planted the nasturium seeds in the bases of all my potted fruit trees, including the pineapple guava.
I planted seeds for blue larkspur and for Bells of Ireland in the center circle around my sundial, after planting the new roses that I ordered 20% off last month and the pansies that I purchased on sale earlier this month. These should fill in the area nicely. (It will take the roses a couple of years to be large enough to fill the circle.)
I cut Swiss chard and beet greens from the garden.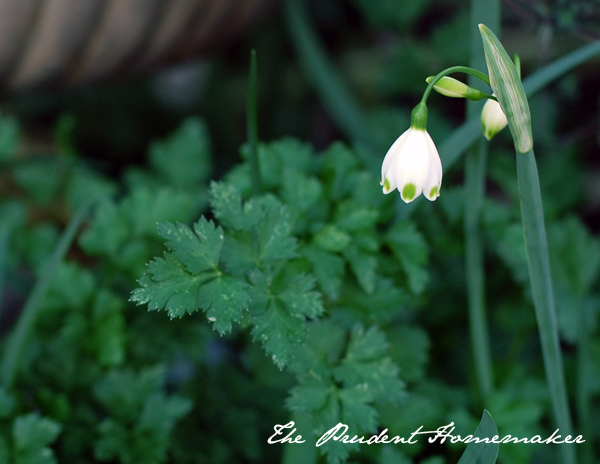 Summer Snowflake, Leucojum aestivum
I picked lemons from the garden.
After reading Marivene's comments last week about dehydrated lemon slices, I decided to dry some lemons too. I dried lemons, and juiced the ends. I froze the juice in ice cube trays to use later.
I made yogurt in my crockpot.
Winter turned on some music for the family from Freegal. The library allows 3 hours of free music streaming a day per patron from Freegal. For Lunar New Year, she turned on some Chinese music, made Chinese food for us, and made fortune cookies.
The children used Typing.com to practive their typing skills. It is a free online program that teaches typing.
I purchased broccoli crowns on sale for $0.88 a pound, bananas for $0.59 a pound, and milk for $2.49 a gallon. I'll bury the banana peels in the garden.
My husband and I enjoyed a date night out using a gift card that we received for Christmas.
The boys carpooled on the way to a merit badge activity.
What did you do to save money last week?