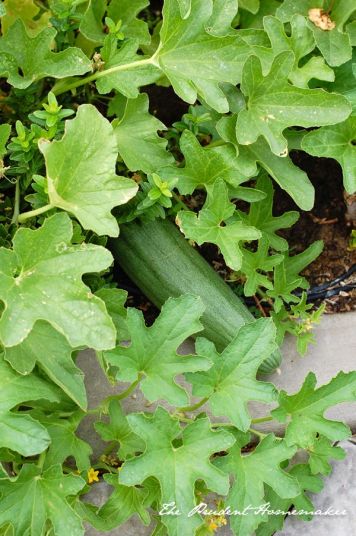 Armenian cucumber in the garden
This post contains affiliate and referral links.
I harvested a few more Armenian cucumbers. I gave two to a neighbor (they each weigh 4 to 5 pounds). I harvested a small handful of tomatoes and a small handful of red noodle beans.
I cut large bunches of basil from the garden to bring in and dry. There is still a very large amount in the garden. I think by the time our first frost comes, I will have dried enough to cover our needs for the year. We use a huge quantity of basil in cooking, and one of my goals this year was to grow enough in the garden to no longer need to purchase it at the store.
I canned 7 pints of dill pickles.
I took care of my friend's garden again this week while she was gone, and brought home loads of tomatoes; we had tomato sandwiches and pasta salad, and roasted tomatoes over pasta during the week, tomato and cucumber salad, plus tomatoes with salt as a side dish.
Early in the week, we had an unusual rain come in, enabling me to turn off the sprinklers for a day. The temperature was 25 degrees cooler as well, so I turned off the air conditioner and opened the windows for two days. At 80, felt like a preview of fall in the middle of summer. The following days had cooler mornings, so every morning I was able to turn off the air conditioner and open the windows for a few hours, filling the house with fresh, cool air (it was a 75º outside in the early mornings). Having the air conditioner off for two days in August is quite unusual. When the end-of the week usage report came from the power company via email, I could see the savings was significant; I saved $30 by having the air conditioner off those two days. The mornings were also cooler than the week before (75º in the early morning, instead of the 84º the week before), allowing me to open the windows in the early morning for a few hours, which also saved me several dollars each day over what I would normally pay.
Using what we had, I did some redecorating in the boys' room. I hung curtains, using a curtain rod I bought 9 years ago for our old house that has been sitting in the garage, and some old curtains that we had been given for free years ago (my husband thought we would use them for making some dress-up clothes, but the boys both said they liked them and wanted them hung, so they were hung).
I took down the pictures they had in there in anticipation of some posters that I ordered from Amazon, using credit that I had. I also used some Amazon gift cards that I had earned from Swagbucks, along with some referral credit, to order some quilts for the boys' beds. It won't be cold enough for the boys to need a blanket for months (we just use sheets here all summer, as it is too hot for anything else on the bed), but they really needed something other than the toddler quilts that their grandmothers made them years ago that were on their beds (Cyrus' blanket was falling apart, which prompted the change). The new quilts are folded at the end of their beds.
When the posters come and they are hung I'll take some photos.
I redeemed points for a gift card on Swagbucks.
I mended several holes in a pair of my husband's shorts.
When I need to order a new item, I try to always order through Ebates, and if possible, to do so while they are having a double cash back time, to ensure a larger rebate. Right now they are having double cash back at several places for back to school sales.
Last week, my 11-year-old glasses broke (the frame suddenly cracked and the lens fell to the floor; I was just sitting at the computer when it happened!) I was able to get a walk-in appointment at Walmart's vision center the next morning for $69. I then ordered a pair of glasses for myself and for my husband (through Ebates first for 4% back) and used a 10% off coupon code I found on Ebates to get both of us a pair of glasses (plus a clip-on sunglasses for my husband) for $26.42 From Zenni Optical, including shipping! (Plus I'll receive .95 back from Ebates. That and the $2.38 I saved using the coupon code is $3.33–enough money for a gallon of milk. I measure all small savings by the number of gallons of milk it would equal.)
For those who are shocked at the age of my glasses, I will tell you that my prescription had only very slightly changed; I had an exam many years back and they said it wasn't enough of a change to warrant a new pair of glasses then, so I had not purchased new glasses.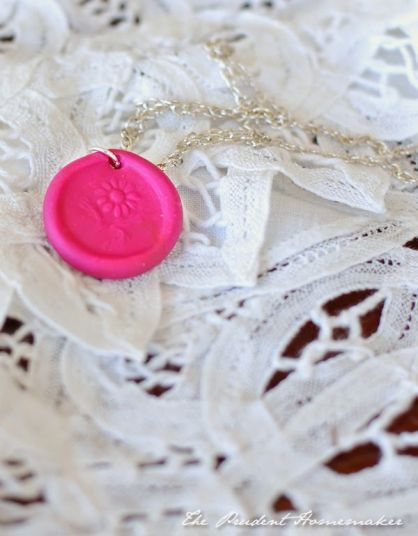 Wren was invited to a birthday party last week. We made the birthday girl (who turned 6) the necklace above, using Fimo clay (it hardens when baked) and a wax sealing stamp that I've had since I was a teenager. The jump ring and the chain were from several I purchased on Etsy when making Christmas gifts.
What did you do to save money last week?