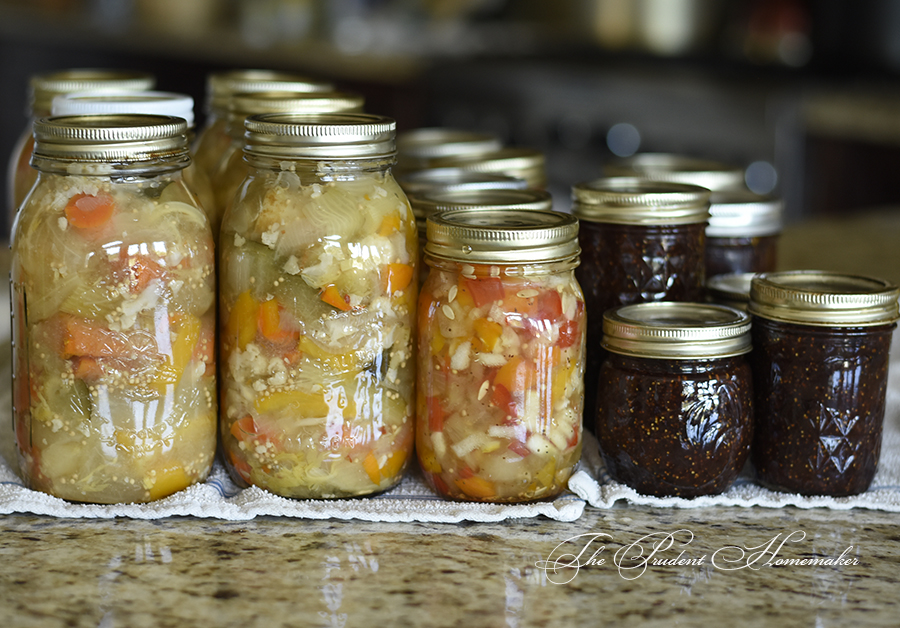 I harvested peaches, figs, grapes, garlic chives, Swiss chard, green onions, grapes, tomatoes, and an Armenian cucumber from the garden.
I canned fig jam, sweet pickle relish, and giardiniera.
I read 4 books (Hamish Macbeth!) that I borrowed from my mom. I then went to the library's website and borrowed and read 4 more Hamish Macbeth books in e-book form.
My parents filled a blow-up pool for the children to enjoy at their house for a few days. When they were done, they pumped it out with a pump and a hose into my garden beds. I moved the hose around to different areas, grateful to have over 1000 gallons of water at no charge to me, and happy that it was able to serve two different purposes.
I collected 3 to 5 gallons of water each day from the run-off humidity from the air conditioner and used it to water my potted plants in the garden. I keep a one-gallon ice cream bucket under the pipes where the water drips on the side of the house and check it periodically throughout the day, and when it's full, I transfer it to a three-gallon bucket and dump that out when it is full.
I gladly accepted some succulents from my dad that had been slightly burned in the sun. I moved them to a shady spot and if they recover, I'll plant them in a shady place in my garden.
I went to the grocery store and picked up several items using rainchecks from last month, buying boneless pork roast for $0.89 a pound (usually the lowest sales price is $1.79 a pound) and ice cream for $3.99 a gallon. I also used digital coupons to pick up 5 pounds of sour cream for $0.89 a pound. In addition, I purchased more pork roast that was on sale last week for $1.19 a pound.
What did you do to save money last week?