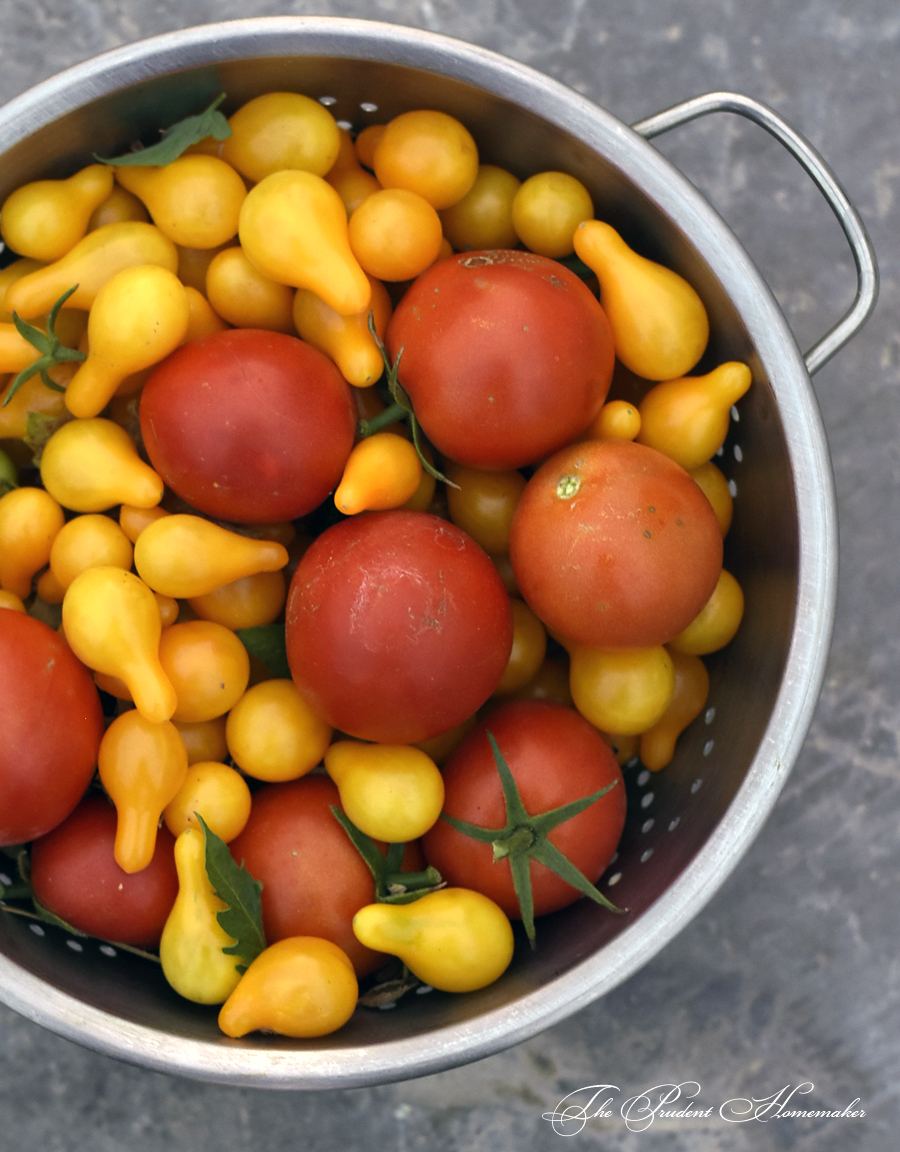 It has taken most of the year, but my tomato plants are finally producing! I picked a colander full of tomatoes from the garden. I am glad that it has cooled enough for my plants to flower and set fruit.
I also cut basil, thyme, and chives from the garden.
I purchased 3 framed pictures for $5 (total!) from a Facebook garage sale site.
I purchased a candle lantern for $5 from the same site.
I wanted a pillar candle to put in the lantern, but seeing some candles at a store (around $15!) I realized that the price of the candle could quickly make my frugal lantern purchase into a not-so-frugal deal.
My mom invited me to go garage sale shopping with her on Saturday, and I found 2 used pillar candles for free at a garage sale! I found another one that was brand-new for 10 cents! Though all of them are a bit skinnier than I would have ideally chosen, they will work just fine, and the price was right!
I found 3 more framed pictures at the garage sales (one for $2 and a matching pair for $5). I bought jeans for my girls ($2 a pair), 2 blouses for the girls ($0.25 each), a blue and white pot for $4, 4 matching blue and white vases for $8, a book stand for $7, two bikes for my daughters (one for $10 and another for $5, which included a helmet), a brand-new fountain pen for $3, a glass box with an etched metal lid for $1, and a small blanket for $0.50.
I found a way to use a piece of furniture to provide more storage for us. This was a hand-me-down and we have been using it for years, but since the girls' new dressers arrived, we didn't have a place for it (so I thought) and I was going to sell it. It's now in my closet and I am able to be more organized because of the additional storage space it provides over the shelves I had there before.
I redeemed Swagbucks for an Amazon gift card.
I planted seeds for lettuce, arugula, and snow peas.
I sewed presents for my children for Christmas using fabric I had on hand.
I collected the shower-warm up water in a bucket and used it to water potted plants.
What did you do to save money last week?