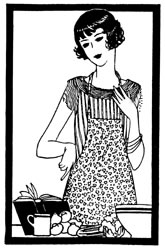 I received a bag of fabric this week from my mom's friend. There is some fabric in there that looks to be enough to make a Christmas dress, a skirt for a child, and possibly another dress.
From the same person, I also received 4 doll shirts that I will use for Christmas gifts for my girls.
I made homemade crackers, yogurt, and steak sauce.
I harvested basil, rosemary, a cucumber, and a few green beans.
I received a free razor in the mail (I signed up for this a few weeks ago).
I cut my son's hair.
I signed up for a free $5 Amazon MP3 credit.
I made a few birthday presents for my daughter using items I have on hand, including sheets and pillowcases from my grandmother's fabric stash.
I mended a dress.
I cut the buttons off of a dress that was beyond repair to use on another dress.
I watched 2 free shows on Hulu.
Most of our meals were meatless this week. Our meat this week was a can of beef and some leftover turkey from the previous week that I had froze and pulled out of the freezer. We had bean burritos, black bean burgers, and several other meatless meals.
What have you done to save money this week?