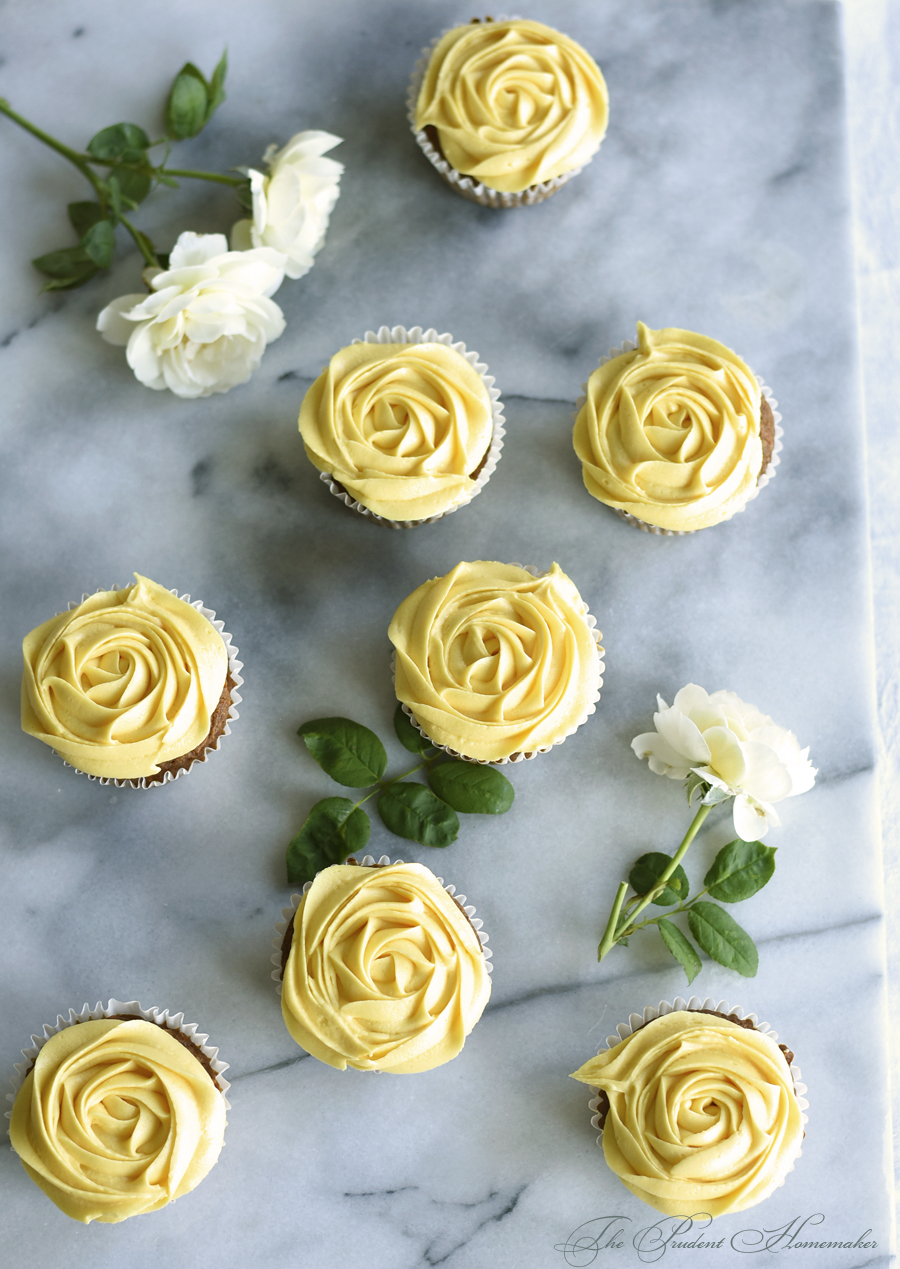 We celebrated a daughter's birthday at home with a simple party at home and a homemade cake. I have pictures that I hope to share soon in a birthday post.
I used the leftover icing to decorate cupcakes as a snack one afternoon. I had some rather old quarts of canned pears that, while still fine to eat, weren't as tasty had they been newer. I blended them and used those in the cupcakes in place of the liquid and oil. I think this is how I will be using the rest of those canned pears in the next little while (in baked goods, but not necessarily cupcakes with icing).
I harvested two Armenian cucumbers, some Swiss chard, a few cherry tomatoes, and basil from the garden.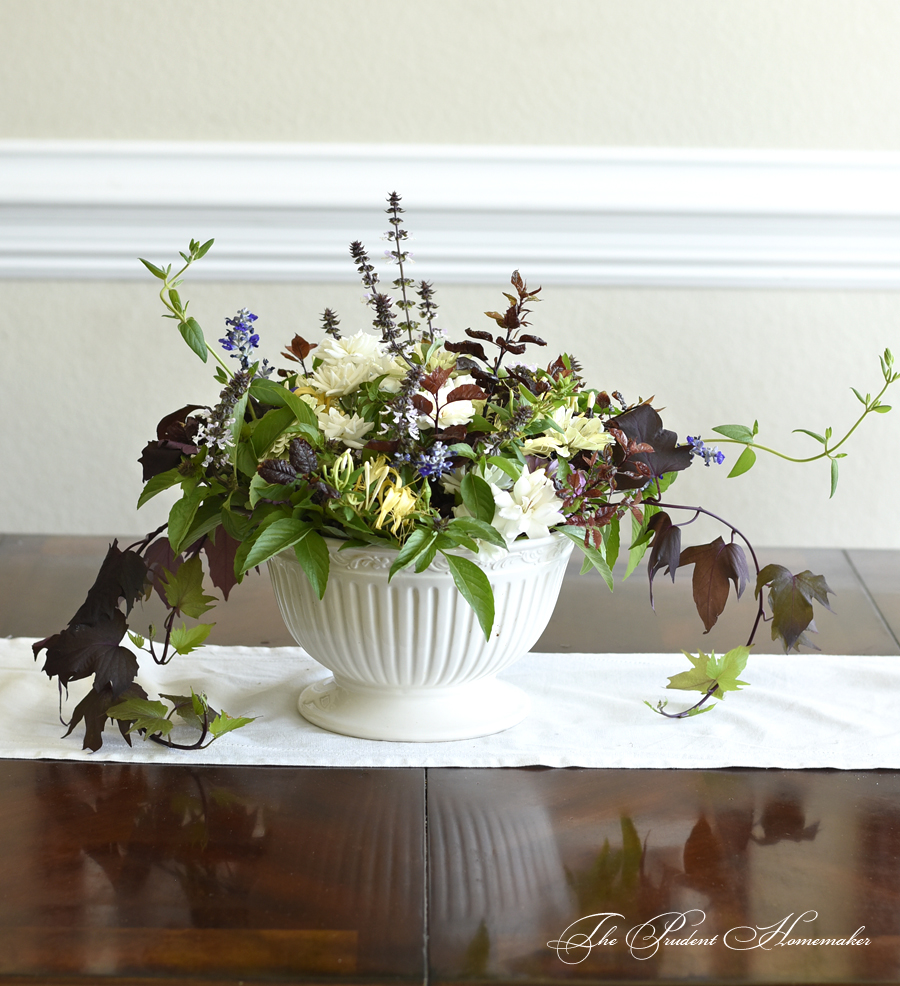 I spent some time tidying the garden to get it ready for fall. I had a large dusty miller plant die. It was so large, that I have decided that in its place I can plant 2 artichoke plants, 2 Swiss chard plants, and a zucchini plant (all of which I have seeds for already). This is a plant in the front yard in my white garden. After removing the plant, I fertilized the apricot tree it was growing under with fertilizer I had received for free with a coupon earlier this year.
I took every opportunity to open the windows in the mornings to cool the house. It is still rather warm here (we had days above 100º) but in the mornings it was 79ºF and even a little lower a few days. We kept the windows open as many hours as possible each morning before closing up the house and turning the air conditioning units back on.
My eldest started her first online college class this week. Her first class is one that has the book available to download online for free, which made for a less expensive start to school.
She will take 24 credits of BYU Independent Study online classes (which we researched to make sure that they all transfer to her school of choice for her major) before going off to school. We'll save money by having her stay at home for the next 16 months while she takes online classes.
I started a list of everything she'll need for her first apartment. The apartments are furnished (and generally have 6-8 women in each), but she'll need kitchen, bedroom, and bathroom supplies, laundry supplies, warmer clothing, and food. We started researching prices and I will look for some items at garage sales over the next 16 months (Garage sale season is beginning again in earnest now here). We'll also purchase many items new, looking for sales and coupons to keep costs low. I noted that Walmart and Bed, Bath and Beyond have the same costs for several of the basic supplies on our kitchen list, but Bed, Bath, and Beyond regularly has 20% off coupons (you can use their expired coupons and use one per item with as many per transaction as you have items). I have a stack of these coupons that have come in different things, including with the free magazines that I get; one even came this week with one of my free magazine subscriptions–and I will put them aside to purchase some items for my daughter's apartment. I also researched prices at Target and Ikea; at some point, we'll definitely be making the drive to Ikea in town when we're ready to purchase a large number of items. I'll also look at Sam's and Costco for their holiday sales for pots and pans. Basically, we'll compare prices to make our money go as far as possible while getting her some good quality items to fulfill her needs.
We learned that there are two grocery shopping options in the city where she hopes to attend school: a grocery store and a Walmart. She has cousins that attend the same school and they all said that the grocery store is pricey and that Walmart is where everyone shops. We found that there is even a free shuttle that goes to Walmart! So, I took her to Walmart near us, and we talked about shopping and prices. We talked about her favorite meals, and I also typed up a basic pantry list of items as well as fresh items she'll need to start cooking once she is on her own.
We noted that there is a stop near the thrift store in town near one of the free shuttle stops, too!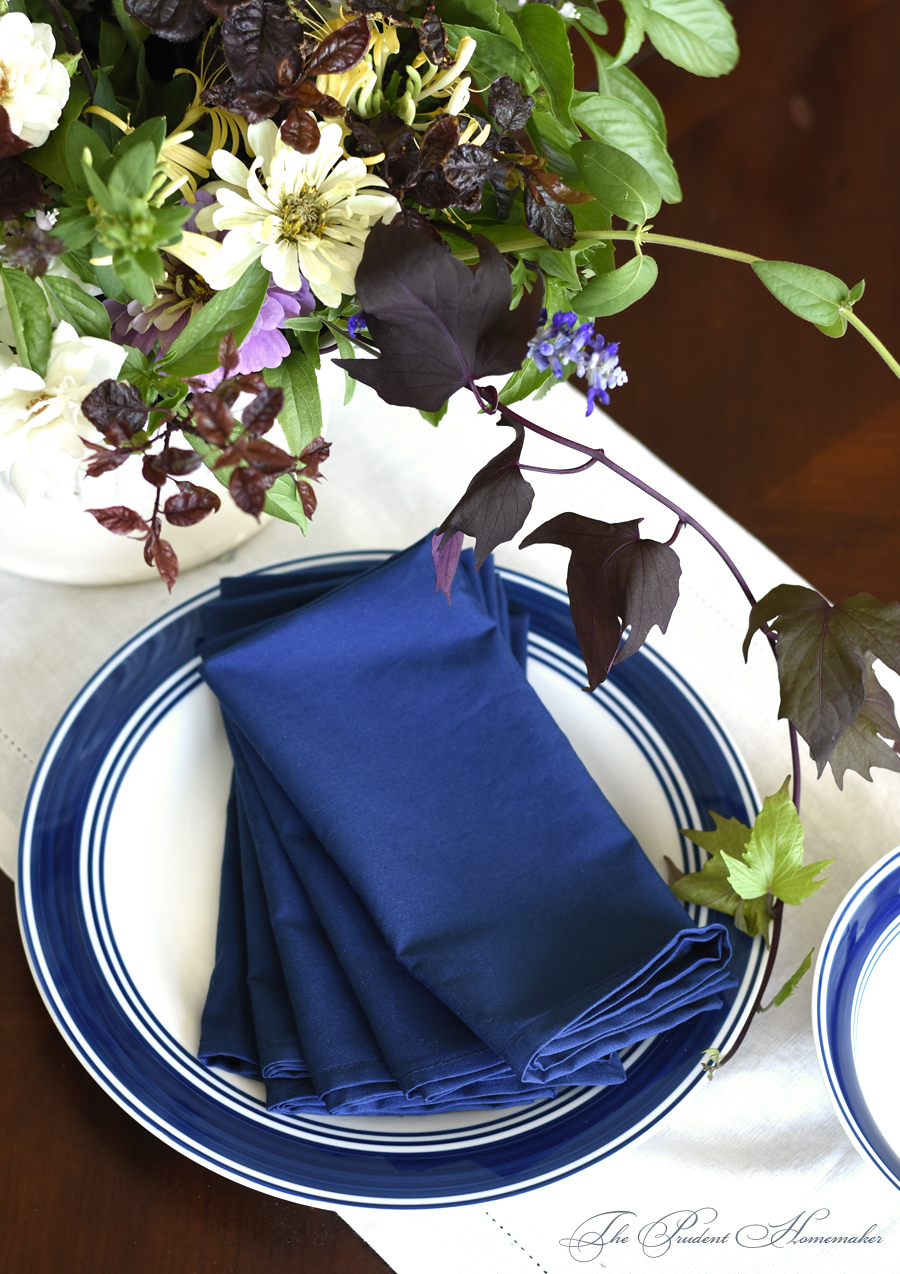 After we made this list, I bought Winter's choice of 4 plates, 4 bowls, 2 mugs, and 4 glasses at Walmart. The plates, bowls, and mugs were all $0.88 each, and the glasses were on clearance for $0.75 each. Winter will take silverware from our old set. She sewed herself 6 matching napkins from an old pinafore that used to belong to her grandmother.
We went to the thrift store, where I dropped off our donations (and received a receipt for taxes). We compared prices there on kitchen items, and noted that the thrift store prices were high on most kitchen items (plates were $1 each), though I did pick up a tiny whisk for Winter for $0.50.
I found 2 pairs of jeans for myself there ($4 each) and a sweater ($5), plus $1 for a shirt for another child.
My eldest son attended a free ACT prep class again, and practiced taking the English section of the test this past week.
I picked up two pamphlets on Federal Student Financial Aid that were free at the local library.
Thanks to a reader letting me know that the city of Henderson has free symphony performances, we were able to attend an outdoor symphony performance with our children for free about 40 minutes from home.
What did you do to save money last week?