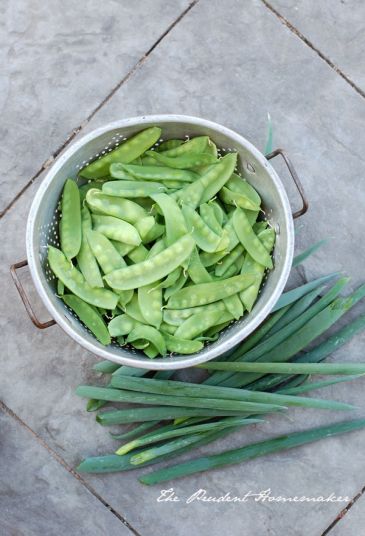 I harvested asparagus, lettuce, sugar snap peas, green onions, and parsley from our garden. The peas and onions were used to make my museum pasta salad.
Our sewer company switched from annual billing to quarterly billing last year. I have been expecting my new quarterly bill but had not yet received it. When my bill did come this week, it had a late fee attached. I called to protest it, since I had not received a bill at all. The late fee ($8.98) was removed; I paid over the phone (no charge) and found out the dates the bill will be due from now on so that I can pay on time whether I receive them or not (I put the dates in the spreadsheet that I use for bill paying).
I received a free magazine in the mail.
I watched two shows for free on Hulu with my husband.
I signed up for PixieFaire's newsletter and received a link to two free 18″ doll patterns.
I have been planning to purchase a pair of garden boots for several years but had not found any that I liked. I did a lot of research and decided to purchase a pair locally for $30 (that were also made in the U.S.!) These should last for many years and save the wear and tear on my regular shoes.
I attended a free dinner with a guest speaker at church on Thursday.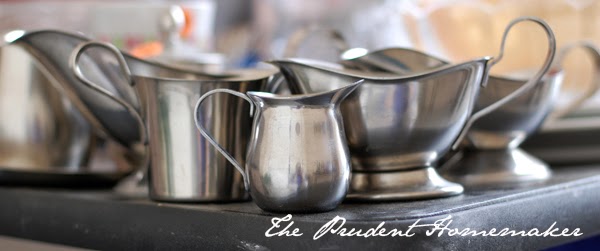 I went through our things and parted with those I was no longer using in a garage sale on Friday (including the gravy boats that my grandmother had given me, above). My parents also gave us some things to sell after they did some decluttering at their house. A couple of the things that they didn't need we wanted, so we kept those instead of selling them (my dad looked through our things first as well). We sold a good number of things.
The items that didn't sell were donated to my oldest daughter's church youth group garage sale on Saturday. Proceeds from the sale were divided among the girls to help them earn money for camp. Winter handed out flyers to everyone who came to our sale to tell them about Saturday's sale. At least 6 people went to that sale from our flyers, including their first customer.
I went to Saturday's sale to help. I also purchased a few items, including a silk scarf for myself for 25 cents, a book that I have long wanted (that has been out of print for years) for 50 cents.
I used a $10 off coupon at the nursery and I purchased three elderberry bushes to put in a space in the garden where nothing was growing.
I also purchased another Stella cherry tree. I'll need to get a pot for this one (at this point any additional fruit trees need to be potted, as I already have 42 fruit trees on a .25 acre lot); I'll be looking at Sam's Club the next time I am there, as they usually have very large pots in the spring for low prices.
I continued to water my potted plants with water gathered from waiting from the shower and from rinsing vegetables.
I painted my garden bench using leftover paint that I had.
I did another thing–a rather exciting thing–to save us some money. I'll be writing about that in a separate post.
What did you do last week to save money?