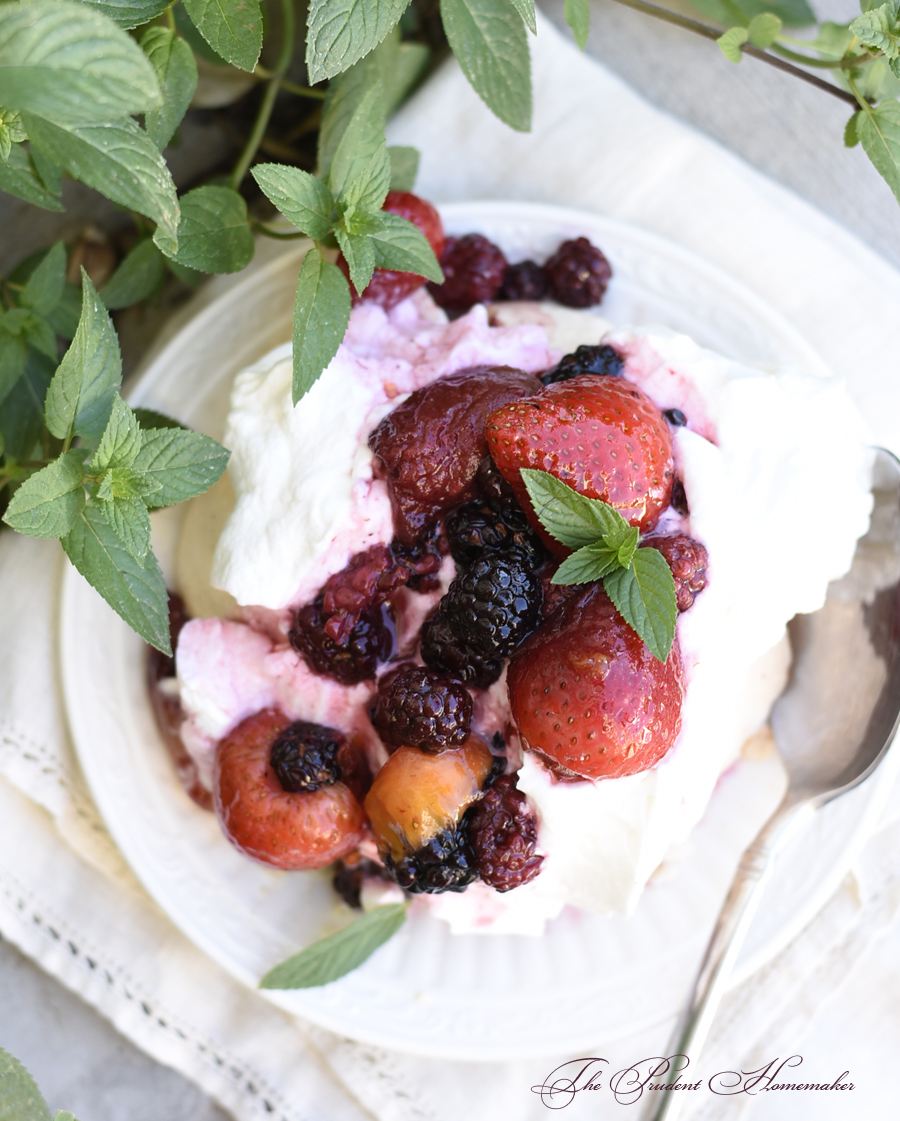 Pavlova with peaches and blackberries from the garden (that I froze) and the strawberries I bought on sale and froze earlier this year. Recipe here.
I picked more apples from our tree and canned applesauce, using resuable canning lids. (I shared a few photos on Instagram).
I harvested Swiss chard, basil, garlic chives, chocolate mint, two colanders of tomatoes, three red noodle beans, a single red pepper and a single green pepper, and a single zucchini from the garden.
I cut seedless Red Flame grapes and Thompson's Seedless green grapes from our grape vines.
I harvested Early Elberta peaches from our trees.
I keep looking for places to sow more seeds in the garden so as to harvest more from the space that we have. I really want more cucumbers, and I realize that in order to have the amount we're wanting, I need to plant even more seeds. I want to eat more fresh vegetables from the garden. I also want more flowers to harvest from the garden to make bouquets; right now it's so hot that most of the flowers have stopped blooming and those that do bloom burn to a crisp by noon. So, this past week, after evaluating my garden space, I sowed seeds for more zinnias (which like the heat and sun, even here!), Armenian cucumbers, parsley, basil, spaghetti squash, cosmos (a test; though these should be easy to grow I've never had them germinate in the past), Bells of Ireland (which seem to like a little shade in our climate and are growing 1/3 the height they should be but are not burning), miniature white pumpkins, butternut squash, spaghetti squash, and acorn squash. (I purchased a seed packet from Burpee for the Bells of Ireland, zinnias, and cosmos for $3.97 at Walmart; it's a nice combination for summer flowers in the same color range that should make for nice bouquets in purple, white, green and lavender. I shared a photo of the packet on Instagram.)
I collected warm-up water in the shower in a bucket each day and used it to water plants in the garden.
I took my eldest to the thrift store. (This is kind of tricky now that she and I are the same size and her style has become quite similar to mine! It kind of feels like a race to find things first in the racks!) She was needing a couple of new shirts. What she really wants is Peter-Pan collared shirts. She decided the least-expensive way to do that would be to start at the thrift store, so we went there. Using some fabric I had on hand, she drafted collars for an existing t-shirt. We then bought her two more t-shirts at the thrift store (for $2 each) and she drafted collars for both of those as well. One was a long-sleeved t-shirt, so she shortened the sleeves.
We also found her a beautiful cardigan for $3 (that I actually picked for myself, but it was too tight in the lower arms–but it fit Winter perfectly) and a dressy black dress ($6) while we were there.
I picked up three t-shirts for myself while there. I'm not really a t-shirt person, but I do need something in my new size to wear while working in the garden. These will work well in fall when I can wear them with jeans. One of them was a t-shirt for my alma mater, which was fun to find, as I haven't had a university t-shirt for 20 years! At $2, it was a much better buy than purchasing it new from the university bookstore!
Winter and I also collaborated on ideas for her to make some things for her secret sister for camp. Each of the young women was assigned a secret sister at camp. I put together a Pinterest board for her with ideas that she could make and things that she could print for this particular young woman. (The other girl likes chrysanthemums and bunnies and her favorite colors are maroon and plum). There was a spending limit assigned to each girl (no more than $10) but rather than buying anything, we used what we had on hand. We got really lucky on one thing as well; there were several questions about favorite candies, and one of them was one that my daughter also likes and had already bought for herself to take to camp (wintergreen Life Savers). My daughter just used some of the package that she had already bought (they are each individually wrapped) and gave some to the other girl. The other candies she listed were all chocolate, and as it's expected to be 105º at camp, chocolate would not be practical to bring anyway. Winter and her friends said their favorite things to receive were the notes from the secret sister, and one of her friends said she has kept all the notes from her secret sisters over the years. Their other friends agreed.
Winter had met this particular girl last week when the girls were all together on a kayaking trip (the other girl, Victoria, is from another congregation). She found out that Victoria had just recently visited London.
With this knowledge, Winter made the following items for her with things we had on hand: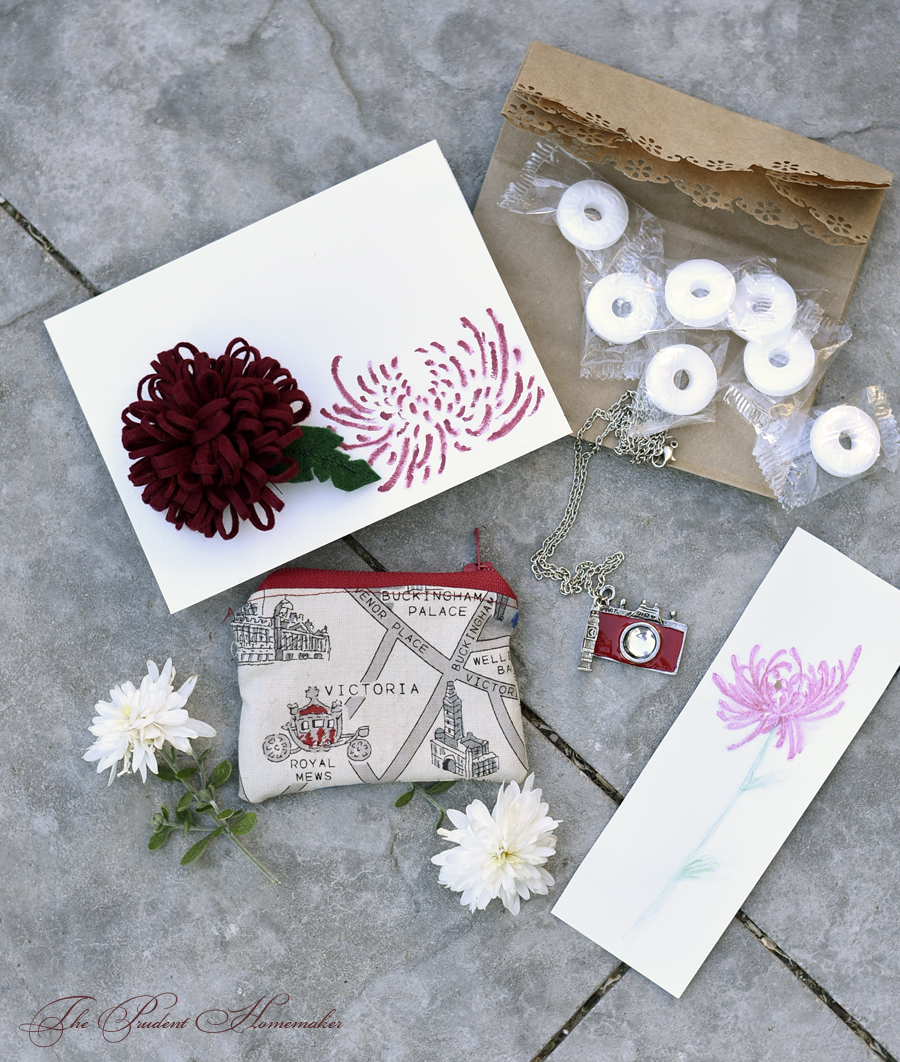 A bookmark with a hand-drawn and painted chrysanthemum (using watercolor pencils)
A notecard (that she'll write a note in, of course) with a hand-painted chrysanthemum
A maroon felt chrysanthemum pin (using this tutorial)
A necklace using a Big Ben (Elizabeth Tower) charm that I already had and a camera charm
A tiny change purse from the London fabric I had leftover from making this apron, a zipper from my grandmother, and lined with fabric from a red sheet (that my mom gave me some time ago). Winter chose to pick the part that said "Victoria" right in the center, since the girl is named Victoria.
Wintergreen Life Savers in a paper bag that she cut down and cut with a fancy edger punch
My husband decided to cut his office phone at work. All of his agents use their cell phones and so does he, so there really isn't a need for an office phone. This saves us $50 a month in business expenses.
It got down to 77º in the mornings. Since I keep my air conditioners at 79º, I was able to open the house up from 5 to 7 each morning and turn off the air conditioning and air out the house.
I listened to free music on Pandora while I was sewing.
I listened to classical music on You Tube while I was cleaning the kitchen and canning.
I printed online coupons for some things I will buy in July.
What did you do to save money this past week?