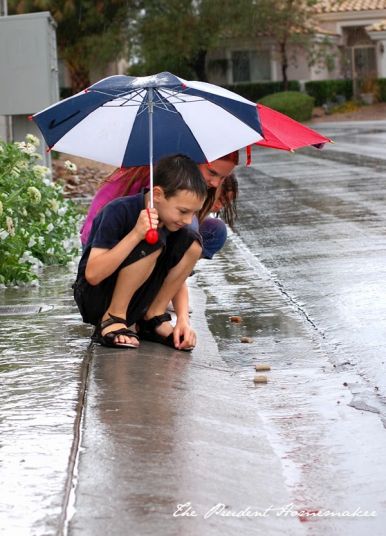 We enjoyed some rain on Monday. I collected 20 gallons of water from the roof and used it to water plants. The children enjoyed floating a few corks (it wasn't deep enough for their cork boats, so they took them apart and floated individual corks; I found the corks a few years back at a garage sale).
We enjoyed a beautiful rainbow and a wonderful sunset.
My husband was able to watch a football game online for free on ESPN3. He was thrilled!
I downloaded 10 free worksheets from Education.com (the limit for the month).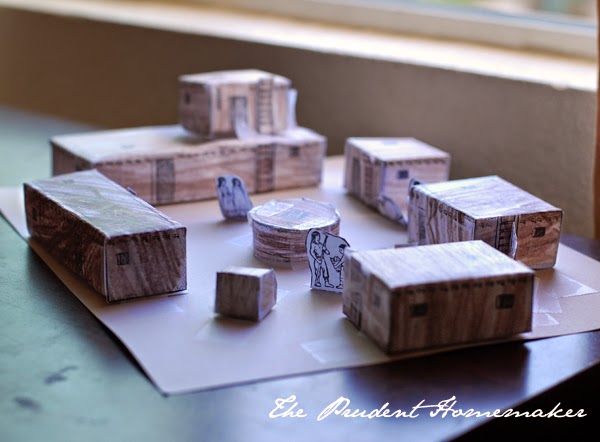 I printed a model project for school that I downloaded for free several years ago (a $10 off $10 deal while they were having the e-books on sale for $1 each; Scholastic regularly has these on sale for $1 each) for school. Ezrom made the model above from this book.
We showed Grandpa what Ezrom was learning about the Pueblo Indians, and since my parents had recently been to see the real thing, my dad came over to show the children some photographs they had taken there, and to teach a lesson about the people.
I was able to glean pears. I made a batch of pear butter.
There is a picture that my husband has liked for a long time. I ordered a poster of the image from All Posters.com. I went through Ebates first for 12% cash back, plus a 30% off coupon code. I paid for the whole thing with money I made through taking Pinecone Research surveys.
I canned 17 pints of dill pickles with the cucumbers from our garden.
We celebrated Liberty's birthday this week. I hung the banner that I had made for Cyrus' birthday. I made her a necklace, and also gifted her one of my old necklaces. I also made her some bookmarks. Her other gifts were much more than we usually spend for birthdays, but something she had long looked forward to: she got her ears pierced and she received her own set of scriptures. For dessert, I made brownies from scratch (I'll be making some adjustments and testing these several more times, and then they'll be up on the website!) and topped them with small white chocolate frogs. I didn't get any pictures, though! We had a great time and had her grandparents over for lunch and the party.
Blouse: free from clothing exchange. Sweater: purchased this week at a garage sale for .25. Skirt: gift from youth leader, from the thrift store.
Winter did a service project with her church youth group at the thrift store where one of her leaders works. Afterwards the leader bought each of the girls one thing from the thrift store. Winter came home with a beautiful skirt.
I went to a three garage sales on Saturday morning, all very close together. I found several books and articles of clothing, for which I paid .25 each. I found a sweater for $2. I found a length of fringe for $2, two picture frames for .50 each, and a beautiful, amazing queen's dress for $2, that my girls loved at first sight; it fits my 6-year-old perfectly. I also bought a dresser and a mirror.
Earlier in the week I found two brand-new matching dust ruffles for $5 on a Facebook garage sale site. These will go in the same girls' room after I am done ironing them.
I set a few of the books aside as Christmas gifts for Ezrom and the sweaters as birthday gifts for Winter.
What did you do to save money last week?