Last week did not go at all as I had planned.
The garden has a myriad of fruit ripe all at once, which is normally ripe over a three month period, leaving me scrambling to harvest and preserve it. Normally we would just eat most of it fresh and preserve some of it, but the change means I need to preserve more of it than usual. I try to have something ripe in the garden each month, but our 110º temperatures in June have prompted the grapes and peaches to be ready a month earlier than usual.
We picked apricots, peaches, apples, and grapes from the garden.
I cut basil, green onions, and Swiss chard from the garden.
I pulled carrots and red onions from the garden.
I canned apricot vanilla jam and grapes. I sliced and froze peaches and made peach pie popsicles.
I sowed a few more seeds in the garden in the hopes of having some produce and flowers in late summer and fall.
My husband cut my hair, his hair, and Cyrus' hair, and gave Ezrom's hair a quick trim around the ears and back.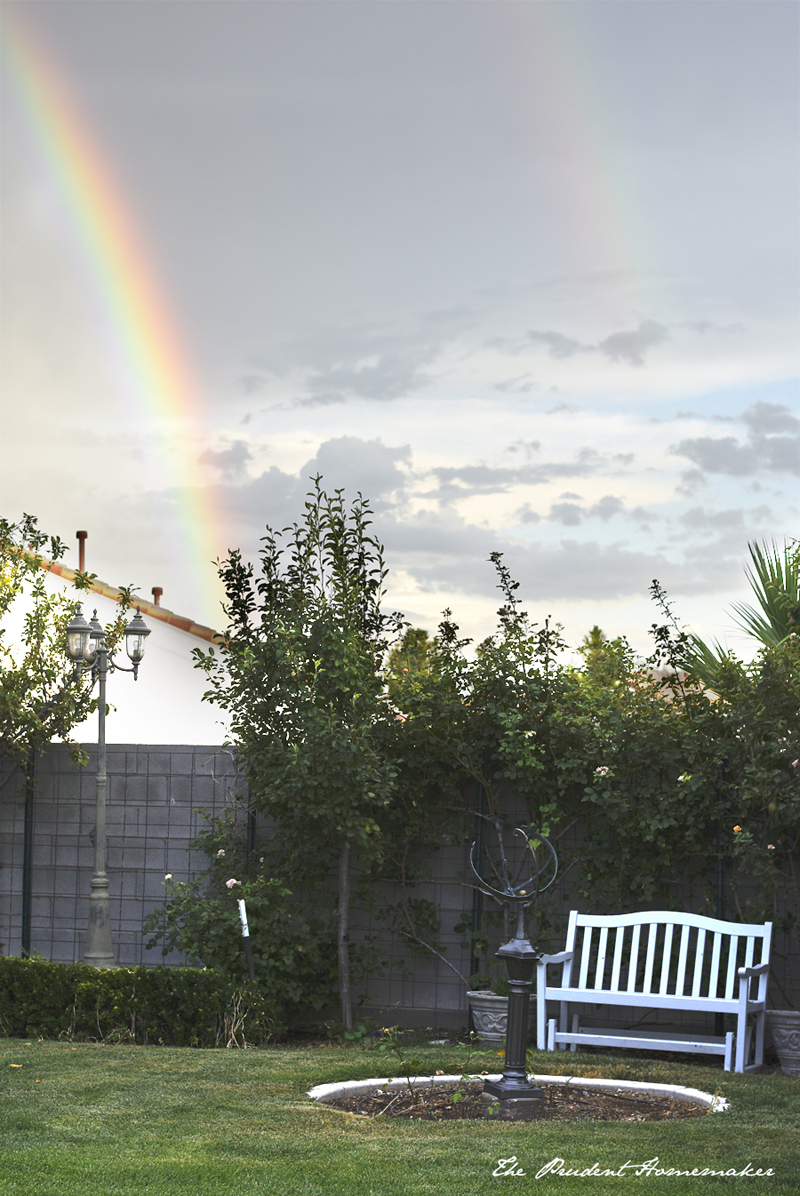 A couple of readers asked me if we were affected by the floding in Las Vegas that was on the news. Thank you for asking; we are fine!
July is considered "monsoon season" in the desert southwest, but it is not like a true monsoon like they have in Asia. "Flooding" is a relative term here. I'm not sure why a flooded interesection here (and if you watch the news, it's usually just one intersection in town) makes national news; this type of flooding isn't considered newsworthy in other places. Of course, if we get rain here, people in town get so excited that they call people in other parts of the valley to see if it is raining there (it usually isn't!)
Most cities have the offical rain measurement for the city taken at the airport, and Las Vegas is no exception. The offical rainfall here is 4 inches (10.16 cm) a year. The rain that fell on the other side of town (about 18 miles from my place) was 1.5 inches, and apparently they received hail too. At my house during the same time, we had no rain. We did, however, have some beautiful clouds (and a rainbow!) which brought the evening temperture down a bit (it was 111º here that day). That's pretty standard for where I live–we can see the clouds and smell the rain, but most of the rain falls elsewhere in the valley.
The clouds brought the humidity with them (40%, which is high for here), and I put a bucket out to catch the humidity that comes out of the pipes from the air conditioning.
Sometime during the night, we did receive some rain, and some the next night, too. It was a lot for here: 0.44 inches this week in my part of town. (Our total for the year in this part of town is 2.73 inches; we've had a lot more rain than normal this year).
I turned off the water to the garden for a couple of days. I also collected 2 buckets of water from the corner runoff from the roof. (It rains so little here that houses do not have rain gutters). I will use this to water my potted plants for several days (in this heat they need to be watered every day). I also collected water from the shower to water potted plants.
Temperatures dropped down below 100º for two days. I took advantage of the opportunity to open the house up and let in some fresh air for a couple of hours each morning. I always find fresh air more pleasant than any "air freshener" or scented candle, and all I have to do is open the windows and doors.
I transplanted vinca seedlings that came up in bunches in some places to places where no seedlings came up. In a month, I'll have flowers that will last until December, for a lot less than it costs to buy them from the nursery.
What did you do to save money last week?