I sent the children on a walk to gather some pinecones from an empty lot near our house. They brought back plenty for our Christmas decorating.
I cut boxleaf euyonomous from the garden to decorate in the house.
We watched the First Presidency Christmas Devotional. We used an HDMI cable to connect the laptop to the television so that the whole family could easily watch on the television. (If you missed the broadcast, you can click here to see it).
I took reusable bags with me to two stores where I received credit off my purchase for bringing my own bags (a savings of $0.32).
I used internet coupons to purchase some needed items, including coupons for the store brand cotton balls, store brand trash bags (which were also on sale), and store brand bleach. (I use bleach in my cleaning rag/kitchen washcloth load, on cutting boards, and on the kitchen sink). I saved $10.50 using printable coupons.
I bought a ham at .88 a pound. I went to one store and found that they were still selling their turkeys at .68 a pound, but had removed the requirement to spend a certain amount to get them at that price (which they had before Thanksgiving). I bought 3 turkeys.
I used a $10 off $10 coupon to get a pair of slippers for Wren and two pairs of socks for Elsa. I spent $0.82 out of pocket after the coupon.
Cyrus wants a watch for Christmas. My husband searched for one on Ebay and found him a new watch for $2.50, including shipping. Cyrus got to pick it out, so I know he'll love it.
I mended my husband's lined flannel shirt, and two pillow covers that had holes in them.
I cut Swiss chard from the garden.
I cooked a large pot of pinto beans and a large pot of great northern beans.
I made potato soup.
I washed most of the washable coats and scarves this week. I am grateful that we have so many that are washable and do not need to be dry cleaned. The scarves were washed on gentle and hung to dry. I also washed a small quilt this week. I am always colder at night than my husband is, so I use this small quilt on my side of the bed on top of our regular quilt during the winter.
I made 4 batches of green tomato salsa with out green tomatoes, a lemon, and some Thai peppers that I harvested from my garden before the freeze. Cyrus and I cut enough for 2 more batches for me to make next week, plus there are some still left. Since we weighed the tomatoes, I now know that we harvested 14 pounds of green tomatoes.
I listened to Christmas music on Pandora and watched two shows on Hulu for free.
I took the children to the library.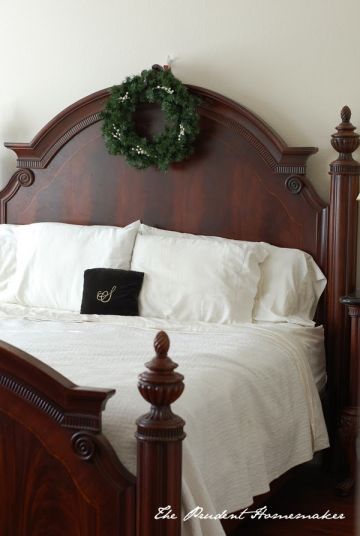 I purchased a wreath at Michael's for 70% off, plus a little decoration to go on it. The total cost was $3.34. I hung it up above/on my bed using ribbon that I already had and a push pin (The push pin was pushed into the wall, not the bed!)
I ordered some thread and sewing supplies from Wawak. Gutermann Mara 100 thread is 25% off in December, making it $1.87 for a 1,094 yard spool. (My order from last month didn't go through because they had my old debit card on file. When the new catalog came, I saw the thread sale for December. The day after my catalog came, I received an email from the company that they didn't have a current card number. I cancelled my order and then ordered with the thread special, which saved me a lot more money than if I had had my order go through in November).
My husband needed a new computer at his office for his agents. We had been waiting until Black Friday, hoping for a sale. We saw no sales on desktop computers. We waited until Cyber Monday, and again there were no sales. We decided that we would take my desktop computer to his office, and that I would get the new computer instead. I now have my first laptop! I am really thrilled; it means I can type up blog posts with my feet up in bed in the evenings instead of sitting at my desk. I stand for several hours each evening (from about 4-6:30 or 7:00 each evening preparing dinner, washing pots and pans, and cleaning the kitchen), and having my feet up after that is a huge help.
While we didn't see any laptops that had what we wanted on sale anywhere, we did buy my laptop on Cyber Monday, so that we could use Ebates double cash back that day to get $16 back. My laptop arrived this week.
My husband downloaded Open Office to my computer. It's a free office program, which means I don't have to purchase Microsoft Office. My existing Word and Excel files have opened in it without any trouble. If you do a search for "Open Office," you can find it.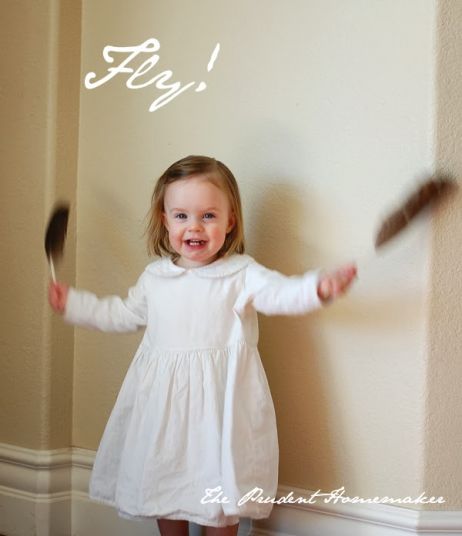 Ivory had fun "flying" around the house with some feathers that we found several months ago at a park.
What did you do to save money last week?