We have been having very unusual weather for August lately.
I have lived in Las Vegas for 13 years. My first year here, I remember the weatherman announcing that it was 126ºF in the north end of town one day in late September. (The new zone maps show that Las Vegas has several different microclimates, from a zone 8b to a 10a. Temperatures can vary as much as 10º across the valley on any day, and the official temperature is recorded at the airport, which is cooler and gets twice the rainfall as the north end. The west side of the valley gets more rain; they are closer to the mountains; this also is the zone 8b area. I'm in a 9a. Most rainclouds pass us by, or they fall on the south end of the city, and we only get to smell the rain. Downtown gets an average of 4″ of rain a year; my part of town is around 2″ The big rainfall that we had in July showed .28″ at a friend's house on the west side of town. That's the most he has ever seen–by a lot–and he's lived here many more years than I have.)
Most years, I won't want to go out to garden in the summer because it is 103º at 5 a.m. for a couple of months. I've waited to go to run errands until 8 p.m., when the car thermostat shows 113º outside (this is when the parks fill up with children–after dark!) Daytime temperatures have been around 120º at my house.
This year is very different, and I have been outside a lot this week. It was 107.9º for the hottest day this week, but our low temperature one day was 71º! This made it easy to work out in the garden for an hour before sunrise several days this week.
I cut a few tiny roses from the garden. It cooled down just enough to let them bloom, but it's still hot enough that they are the size of miniature roses. The cooler temperatures also meant that my tomatoes bloomed again! Usually they do not bloom again until October.
We played outside in the backyard.
I picked a basket of Bartlett pears from the garden. I picked a basket of Jonagold apples from the garden as well. Because it is not cold, these will not turn red here, even when they are ripe. These are a high chill apple; I have them in a place that is shaded in the garden during much of the winter. Using the microclimates in my own yard helps me to grow more.
I harvested a handful of red noodle beans, a few green onions, a few small tomatoes, some hot Thai bird peppers, and some Swiss chard from the garden.
I planted more zucchini seeds (this time in the front yard). Two of them sprouted this morning.
We played some more outside in the backyard.
I reprogrammed our two thermostats so that the air conditioners will not turn on for 5 hours (from 3 a.m. to 8 a.m.) by setting the temperature a bit higher for those hours.
I reprogrammed the drip for the backyard to water less days and for shorter times. I find that I reprogram it often throughout the year, depending on the weather as well as the water regulations. Since we have been having cooler weather, I turned it down to three days a week. I will turn it back up if I need to, but I usually have to water every day until mid-September. With both water and electric bills rising (the electric company just raised rates again), every little bit helps.
I made banana bread, pumpkin bread, saltines, turkey and dumplings, jam thumbprint cookies, pancakes, homemade rice a roni, individual steamed chocolate puddings, pizza, stir fry, and bean and rice burritos. It was my first time making steamed puddings. I used the pot I use for water bath canning with a canning rack in the bottom to steam the puddings.
I canned a batch of hot pepper jelly using Thai peppers from my garden and bell peppers that I bought on sale for .10 each and froze earlier this year.
I sprouted mung beans so that I could have bean sprouts for stir fry.
I washed Ziploc bags.
I printed free sheet music for "Amazing Grace" for Winter to learn on the piano.
I hand-pollinated the two female cucumbers that grew in our front garden. The plants are covered with hundreds of male flowers.
I mended two dresses, and a nightgown. I sewed a button from my button jar on my husband's dress shirt.
I turned a child's pair of torn pants into a pair of shorts.
My husband cut his hair and I finished it for him. I cut Cyrus's hair and I cut Ezrom's hair.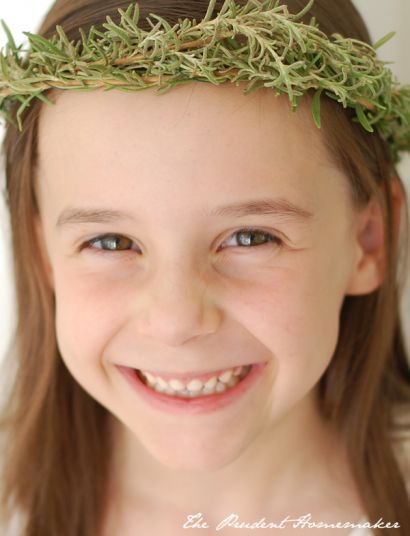 Winter made the rosemary crown for Liberty from the rosemary in our garden and some floral wire.
I took some more photos of Liberty and Ezrom this week.
My husband asked my father-in-law if I can borrow his bicycle. I have not ridden a bicycle since I was a child, and I have been looking for one for many years at garage sales, but they were all much too expensive. We did find one on Craig's list this week, but my husband remembered that his dad has one that he is not using. I am going to try it out and see if I really like it or not. If the weather continues I am going to try to go for a ride a few times a week in the early morning.
I did not buy anything last week.
What did you do to save money last week?