Seeded grapes from our garden
My husband and I celebrated our 13th anniversary this week. I made us a late dinner for just the two of us. We had homemade tamales. I used the corn husks from the corn I bought on sale last week. I also used pork shoulder roast that I had bought earlier this year (and froze) for a very low price per pound. While it was still a much more expensive meal than we normally have, it was a nice treat for our anniversary. The rest of the tamales were the next night's dinner for the entire family. The night I made the tamales I had extra masa left over, so I fried it like hush puppies for the children.
After dinner we played some cards and enjoyed some lemonade that I bought with a coupon last week.
My husband cut his hair.
I gave both boys haircuts.
I traded some items from my pantry with my mom for some items that she had. She asked for a potato, peas, and an onion, and when she came over, she brought lettuce to me. Before she left on a trip she shared a few things from her refrigerator with me as well.
We used a free Redbox code to pick up a movie for the entire family to watch one night. There are two Redbox kiosks in the parking lot where my husband works; he just walked to one before coming home.
My husband combined errands on his way home from work and returned our library books as well as picked up ones that the children had requested that were waiting at the library for them.
We picked peaches, apples, grapes, green onions, Swiss chard, hot peppers, and tomatoes from our garden. I also cut sunflower heads full of seeds.
I made granola, crepes, French bread, saltines, lentil tacos, bean and rice burritos, fried chicken, chocolate chip cookies, stir fry, cupcakes (with only one egg!), and a ham.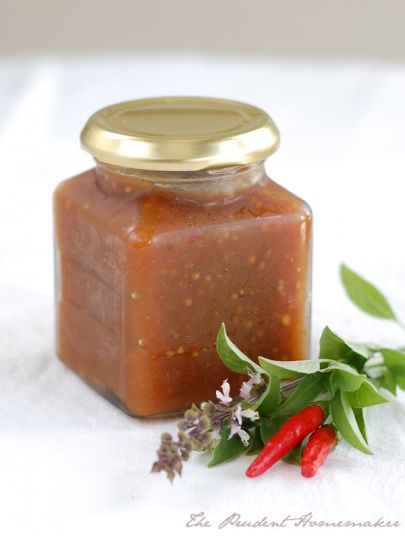 Plum sauce
I canned plum sauce using the Mirabelle plums that we were given a couple of weeks ago (they've been in my fridge) and hot peppers from the garden. Plum sauce is about $4 for a small jar at the store; I canned 32 half-pints.
My husband picked up 5 dozen more eggs on sale for me at $0.99 a dozen.
I purchased 50 pounds of peaches at .48 to can (along with the peaches from our tree).
I was given 6 zucchini this week; 3 from my mom before she left on a trip and 3 from my niece who was driving through town from Utah on her way to California. We made zucchini potato pancakes with 4 of them.
I said yes to some beautiful fabric scraps this week and there is enough for me to make several items. I cut out and sewed a pair of pajama shorts for Cyrus for his birthday from one piece, and I have already earmarked more of it for other projects, including some skirts and some dress collars.
What did you do to save money last week?