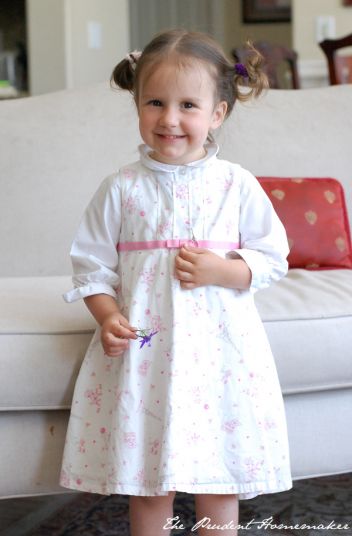 Elsa is wearing the jumper I bought last week at the garage sale for .50. She was very excited to see that it has images of the Eiffel Tower on it. She is also wearing the Eiffel Tower necklace that Winter made for her.
I sewed grosgrain ribbon to the sweater that I bought for Winter at the thrift store.
I made a pair of pajama pants for Ivory from the sheet that I bought at the garage sale last week.
I fixed the elastic in one of the skirts that I bought at the thrift store for Winter so that it fits her now.
I shortened the sleeves on a long-sleeved blouse (that I bought for myself a couple of years ago at the thrift store) to make it into a 3/4 sleeved blouse. I don't really need long-sleeved blouses here.
I sewed the velcro back onto the leather strap on Wren's Mary Janes.
My husband was given a hand-me-down jacket.
The children had fun outside playing badminton in the garden with a badminton set I purchased at a garage sale (Elsa, my 3-year-old, said she wanted to play "Batman" too. Considering my children don't know who Batman is, this was even funnier!)
I made French Bread, ranch dressing, and crepes.
I used the whey leftover from making Greek-style yogurt in ranch dressing (I mixed it with powdered milk to replace the milk) and I used it with powdered milk in a batch of crepes for the milk.
I received a free lamp base (no shade) from someone who offered it to me.
Another gardener gave me a quart of snow peas from her garden because she was going out of town.
I taught Winter how to make granola. She made a double batch of cranberry almond granola.
I gave both Winter and Ezrom a haircut this week (Winter's "trim" was about 4 1/2″ long).
I harvested lettuce, strawberries, green onions, parsley, and cilantro from the garden this week. We had salad five days this week and I picked lettuce for our sandwiches on another day. I also gave away lettuce to two families.
I dug and transplanted nasturtium plants that had self-seeded in the garden to the pots on my patio.
I cut flowers from the garden and put them on my table.
I cut more flowers and put them in a jar in my bathroom.
I cut branches from a tree and put them in a vase on the piano.
We played Simon Says one night.
I watched a couple of shows for free on Hulu.
I made a batch of homemade hair detangler.
I had an at-home date with my husband.
We celebrated two birthdays this week in my family (Ivory's and mine) at home, using things that we had on hand. Winter even hung up the pink banner that I made for Liberty's birthday several years ago (pictured here along with my tips for frugal birthdays).
What have you done to save money this week and enjoy life?