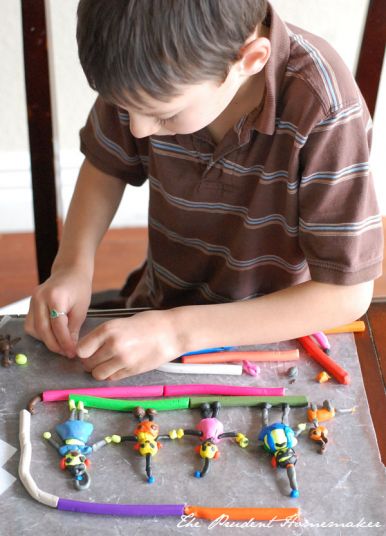 Ezrom bought some clay with his birthday money from his grandparents and made the Polie family.
I harvested green onions, garlic scapes, marjoram, thyme, and rosemary from my garden this week.
I planted dill and mustard seeds from my pantry in the garden.
I planted several more seeds in the garden–both flowers and food. I transplanted my lettuce thinnings and moved my green onions to a new spot in the garden.
I planted the basil that I bought at the nursery. The plants were actually several plants per pot; I divided the two pots into several places in the garden. I covered them with quart-sized mason jars for the mini-greenhouse effect that it would provide, so that we will have more basil, sooner.
I watched Downton Abbey on Pbs.org. I also watched a couple of shows for free on Hulu.
I had a couple of at-home dates with my husband after the children were in bed.
My husband redid the hooks in our mud room. He used molding that we already had and hung the molding over the old holes, painted it with paint that we already had, and then hung the hooks back up, including a few extras that we had, so that everything would fit better.
I mended the hem of a dress.
I made 3 pairs of earrings, using the beads I bought at a garage sale last year and the findings that I bought for Christmas. Each pair costs me .15. I used these as gifts for birthdays for 3 of the girls in my Sunday School class. I called their mothers first to find out the girls' favorite colors. These were similar to the ones I made at Christmas.
We had company this week for dinner. We had ham sandwiches and soup.
I cooked a ham the day before and I made French bread. We sliced the ham with my meat slicer and we sliced the bread on it, too. We topped it with mayo, Italian dressing, lettuce and tomatoes. I had to buy lettuce and tomatoes (Roma tomatoes were .79 a pound and the lettuce was 3 romaine hearts for $1.79. That was the least expensive option for lettuce; heads were $2.28 each! I am looking forward to our lettuce being big enough to harvest in the garden).
I ordered a pair of shoes for myself online. I went through Ebates when I ordered, which gave me a coupon code for 15% off, plus 8% back, from Shoes.com. The shoes I chose were already on sale, so these discounts were on top of that. (My whole family has wide feet, so I order shoes online.) Shipping was free.
My husband washed the windows this week for very little.
What did you do this week to save money?
Note: This post contains referral links.