When we moved into our house, we gutted it. In the living room/our dining area, we knocked out the entire wall. We took out the corner fireplace (the first thing to go), the windows, the sliding doors, and made a new wall, with tall windows and French doors. It's a lot of windows to wash, and my husband washed them inside and out in under 15 minutes on Tuesday.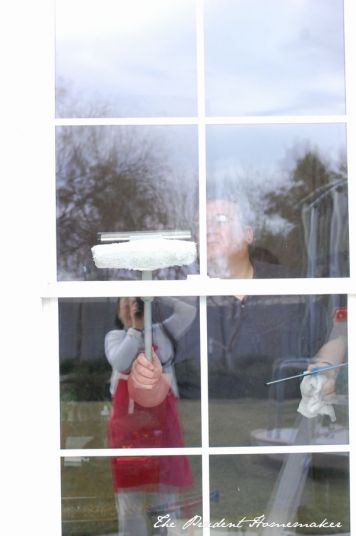 Otherwise known as how to get a picture of you and your husband at the same time!
He used a little (just a small squirt) of Dawn Dish soap (note: you can use any dish soap, but that is what I had) squirted in a bucket with water, a sheepskin cleaner, a squeegee, and a rag (to wipe off the squeegee) to wash the windows inside and out.
I wear that apron every day, most of the day. Behind me you can see our merry-go-round and our 10-foot high swing set that my husband and his brother made.
It was fast, it was simple, it required no paper towels or special glass cleaner. It didn't leave a strong odor of ammonia or anything else behind. It was pennies and faster. It's not often that something saves you money and time.
Yes, there is some upfront cost.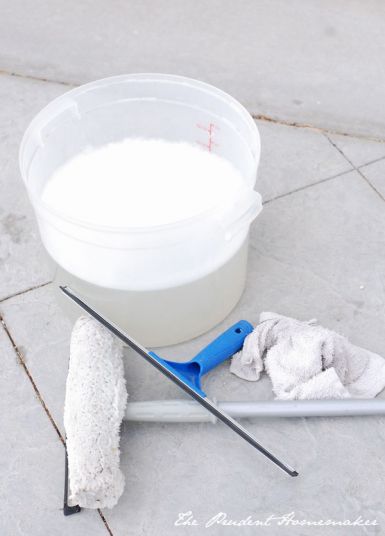 You'll need a sheepskin cleaner (pass on the sponge ones; they don't work well).
Get a good squeegee; it makes a difference. You can get a two-in-one squeegee/cleaner, which is actually what we have. My husband wasn't happy with the performance of the squeegee on it, so he bought a nicer squeegee.
The bucket can be anything; a dishpan or even water in your kitchen sink is fine.
The rag can be an old shirt or towel. It's good to wipe off the squeegee in between swipes across the window–especially inside, so it doesn't drip on the floor.
The dishsoap cuts the dirt on the outside, and the haziness inside, as well as all of the tiny handprints.
Go, go wash your windows the easy way–with soap and water. (Or have your husband wash them!)