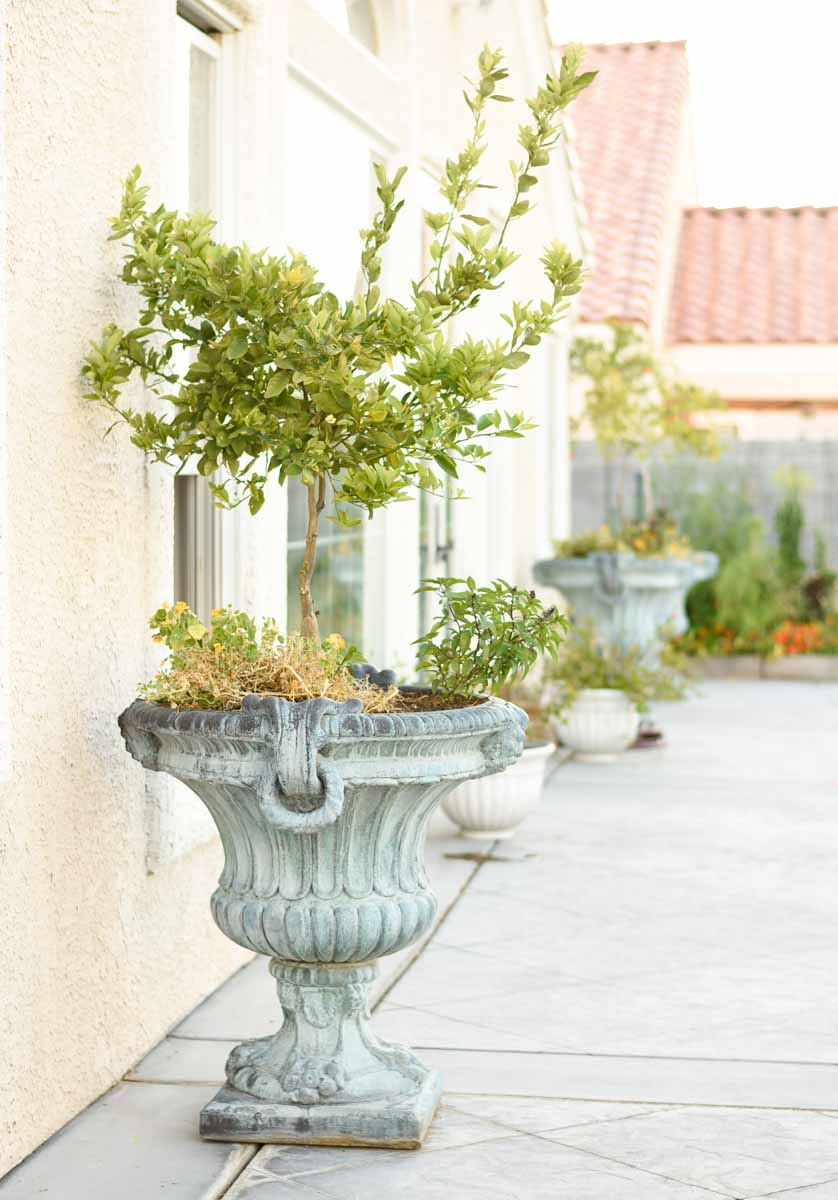 My website was hacked last week, and getting it back online and fully functioning took a while, which is why this post is going up today.
Seventeen years ago, my sister-in-law got some beautiful large urns for free when a casino in town was redecorating. I loved them and wondered what she would plant in them. She moved them once and is moving again. She never grew anything in them in all these years. I asked if she still wanted them, and if not, could I have them? I was surprised when she said she had been wanting to get rid of them for a few years! I transplanted my four potted trees from my patio into these pots. They are taller, so the small trees will be higher than before and they are a little bit wider than the pots I had, which will allow my trees to grow a bit larger across. I then used my old pots in other places in the garden.
I convinced my husband to get rid of some things that we were given for free and have never used that we have been storing alongside the house. This gave us a useable space for the new-to-us grill that will be out of the sun in the evenings. Free is nice, but only if you will use it. Otherwise, it can just clutter up your home and leave you feeling frustrated.  While cleaning up, we found and killed two scorpions and a black widow.  Just a few weeks ago, we killed three more scorpions in the area. I sprayed the house foundation with spray I purchased several years back for $5. Many people pay $50 a month to have their house sprayed here, as the summer months make for an abundance of cockroaches (unless you have scorpions, wolf spiders, and vinegaroons around to eat them . . . .)
I turned six pair of pants that were all torn at the knees into shorts for my daughters.
I harvested apricots from the garden.
My husband and his siblings went through more items at my father-in-law's house. They were mostly going through his food and the garage. My husband chose some tools, honey, sugar, canned goods, vinegar, fluorescent light bulbs, and a sleeping bag.
Our cooler than usual weather and careful watchfulness in energy use has paid off. Our electric bill was $141 less than our bill for the same time last year. Temperatures will be over 100 degrees this week, which is much closer to normal, though still a bit cool for us, as it can be 110 this time of year. It's still cool enough in the mornings to open up the house for a few hours each morning, so I will continue to do that as long as possible.
I redeemed 2000 Swagbucks for a $25 Amazon gift card.
After talking with the manager at the local nursery (of which there are a couple of stores) about wanting to purchase three plants at one store (where they only had one) he offered me all three at the sales price from the week before.
My husband cut a piece from an old metal shelf to make a shelf to replace the large glass shelf from our fridge that our son broke over a year ago on accident. The refrigerator is 18 years old and they no longer sell replacement parts for it. He only had to purchase some gloss spray paint (Rustoleum) to paint the shelf.
My husband and I had a picnic at a local park for our date night.
What did you do to save money last week?
Disclosure: As an Amazon affiliate, I earn from qualifying purchases made through my links. This means that I earn a small percentage from any items you place in your cart and purchase within 24 hours after going to Amazon from one of my links (i.e., it doesn't have to be an item I have linked here). If you're going to be making a purchase from Amazon, I thank you for using my links to support this site!
Series I've Read and Enjoyed in the Last Year