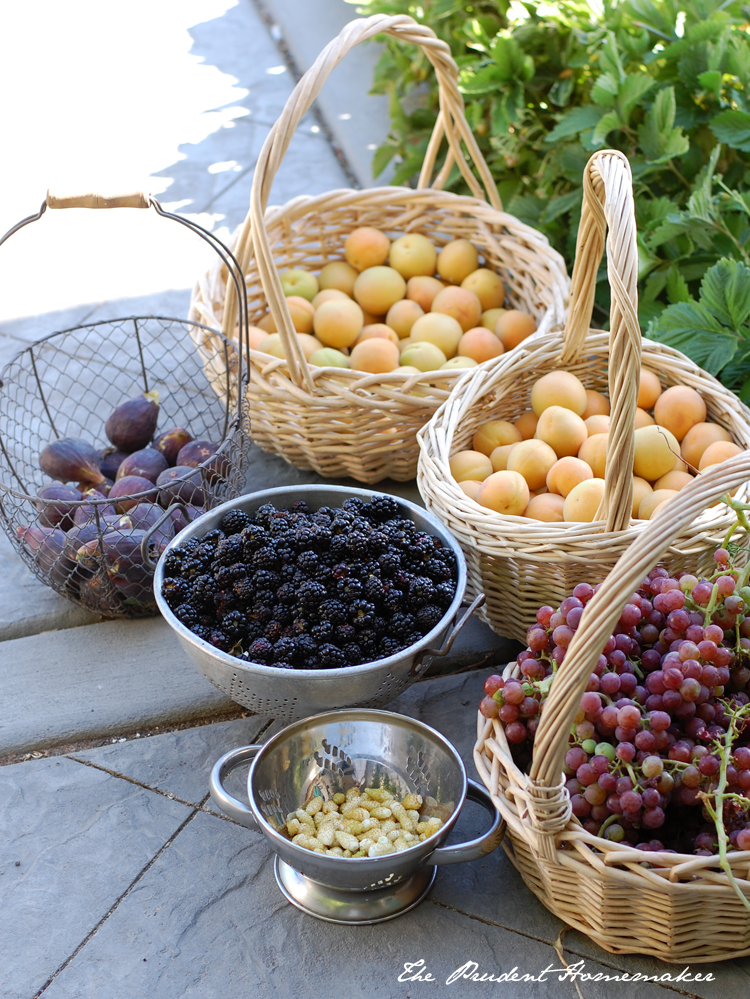 Note: This post contains affiliate links.
I picked blackberries, apples, apricots, white strawberries, and figs. This is the most blackberries we have ever harvested in a year; it is about double what we have had in a good year in the past. Already I am topping this year's new canes at 4 feet, to encourage them to branch out for next year's harvest.
I cut chives, green onions, lettuce, grapes, and basil from the garden. I picked a few small tomatoes.
I collected water from the showers, from rinsing produce, from the final rinse water from washing pans and bowls, and from the a/c unit (almost a gallon a day, as we saw a bit of humidity come our way; in a humid climate, you will have much more). I used this water to water our potted plants in the garden.
We bought the last sleeping bag
we needed for our 72-hour kits. Big 5 usually has these
on sale for $32.99 to $34.99. We have been slowly purchasing these
over the last 6 months. (Amazon's price
is slightly higher, if you are nowhere near a Big 5. You could even use Swagbucks points for Amazon gift cards to buy these for your 72-hour kit).
On the way back we had time for a quick stop at the thrift store. I found a casual summer dress for myself for $6. My husband found some basket making materials for Cyrus for $4. These will be one of our birthday gifts to him.
I combined printable coupons, Target cartwheel, and sales at Target to get items I needed for less, and some had deals that gave gift cards back when you bought 2 of an item. I now have $20 in gift cards for the next trip.
I mended a towel.
I went shopping at the fantastic sale at the fabric store (Joann's). Prices were real close to Black Friday prices. The ad also included two 50% off coupons. I bought unbleached muslin (36″ wide) for .99 a yard, some super soft 45″ white muslin for $2.99 a yard (to be used for slips, handkerchiefs, and summer pajamas), and flannel for $2.49 a yard. I used my coupons to buy a package of heavy duty sewing machine needles (the package had two size 16, two size 18, and a leather needle) and to buy a beautiful length of kitchen toweling, which I plan on sewing this week.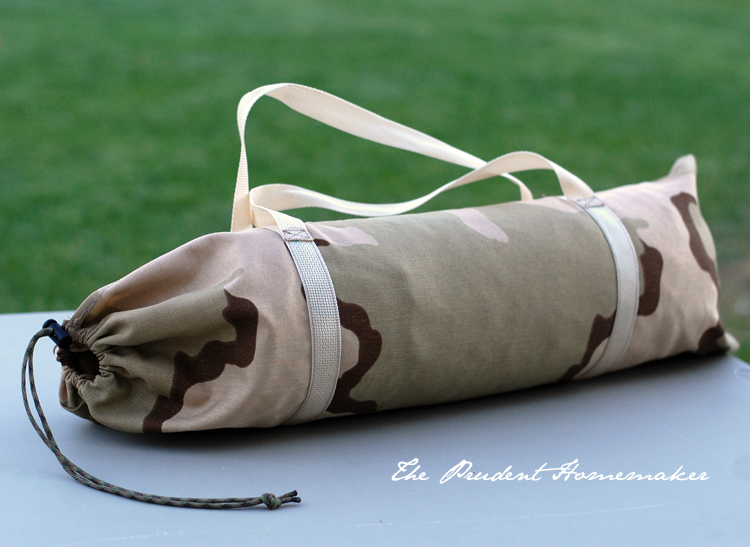 The nylon tent bag and tent pole bag for a tent that my husband has had for many years tore through in several spots. Using waterproofed canvas, some webbing, and a drawstring piece that my husband had, plus a closure that whe kept from something that had worn out, and a piece of velcro that I had, I sewed a new tent bag that has a pocket on the side for the poles and carrying straps on top. (I used the size 18 needle to sew this).
Two children went swimming at a friend's house.
Two children did a backyard campout one night.
I requested several books from the library for Winter to read for school. Last week I read four of these books; I loved three of them so much I will look for used hardcover copies to add to our library. They were: My Brother Sam Is Dead
, Give Me Liberty
, and The Sign of the Beaver
. Winter is currently reading (and enjoying) The Hound of the Baskervilles
. I also picked up several of Mike Venezia's Getting to Know the World's Greatest Artists and Musicians books
for the children to read (they pretty much devoured these when I came in the door; Ezrom took them all to his room and Winter asked if he had taken them, for she was reading them. Liberty read all of them as well. I picked up entries into the children's library reading program; for every 10 hours (or 20 books) read, the children can earn a used library book.
What did you do to save money last week?