Larkspur and stock from the garden
I cut flowers from the garden and brought them in to enjoy on my table.
I printed up seed packets so that I could share extra seeds with a friend.
I spent time playing in the backyard with my four youngest daughters, pushing them on our swings (which are higher than the ones at the park!) and on our merry-go-round.
My husband took our three oldest children to the archery range to practice their archery skills for free. Though they've just been shooting for a few weeks, they have made great improvements. One of the people who works at the range is also an archery coach, and he has been helping my children when they are there.
I ran the sprinklers to go on at a time when the children could enjoy playing in them. When we designed our backyard, we also made it so that the largest section of grass has rotating sprinklers, just so that they would be more fun in which to play for the children. We had temperatures of 90ºF this week, so this was a timely activity for the children. Ivory even put her hand in the water and walked out in the sprinklers a little.
I refrained from turning on the air conditioner off all week, even though it was 81º-83º in the house. I ran the ceiling fans only in the rooms that we were in while we were in them. I opened up the house for cool air in the mornings and evenings, and enjoyed the fresh air.
I took the children to the library for books and movies. They were able to check out several books that they had requested online.
I downloaded a free song from Amazon.
I participated in a free swap, and was able to get a pair of jeans and a sweater for my oldest daughter, and some puzzles for my grandmother.
I made popsicles with leftover canned fruit syrup and some whey leftover from having strained yogurt), chicken flavored rice, lentil tacos, taco soup, crepes, museum pasta salad, and lots of green salads!
I cooked Swiss chard from the garden.
I used a coupon to get 3 dozen eggs for $1 a dozen (18 eggs for $1.49 at Albertson's; the coupon was on the front page of the ad, limit 2). My husband walked there from his office so there was no extra gas expense to get these at this price.
I used several internet coupons when I went shopping this week. I bought 2 of 3 items that had a buy 2 get a $5 gift card offer, so I ended up with $15 in gift cards to use at that store the next time I need to go there. I took resuable bags with me to get .05 off per bag.
Italian Parsley on a new Williams-Sonoma washcloth that I bought for .50 at the neighborhood garage sale 2 weeks ago.
I harvested parsley, chives, Swiss chard, lettuce, green onions, strawberries, asparagus, snow peas from my garden. I'm serving lettuce every day.
We have started working on the front yard garden! I had to go to the HOA meeting and meet with the board at the end of the meeting, talk to them (they were concerned that my plan wouldn't be similar enough to the other houses in the neighborhood! I knew it would be totally different, so I said, "Well, it will be MUCH better than it is now!) and then after the meeting they drove over to have me explain it to them in my yard. They weren't following some of what I said, so I took them out to the backyard (through the house; one of the board members has my same floor plan and was immediately amazed at what I had done to the main wall in the house with new windows and huge moldings; I told him I had designed it and that what I had designed out front was good, too!) and showed them what I meant for concrete, and how the front yard would be similar to the backyard in design in some ways. Then they were okay. Their main concerns were the low wall and the concrete walkway; apparently the rule is no walls over 24" tall. The wall won't be taller than that (but the hedge above the wall will still give me a little privacy) so that's not a problem. Hurray!
So, our frugal part of the work this week was that my husband used his circular saw to cut off all of the branches from the tree (no special saw needed, plus it was quick work this way!), and then we cut and threw the branches and the bushes into his trailer, which he took to the dump and unloaded (so we didn't have to rent a dumpster). We also are borrowing a backhoe, which means we don't have to rent one to dig the front yard (or rent a jackhammer, or soak the ground for three days and struggle with a pickax–the ground is that hard here). His friend with the backhoe used the backhoe to pull out the tree trunk and root ball, and his brother came over to help us begin digging in the garden (he knows how to use the backhoe). New dirt will have to be brought in, or the plants will struggle to grow at all here (not only is the ground concrete-like here, but it also has a ph of 8.2 and is virtually dead. Dirt is not inexpensive at all, but it is essential, and we have priced it out at different places for the least expensive option of the available options).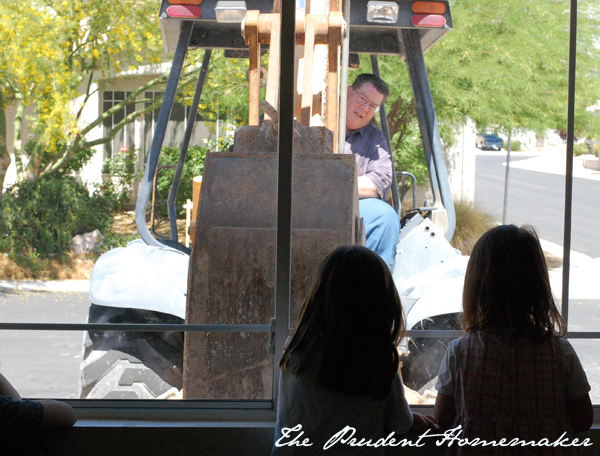 I raked and shoveled rock out of the yard to two neighbors, which meant free rocks for them. It's a strange thing, but rock yards actually need new rocks from time to time (they get "bare spots" where the yard is just dirt after a time). I moved some of the rocks to a bare spot in our own yard on the other side of the driveway (that small part of our yard is still rock, until at some time in the future where we will concrete it as a driveway extension to our gate).
I took time to notice a bee on my blackberry bushes and a tiny vireo in the garden (the first one I've seen this year).
What did you do to save money and beautify your life this week?