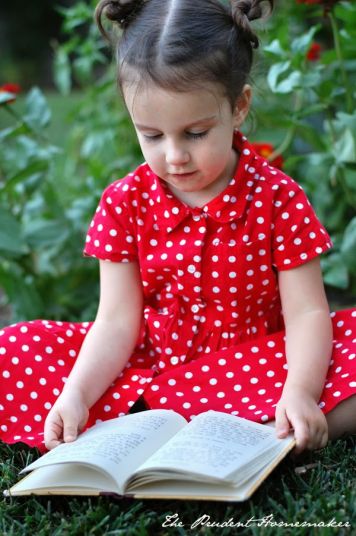 Elsa's dress is a new-to-us dress this week from a garage sale.
I reprogrammed the drip system to water a few minutes less per day, since the weather is starting to cool down (I know these are high summer temperatures for many of you in colder climates!).
I opened the windows to cool the house at night and during the mornings. I left the air conditioner off as much as possible. I left it off for a few days, even when it was 85º in the house, which saves approximately $8 a day in electricity (that night I left the windows open at night so that the house had a chance to get cooler the next day). Having it off most of the day for the other days will also cut my bill.
I paid a bill online.
I printed some dot to dot activities, coloring pages, and mazes from the Dover Sampler pages for my children for school this week. I saved them to my computer so that I can print them again later.
I washed out Ziploc bags to reuse.
I harvested two zucchini from the garden. These are my first ones this year! As it cools down I hope to see more female flowers. I hand pollinated both of these.
I also harvested one Armenian cucumber. Right now there are no female flowers on these, so I hope they start to produce more as the weather cools.
I cut green onions, rosemary, and Swiss chard from the garden. We had three pomegranates get knocked from our tree in the heavy winds that we had; they are red outside but not ripe yet (they ripen when it cools down). Pomegranates do not ripen off the tree, but we will eat these anyway as they are getting closer to being ripe.
I set some more alfalfa seeds to sprout.
I cut the boys' hair.
We had two major blessings last week.
My kind reader continues to go through everything she doesn't want to move from her house to another state. She blessed us with several cleaning items, including washing soda and borax. I was down to the last container of washing soda. There were several bottles of vinegar as well as lots more items that I can use.
Some of you may recall that I have a personal garage sale shopper. A friend of my mom's goes to Washington state every year for the summer, and she loves to go garage sale shopping. She offered many years ago to take my list and look for clothing items for my children. She usually pays .25 to .50 per item, and brings me back shirts and pants that look brand-new.
Normally, she keeps a running total on a piece of paper, with what she paid for each item. This year she did not. My parents met up with her in Washington on their own vacation and brought the items back that she had bought. My mom asked her how much my total was, but she didn't tell her. The last day she asked her friend in front of her husband. He answered, "You don't owe us anything." She said, "No, wait, we'd like some pear butter made with Splenda." So, in exchange for a huge amount of clothing, I will be making pear butter. (I was expecting the total to be around $50-$80).
Cyrus was especially blessed with new shirts and a couple of pairs of pants. There is also a suit for him that he will fit into next year (she paid $5 for the suit). I will need to replace a button on it, but I am certain that I have one.
My mom picked up a few items of her own at garage sales for the children, which she gave to them. The clothes look brand new, and she paid .25 for each item. She also purchased one brand-new onesie for Ivory in size 24 months.
Both my reader and my mom had canning jars for me. The ones from my mom were from a garage sale ($5 for a dozen quart jars) plus jars from another friend of hers in Washington who no longer needs them. There were several dozen jars in all different sizes. I will be able to give away canned items as gifts without worrying about buying any jars for quite some time.
What did you do to save money last week? Did any unexpected blessings come your way? Were you able to glean apples or other fruits anywhere?