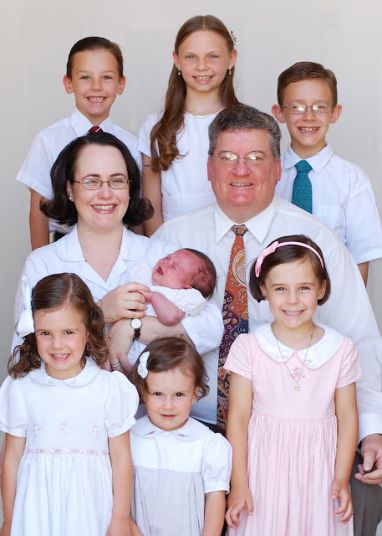 Mother's Day 2012
Many years ago, we had some fantastic family pictures taken. I loved them, and we ended up choosing a whole lot of them to have printed. When the total came, however, I turned to my husband and said, "I could have bought a camera for that." At the time I only owned a film camera with a basic zoom.
I knew then that I was done paying for family pictures, or for any pictures of the children.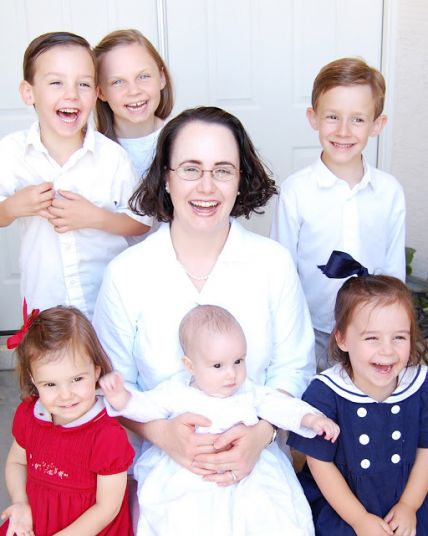 My husband was telling my children jokes when he took this picture a few years ago (notice there are only 6 children in this picture), and my mom was making funny faces at the children as well.
It took a while before I was able to buy a camera, but eventually I was able to find a digital camera for close to the same amount I had spent for those Mother's Day photos.
Everyone told me that the camera I was considering wasn't good enough. They said I needed a better camera with better this and better that. I thought that the camera I was looking at was going to do what I wanted, and that I didn't need a more expensive camera.
When the time came, my husband found an online Black Friday sale and ordered the camera for me. We also made sure to order a remote so that we could take family photos (my husband had an old tripod that worked with my camera).
Then I needed to know how to use the camera to achieve what I wanted. I started looking online. I started studying my favorite bloggers pictures like I had studied painting, looking to see what I liked and what "made" a shot.
Along the way, I found some great advice:
Shani's simple tips for photographing have made me think differently about where I stand when I photograph, and it's change the way I shoot. She also inspired me to take trampoline shots. My daughter's pose in the shot above was inspired by her daughter's trampoline poses.
Kristin Duke's Photography Tips have given me so much to think about. I've incorporated several of her ideas when photographing my family.
Wondering how to use the manual settings on your camera? Simple and easy: Nailing the Exposure
Excellent tips on adjusting the white balance and more
My favorite food blogger introduced me to a food photography class taught by Penny de los Santos on Creative Live. I was thrilled to be learning for free. Since then, I've watched a lot of Creative Live classes for free, and each has taught me something different. (Old classes can be purchased on their site). Tomorrow, Australian Creative Photographer of the Year Kelly Brown is teaching a free newborn photography class on Creative Live. It is three days long, from May 9-11. The class is free to watch while it is live; there is usually a replay right afterwards for those in different time zones. You can enroll here. (If you enroll they send you an email that links straight to the live feed, or you can just click over to Creative Live and watch on their live feed page). They also have an upcoming class on Fine Art Portraits.
For food photography, I studied my favorite bloggers like crazy.
I was thrilled when my other favorite food blogger did a basic explanation of food photography here. A few years later, she wrote a book about food photography entitled Plate to Pixel: Digital Food Photography & Styling
. I checked the book out from the library, but by that point I was feeling like I had learned those things already from lots of study (especially of Helene's shots from her blog) and practice. (If you are new to food photography, I highly recommend her book!)
Poppy from my garden two years ago. The poppies are just starting to bloom in my garden again this week!
I'm still learning and practicing. Like any art, it takes practice. I'm so grateful for a digital camera and the chance to take hundreds of pictures without the cost of developing film.
For those who are wondering what I'm using:
A Nikon D40
. (There are newer cameras out there now with more features, like the Nikon D3100
, which is what I would probably get if I were looking for a camera now, still on the "lower" end of a DSLR–and their regular price for that one at Amazon is what I spent for my D-40). I ordered mine with the kit lens, but eventually I was able to get a 50mm fixed lens
(on sale, of course!) and I pretty much use that all of the time now.
I use a reflector that has been discontinued but is almost identical to this one
.
One of the things I want to capture more is the everyday moments, like my oldest and my youngest reading a book together.
Happy Mother's Day! I enjoyed this Mother's Day video.
Take some family pictures this weekend, and/or ask your husband to take some pictures of you and your children. It's a Mother's Day tradition we've been doing for several years now, and I'm really glad we do it.