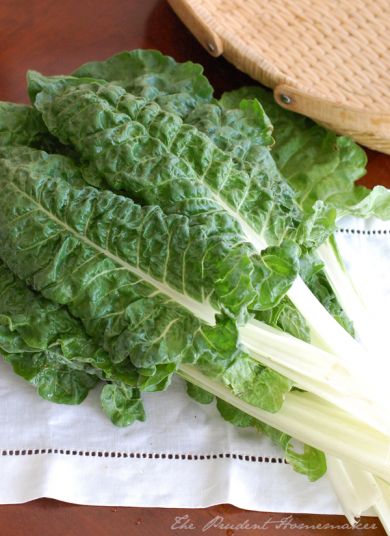 Swiss chard from the garden
Last week, I made cranberry almond granola, bean burritos, Tuscan Tomato bread soup, lemon poppyseed muffins, French bread, chicken flavored rice, turnip gratin, Swiss chard soup, pasta salad, and Italian dressing.
I cooked a chicken and we had chicken for one meal, then I used some in creamy chicken enchiladas the next day. I boiled the bones and was able to get off more meat, and I used the meat and broth in barley soup.
I cooked a large batch of pinto beans and used them to make bean and chicken enchiladas
I took a free online newborn photography class on Creative Live.
I ordered our wall block for the front garden online from Lowe's. I went online and ordered it first through Ebates for 3% cash back. We were unable to get the block we wanted (that matched our existing block) because it is no longer sold in our city (in other areas you can still buy it!) We chose a new block, and it has been discontinued as well! However, the stores have some of that block left. They marked it down as a clearance a few days after we first looked at it, and we waited to buy, which saved us quite a bit.
When we were done building the walls, we had leftover block. My husband returned it to the store for a refund.
I harvested turnips, lettuce, basil, green onions, and Swiss chard from the garden. We had lots of salads. The lettuce is bolting, but I am picking it and we are eating it anyway.
My green onions are dropping seeds. They self-sow readily, giving me plenty of green onions that will be growing again soon. I also collected some seeds so that I would have extra, as I am considering growing some in the front garden. I have not bought green onions or seeds for them in 6 years, since mine continue to reseed themselves every year. They grow all year long here, and they do really well, so I am making an effort to use more green onions than bulb onions in my cooking.
I shortened the sleeves of a shirt that I bought on clearance for Elsa a few weeks ago. I bought 3 white shirts (one for each of the three youngest girls) for $2.50 each on clearance. I plan on shortening the other two into short sleeves this week for Wren and Ivory.
I updated my garage sale list and emailed it to a friend, who spends several months in another state. She likes to go garage sale shopping, and her own children are grown, so she looks for things that I need for my own family. I made sure to include needed items in the next two sizes for the oldest children.
I have not bought any food this month.
What did you do to save money last week?