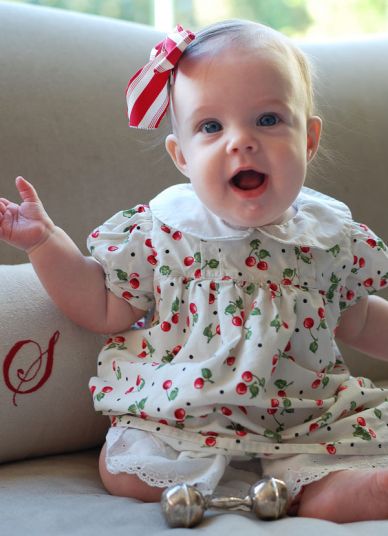 Completed pillow from last week's goals is on the left. The pillow was made from unbleached muslin that I got for free from my grandmother's stash. The stuffing was part of an old bed pillow. The pillow cover was made from drop cloth, and I hand-embroidered a red "S" on it. I printed out the "S" first at 200% in Edwardian Script and traced it onto the fabric. (Yes, I did make the baby's dress [for another daughter] and bow [the bow belongs to my 6-year-old).
You can always tell how smoothly naptime/quiet time went each week at my house my how much/how little sewing I get done. I still haven't had a chance to get back to sewing my daughter's green dress. I was able to work on some hand-sewing projects at night while watching a few shows with my husband, and a quick pillow (quick projects always yield a sense of accomplishment!), but the dress is still eluding me. She needs new clothes, though, so I keep trying. I'm going to try to finish a quick skirt for her this week just for everyday wear, too.
Last Week's Goals
1. Continue to prune trees and grape vines. The trash man comes twice a week here. My goal is to have the cans filled each time with cuttings (in addition to any trash that we have). I pruned some grape vines, some trees, and all of the hedges in the garden. I filled the trashcans for last Monday, Thursday, and today.
2. Cage tomato. I had 2 tomatoes left that grew from seeds that self-seeded in my garden, long after the other tomatoes were growing. These 2 small plants were sprawling on the ground, and one of them seems to have escaped the caterpillars. I caged that one last week. The other one is still doing well. I will cage that one this week and carefully look for caterpillars. These plants are still small and will hopefully give us a fall crop of yellow pear tomatoes. There were actually 2 tomato plants that had grown from self-seeding. I caged both of them.
3. Edit new photos and remeasure for the new recipe for the website. Get recipe up on the website.
4. Continue to work on reorganizing the laundry room, by doing some each day. I worked on this last week, but not every day, and I didn't finish.
5. Finish counterchange smocking on dress.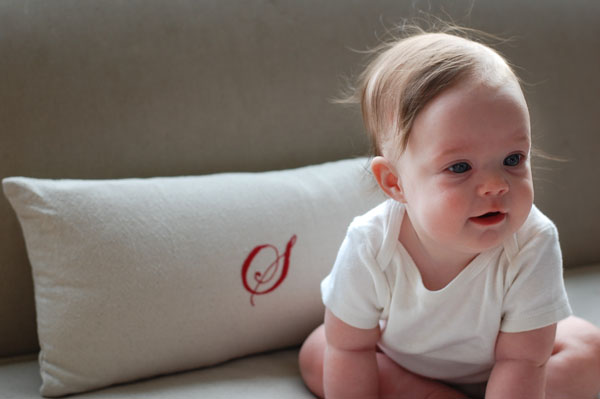 6. Sew pillow and pillow cover for the living room. This is the cover that I embroidered last week. You can see the pillow in the photos.
7. Finish Winter's green dress–somehow! Nope.
8. Finish embroidering handkerchief. Start embroidering another handkerchief for a Christmas gift.
9. Start planting fall garden. I planted arugula, leeks, beets, onions (from seed) and several varieties of lettuce.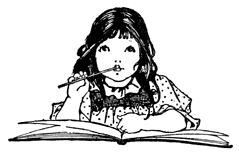 This Week's Goals
1. Can pears. I purchased 72 pounds of pears last week for $35.28, thanks to a gift card that my husband received from a friend (this is also how I purchased the 100 pounds of potatoes for $8.80). If this is the only thing that happens this week, that's okay, because the pears won't wait! I intend to can some as baby food (pear sauce).
2. Continue pruning trees and vines. Fill up trash cans each time this week before the trash man comes. I have a lot of trees that need to be topped, and it's going to take a long time to get the trees to where I can reach the fruit next year.
3. Work on green dress for Winter!
4. Finish embroidering handkerchief from last week. I'll work on this at night while watching something free on Hulu.
5. Spread manure in the garden.
6. Plant more Swiss chard in the garden to replace the seedlings that were eaten by bugs.
7. Spray the grape vines with an organic spray for fungus.
8. Make waistband and finsh skirt for Winter.