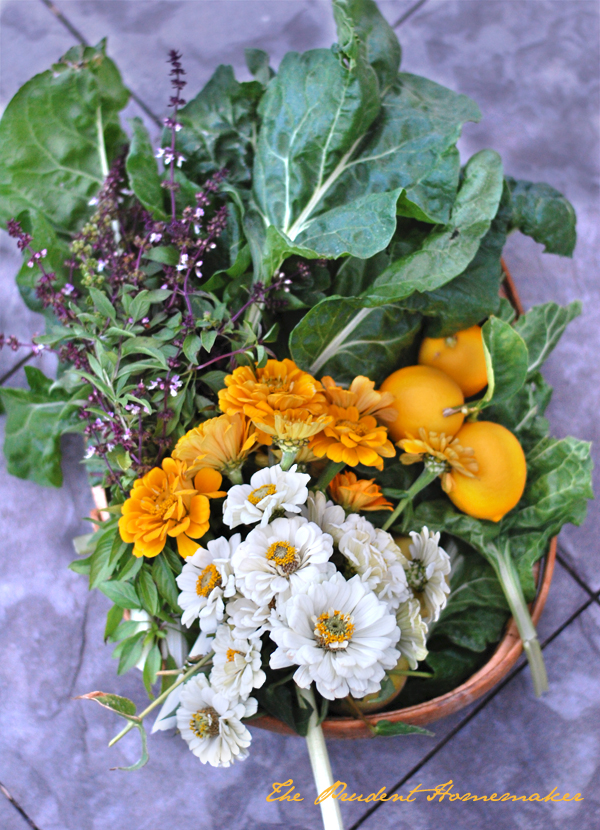 I took a trip to Sam's Club yesterday with the plan to buy toilet paper, and maybe something else.
I came out with 2 large boxes of toilet paper (on sale for $1.50 off per box, taken off at the register), a 5-pound bag of chocolate chips (I'll make cookies this month, and in the months to come), a lasagna (a splurge, definitely, but we love it and I am fitting it in the budget for the month), and six, yes, SIX, large jars of marinated artichoke hearts. They were priced at $5.01 each (normal price is around $8 or $9 a jar). I've heard that the "$0.01" ending means it's a closeout item at Sam's, and since my family loves them but I almost never, ever buy them as they're expensive, I decided to purchase a few for the pantry. I used some plus the marinade that they're in for a pasta salad today.
I bought some lettuce as well for salads, as I don't have lettuce yet in the garden to harvest. I planted some seeds today as our soil temperatures finally hit 75º, the top of where they should be for lettuce seed germination.
I also bought a 2-pound block of sharp cheddar cheese, a 7 pound 2 ounce container of ketchup ($3.83), and some cajun seasoning.
$127.10 later I walked out of the store, loaded everything in the car, and realized I should have bought milk to go with those cookies I'm planning to make.
So . . .
I'll buy milk at Winco, along with potatoes, apples, possibly squash, and pumpkins this month. I'd like to have some tiny pumpkins in the house if I can find some white ones at a price I'm willing to pay. If I'm lukcy enough to find a green one I may get it as well. I'll also pick up some candy from their bulk section for Halloween; it goes on sale the week before Halloween.
As the weather is starting to cool a bit, the Armenian cucumbers are starting to set fruit. I like the Mrs. Wages Dill pickle quick pickle mix. I'll pick some up to make pickles with my giant cucumbers; I have 5 on the vines right now and that is enough for around 10 points as the cucumbers get so long ; I don't have to brine the cucumbers with this mix and we've been really happy with the taste. I'll add a grape leaf from the garden into each jar; a reader mentioned this trick in a comment years ago (thanks Marivene!) for making crisper pickles; it really does make a difference!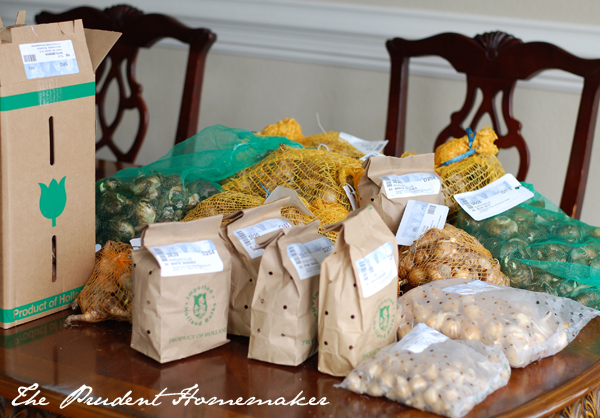 And . . . that's it! I really don't need anything else right now. We're working on eating down the pantry this month, and it's a busy time in the garden, weeding, planting, and tidying the garden. I ordered some flower bulbs in June that should arrive Friday (about the amount pictured above), so I'll be busy digging and planting bulbs for several days. It's supposed to be around 90º this weekend and into next week, so some of my bulbs will go in the refrigerator for prechilling for a few weeks (something needed when your winters don't get cold enough) and some will go into the ground, depending on variety. Update: It looks like I will be prechilling all of my bulbs as the ground should be around 55º, so I won't be planting this month.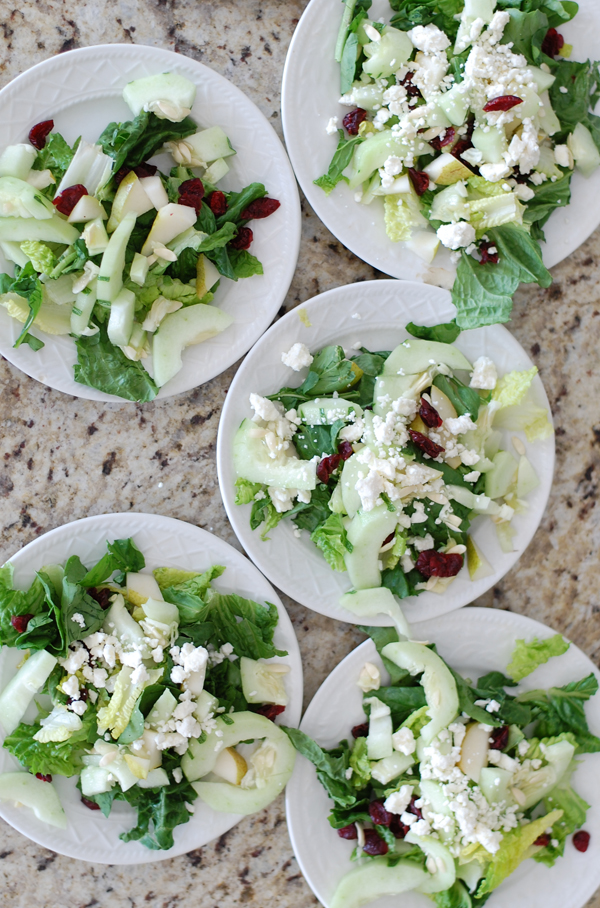 It's also prime planting time for a fall garden here. I'm planting lots of seeds this month in the garden. I'm working on growing a larger number of green onions. They grow really well here and we've eaten quite a few from the garden, leaving me with almost none going into the winter. I'm looking forward to lettuce from the garden again; I have lots of lettuce seeds to plant as soon as I can get the beds weeded and tidied for planting. I'm also planting seeds for radishes (a quick turn around), turnips, Swiss chard, beets, leeks, and snow peas.
I'll harvest and dry oregano and basil from the garden this month, so I'll add both of those plus some pickles to the pantry. We also still have pears ripening in the garden, as well as Swiss chard and beet greens. I'll make some salad as pictured above, with lettuce, cucumbers, pears, feta cheese, and dried cranberries. I'll top it with some homemade balsamic vinaigrette.